Calvary |

reviews, news & interviews
Calvary
Calvary
John Michael McDonagh follows 'The Guard' with an unconventional, blackly comic whodunit
Is this a man who's about to meet his maker? Brendan Gleeson is marked for murder in 'Calvary'
"I first tasted semen when I was seven-years-old." Those are the first words spoken in Calvary, the superb second film from writer-director John Michael McDonagh. They're delivered by an unseen confessor addressing Father James Lavelle (Brendan Gleeson). The priest's response: "It's certainly a startling opening line." Well, quite. Evidently fucking with us from the off, Calvary wants to shock and is inclined to nod and wink at its own machinations.
However, what might at first seem like a movie that's merely incendiary and irreverent in nature gradually reveals itself capable of considerably more.
The mystery man goes on to describe his abuse at the hands of a now-dead priest - thereby taking the wind out of those who got a guilty giggle out of his opening gambit - and he proposes a vengeful solution to assuage his anguish and deliver penance to the priesthood. He will kill the entirely innocent Father James, a week on Sunday, leaving just enough time for him to get his affairs in order - a fate the priest seems to accept. It's made clear that James knows who the man is and yet we do not, and so his parishioners become suspects for our perusal.
Calvary takes us from the dark, tight focus of the confessional with its provocative revelation and murderous promise to the wide open plains and coast of western Ireland - the camera swooping and soaring like a bird. Father James steps back out into his small Sligo parish a marked man and we see that there are no shortage of those who may wish him harm as, despite his determined decency, he's the target of bristling animosity - with the community's resentment and disappointment toward the church directed squarely at him.
Although he largely remains calm in the face of considerable provocation, James is someone who can't abide bullshit and in this most postmodern of films that includes traditional filmic pomposity, those moments which seem extraordinary - grand speeches and indulgent anecdotes which he slices through with castrating barbs and withering looks.
They might ultimately prove no match for the glorious Gleeson but Calvary gives its talented cast ample opportunity to have a pop at him. Aidan Gillen (pictured with Gleeson, above right) as acid-tongued atheist Dr Frank Harte and Dylan Moran as self-installed lord of the land Michael Fitzgerald are memorably nasty and there's great work from Chris O'Dowd and Killian Scott here too. In fact there's so much for the cast to get their teeth stuck into - a sharp script that serves up big juicy bites of mean - that you can see the actors visibly relishing every line.
As Father James, Gleeson gives us a believable mesh of gruffness and dignity. It would be quite something for me to suggest this could be his best performance, and yet it well could be; it's difficult to imagine not just anyone being better in the role, but anyone else filling it at all, and Gleeson manages the impossible - being poignant from the off. He's the film's anchor and, in this, he's ably supported by a delicate, wounded Kelly Reilly (pictured, below left) as his troubled daughter Fiona, a victim of a succession of doomed romances. The relationship between father and daughter is terrifically touching, a splash of sweetness in the film's tall glass of sour - one that's coloured by bygone sorrow and redeemed by a shared ability to forgive.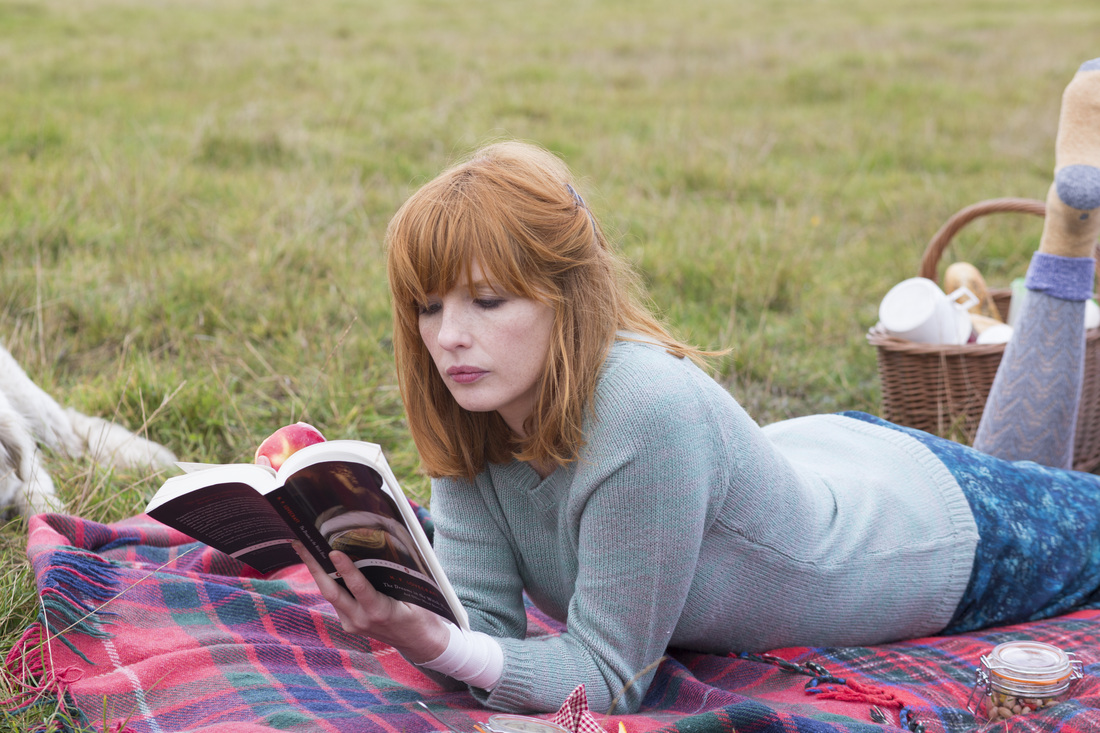 Named after the site where Jesus was crucified, Cavalry is in McDonagh's own words "Part Two of the Glorified Suicide Trilogy", following 2011's similarly tenebrous and truculent The Guard. John is the brother of Martin McDonagh (Seven Psychopaths, In Bruges) and the brothers have really cornered the market in caustic comedy. Additionally, there's a touch of Father Ted to proceedings as the film pokes fun at ineffectual, indiscreet priests (through the character of Father Timothy Leary, played by David Wilmot) and there's plenty of that series' parochial racism, nosiness and general lunacy.
However, Calvary also boasts more than its fair share of human truths and beauty and is considerably elevated by the director's cine-literacy - there's the Hitchcockian premise, a western-esque sense of impending violent confrontation and McDonagh admits to being influenced by Luis Buñuel and Robert Bresson, alongside the artist Andrew Wyeth and the essayist Jean Améry.
Calvary is a magnificent work about those great Catholic concerns, guilt and forgiveness, that for the most part makes its home in the mire. Disarming its audience with knowingness, wicked humour and a surly pretence at not giving a damn it ultimately packs the potential to move you, perhaps even to tears, because in the end this is a film that cares a great deal.
Overleaf: watch the trailer for Calvary