Cuban Fury |

reviews, news & interviews
Cuban Fury
Cuban Fury
Nick Frost dances his cares away in an affable-ish romcom with zero ambition
Wednesday, 12 February 2014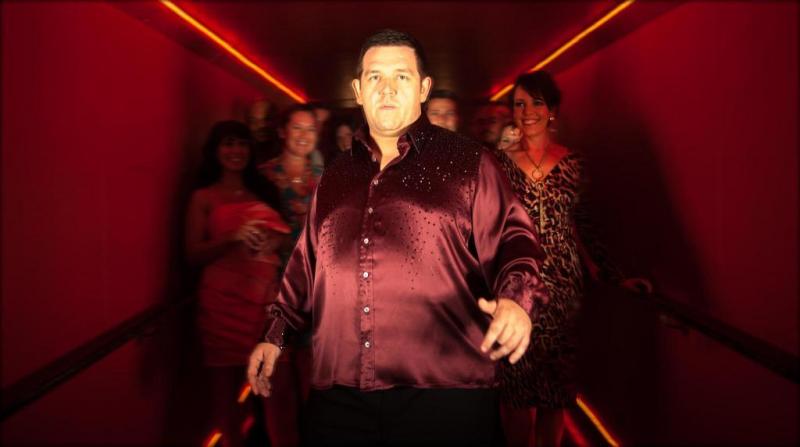 Yes sir, I can boogie: Nick Frost in 'Cuban Fury'
The British romcom is in crisis. Once a pretty reliable source of charm and laughs, these films channelled the spirit of the UK's reliably brilliant sitcoms through the silver screen. Our romantic comedies can be great because we hold no truck with cheesy romance; moments that could be mawkish are undercut by self-deprecation, calamity and even politics. See Hugh Grant's bumbling speech in Four Weddings, the polemical Brassed Off, or Shaun of the Dead which gave us romance with added zombies.
However, recent efforts The Decoy Bride, Not Another Happy Ending, I Give It a Year and About Time have been plain disappointments or mixed bags. Into this climate of prevailing mediocrity comes Cuban Fury - a film with energy, good gags, no time for sentimentality and talent to burn. And still...
Cuban Fury is a film in which a fat chap dances his way into his hot boss's heart and has all the surprises and subtlety that suggests. Nick Frost plays Bruce Garrett, whose childhood history as a champion salsa dancer, bullied into discarding his passion, is unpacked in the time it takes to rattle through the opening credits. We join Bruce in his late thirties to find him overweight, stuck in a romantic rut and working at a firm specialising in industrial machinery. His colleagues are the amusingly indifferent Helen (an underused Alexandra Roach) and the sociopathically obnoxious Drew (Chris O'Dowd).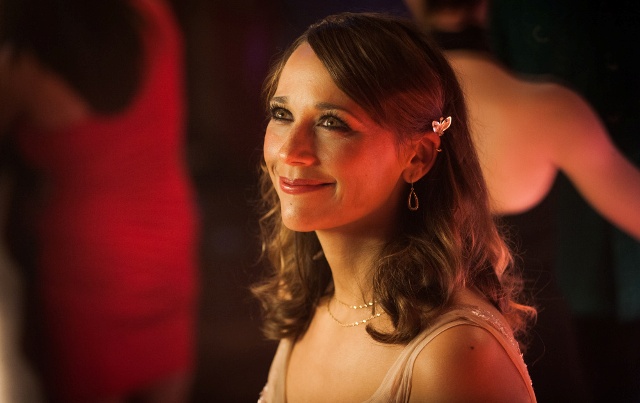 Bruce's spirits are lifted by the arrival of new manager Julia (Rashida Jones, pictured right) - and when he finds out she salsas, well then it's back on with the dancing shoes. Ian McShane is interestingly cast as a curmudgeonly dance teacher with whom Bruce reconnects, with Olivia Colman reliably lovely as Bruce's excitable sister and Kayvan Novak camping it up as a fellow salsa enthusiast.
Sitcom director James Griffiths's feature debut takes its cue from the energy and visual humour of Edgar Wright but - though his film zips along and is further enlivened by its dance sequences, including a bizarre and entertaining car park dance-off - visually it feels highly derivative, like a poor relation of the aforementioned's Cornetto trilogy. Jon Brown (Misfits and Fresh Meat), who pens the script, proves himself a competent gags man but the plot is hugely predictable, rushed and sometimes illogical (the unprepared-for final dance competition had me slapping my head).
In addition, one of the most frustrating aspects of Cuban Fury is that it moans about how beautiful women are too superficial to find men like Bruce desirable, but fails to acknowledge that, for a long time at least, Bruce has based his infatuation with Julia solely on her looks. And that's what it comes across as, an infatuation - there isn't much in the way of getting to know her, so when Bruce for example compiles a mix-tape, or turns up at Julia's flat it looks extremely creepy and you'll be willing her to get the funk out of there.
This is a story told from a male protagonist's perspective, granted, but it's still a shame that the female lead wasn't allowed much of a personality, especially given Jones' effervescent charm (see Parks and Recreation and the self-penned Celeste & Jesse Forever - much better platforms for her considerable comedic gift). But if Griffiths's first film is significantly flawed, it's far from awful with the likeable cast papering over some pretty hefty cracks to keep things predominantly amusing. Cuban Fury is undemanding, toe-tapping fluff which just about passes muster as an evening's entertainment and which works best (and only) if you savour the gags and switch your brain to unquestioning acceptance for the remainder. Meanwhile the wait continues for the next great British romcom.
The plot is hugely predictable, rushed and sometimes illogical
rating
Explore topics
Share this article