Relative Values, Harold Pinter Theatre |

reviews, news & interviews
Relative Values, Harold Pinter Theatre
Relative Values, Harold Pinter Theatre
Trevor Nunn is back on form in a straight production that lets Coward's play do the talking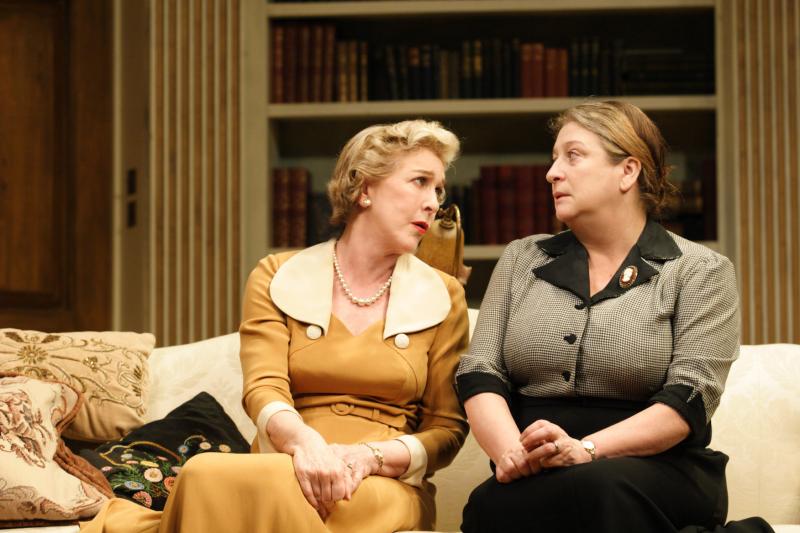 The Countess of Marshwood and Moxie (Hodge and Quentin) hatch their elaborate plan
Plotted on the Nunn Curve of Fatal Attraction to Flare Path, Sir Trevor's latest West End outing – Noël Coward's post-war comedy Relative Values – lands solidly in the upper-middle reaches. Why not the unqualified upper? The stock answer here would be that Coward's play is fatally flawed, blighting even a director at his best. Any alternative risks straying into the stickiest of ideological mires, braving the final social and theatrical taboo: class.
"Comedies of manners swiftly become obsolete when there are no longer any manners," proclaims Wodehouse-esque butler Crestwell in Act II. Coward is never more uncomfortably truthful than when he's being self-referential, and Relative Values is no exception. Gone are the slick wars-of-words of the plays of the 1930s and '40s. It's 1951, and in a post-war world where manners have still only recently begun to rival munitions in the national consciousness, Coward's signature comedy feels ill at ease. It struggles to find a place for itself in post-war drama, just as his characters struggle to find theirs in post-war society.
It's as though Coward wants us to see the cracks, the fissures in a drama that knows itself to be outmoded
The result is certainly awkward at times. Closing lines land with a thud rather than the champagne cork pop of Private Lives or Design for Living, and the plot is bone-china thin. But the effect is curious. It's as though Coward wants us to see the cracks, the fissures in a drama that knows itself to be outmoded. And far from leaving the cracks empty he fills them with an unusual degree of anxiety and even pathos.
Set in the usual country house drawing room (meticulously and beautifully designed by Stephen Brimson Lewis), the action plays out over a single weekend. The Countess of Marshwood (Patricia Hodge) discovers her son and heir is to marry a Hollywood actress (Leigh Zimmerman, taking a break from musical theatre). When her maid Moxie (Caroline Quentin) seems disproportionately distressed, it is revealed that Moxie is in fact the actress's own (younger) sister. Cue paroxysms, convulsions and an elaborate disguise. All of which fails to forestall the ensuing clash of classes and cultures.
Nunn intercuts Coward's action with episodes of Pathé newsreel, framing this drawing-room world in the broader context of the Korean War, and this classical mansion with the upstart architecture of the Royal Festival Hall. The implications are clear, and perhaps we don't need the rather clumsy blast of Vaughan Williams's Fantasia on a Theme of Thomas Tallis as the curtain rises, reminding us that this is a fading idyll.
We also don't need quite so much first half. Judicious cuts throughout could have tightened the action no end, and reinforced its rather top-heavy dramatic design. But it's one that the cast still manage to carry off with style. Quentin's Moxie offers the naturalism (at least initially) to balance Hodge's deliciously stylised camp, while theatre first-timer Rory Bremner's Crestwell (pictured above with Hodge) swings repeatedly between the two. What could easily become just a vehicle for Hodge's brilliance reinvents itself as a true ensemble piece, and even Steven Pacey (in the thankless role of the Countess's nephew) stakes his claim.
Among so many slick performances however, the real interest still lies with the play itself. The natural instinct is to decry its snobbery and self-satisfied social assumptions, its patronising attitude towards America and frankly baffling prejudices. But what's striking here are not the anachronisms but rather the lack of them. Every newspaper may currently be filled with hagiographic pictures of the royal tour of Australia, but only a few years ago columns were filled with acerbic commentary on the arriviste Middletons and especially "doors to manual" matriarch Carole, inserting herself into a society in which she didn't belong.
If we're uncomfortable watching Coward's play, that doesn't necessarily make it flawed – in fact, quite the contrary. Relative Values tackles a topic no one wants to talk about in Call Me Dave's classless society. Forget sex, religion and politics, this is the real dirt – our own unacknowledged but not uncontested 38th parallel. Nunn's production lets the play speak for itself, infelicities and all, and the result is as unsettling as it is funny.
Caroline Quentin's Moxie offers the naturalism to balance Patricia Hodge's deliciously stylised camp, while Rory Bremner's Crestwell swings between the two
rating
Share this article