theartsdesk at the Final Frontier: Trekkie weekend in Blackpool |

reviews, news & interviews
theartsdesk at the Final Frontier: Trekkie weekend in Blackpool
theartsdesk at the Final Frontier: Trekkie weekend in Blackpool
New culture minister Sajid Javid is a fan of 'Star Trek'. But has he been to one of these?
Not yet available in the government transport pool
"I don't do the costumes," says an intense bloke called Adrian. "That's for people without a life. I've no interest in that." Further down the corridor, or the Upper Deck as they're calling it for one weekend only, there's Kevin, who presumably has no life. Kevin is wearing a maroon zip-up blouson with black shoulders, retailing at £35. "Last year I wore normal clothes and I felt out of place," he says. "I've been a fan for years but I've never had the courage to actually come to one.
We're stigmatised. We're geeks, aren't we?"
You've heard the stories. You've laughed at the jokes. You may even have seen Galaxy Quest, the brilliant spoof of sci-fi fanaticism. But until you've been to a Star Trek convention and seen the pointy ears, the larger-legged women dressed as Uhura or 7 of 9 and the pair of identical Klingons from Manchester, sorry, but you don't know the half of it. I went to a convention in Blackpool. It was a scorching weekend in July. The sun beamed down on the grimy barn of a hotel hosting the event, while inside 3,000 acolytes came to press the flesh of their living idols, the cast of Star Trek: Voyager.
It's not amusing for me to be around Klingons and Borgs
Trek conventions grow on trees. "This is my sixth this year," said Andy, queueing to have his photo taken with Alice Krige, or the Borg Queen. But this one is special - the first in Britain attended by Kate Mulgrew, who plays Captain Janeway in Voyager (pictured below right).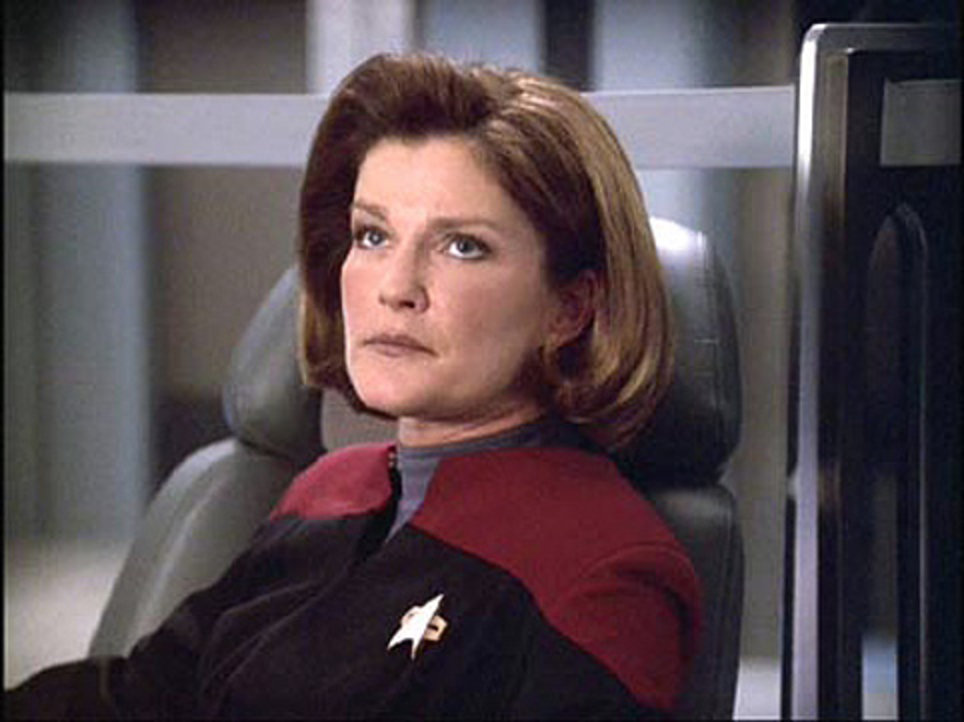 Mulgrew is a proud woman with a jutting profile to match. She has decided that the only way to deal with Trekkies is to bark at them. When she strides onstage through the sliding doors on Friday night, a crowd rises to greet her only to be peremptorily ordered to sit. They sit. At once. "I promise," she barks, "that not one person will leave this place without a signed photograph of mine." Three thousand fans look as if they've died and gone to heaven.
If anyone knows what it's like to be a god on earth, then it's a Star Trek captain at a convention. Throughout the weekend, the bouquets of compliments devotionally laid at Mulgrew's feet come as thick and fast as the tacky votive gifts, proffered by trembling hands. Grown men asked her to hold cuddly toys and say cheese. Working women say she's their role model. Many of them simply queue to tell her she is the only reason they are here. Whether they'd have said the same if Jeri Ryan had turned up is doubtful. Ryan is the sex bomb with the bazooka boobs (pictured below left) who was thrust into Voyager to resuscitate flagging ratings. Janeway and 7 of 9 don't do conventions together.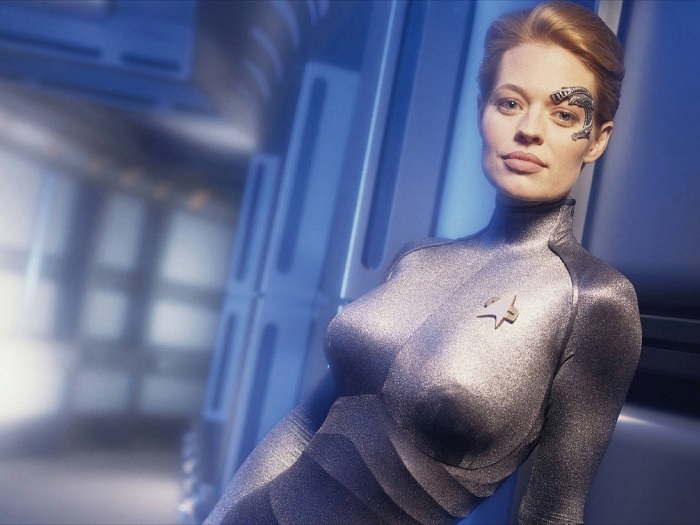 Despite these scary testaments of devotion, the cast never lets the mask slip. Some of these actors reserve their greatest performances for Star Trek conventions. For Krige, it is a case of pretending to be the Duchess of Kent for 48 hours. She keeps a soft but rigid rictus on her face even when during a photo session a man posing with her allows his right hand to slip over her right buttock. "It happened so quickly I didn't notice," says the Duchess of Kent afterwards. Her cheek muscles must have ached all the way home to Los Angeles.
The beautiful Krige (pictured below right) is the most obvious proof of a basic aesthetic truth. People who watch telly generally take less care of their appearance than people who are on telly. There is a high incidence of obesity among Trekkies, plus a general tendency to miss patches when shaving. Compare and contrast with the visiting Californians. They could be from outer space. But the guests bend over backwards to ignore the immense gulf. I ask Mulgrew if there is such a thing as a typical Trekkie. "Yes. Smart. Down the line," she barks. "They have to be smart. They are all rooted in science. They are not dumb or they wouldn't find it attractive." She cannot possibly believe this.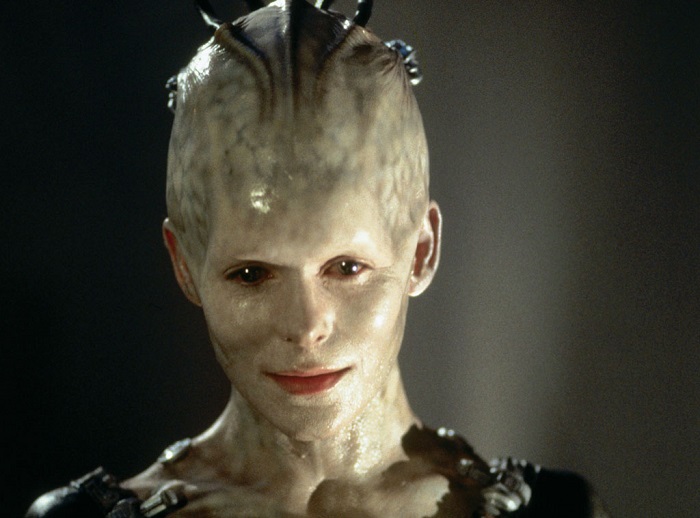 But then the stars have to be polite about fanatics who so willingly line their pockets. A ticket for this event (which was a few years back now) cost £60, on top of which most of the fans I spoke to had shelled out about £200 in merchandise. Do the maths. It's a lot of money, and after costs whatever doesn't go to charity ends up in bank accounts in Los Angeles. It's not unheard of in America for Trek stars to trouser $100,000 a weekend.
No wonder some actors go to 10 a year. Others need the money less, and ration their appearances. In the course of Mulgrew's stage talk, Patrick Stewart, or Captain Jean-Luc Picard from Star Trek: The Next Generation, emerges unannounced, sparking a mass epiphany. It's only his second British convention in 14 years. Afterwards in the green room he has the shellshocked look of someone who has just survived a massive natural disaster.
Although he doesn't tell the crowd this, Stewart retains a deep suspicion of Trek conventions. "We are very clear about what I will not do. I usually come on, do the thing and I go. And that's what I feel comfortable with. I thought some things were undignified. I actually don't like having my picture taken with a total stranger. It gives me the creeps. I did the signings for a while but I just got to be more and more uncomfortable. It's not amusing for me to be around Klingons and Borgs."
He's not the only one. But he should have been there on Saturday night for the fancy dress competition. The best entrant by far is Colin, a bald man from Stratford-upon-Avon. He comes in a Borg costume which consumed three years of his spare time and £1,000 of his wealth. The tubular gun head on his arm rotates on the end of a screwdriver - "but I tend not to do it much," he says, "because it falls off." He doesn't win. But everyone wants a picture taken with him, and for a night he is a celebrity. He is, he says, enjoying himself. And who is anyone to mock that? "I don't give people a hard time because they go fishing lots," he says. "People seem to think that Trekkies are fair game. It doesn't stop me."