A View From the Bridge, Young Vic |

reviews, news & interviews
A View From the Bridge, Young Vic
A View From the Bridge, Young Vic
Arthur Miller classic returns to the stage stripped back and stirred up
Three's company, or maybe not: Phoebe Fox, Mark Strong, and Nicola Walker in `A View From the Bridge'
What is it with the London theatre and this particular Arthur Miller play? In 1987, Michael Gambon reached a career-best peak playing the Italian-American longshoreman, Eddie Carbone, in a defining National Theatre revival of A View From the Bridge directed by Alan Ayckbourn, and Ken Stott was arguably even more scorching in the same role on the West End five years ago.
Now along comes the Flemish director Ivo van Hove to rattle the cages of received theatrical practice with a stripped-back approach to Miller's high-octane text that places the focus directly on leading man Mark Strong and an incendiary cast, in the process rendering the Young Vic yet again the most classically audacious auditorium in town.
In a sense, the surprise is that van Hove and the Vic haven't worked together before given the wide net cast by the general director of the Toneelgroep Amsterdam across multiple theatre capitals. New York is doubtless still reeling from this director's Off Broadway shake-ups a decade or more ago of Hedda Gabler and A Streetcar Named Desire, the latter staging forever remembered for its use of a bathtub, while his more recent credits include the world premiere in Madrid earlier this year of the opera version of Annie Proulx's Brokeback Mountain that surely someone somewhere will do in London.
In the meantime, we have a breathless, interval-free View performed with virtually no props (when one does appears, like a chair, the moment is held for a deliberately long time), its cast circumnavigating the stage barefoot. The aim is to tap into the primal passions coursing through a play that gives way to a murderous rage, in which case who needs visual distractions to get in the way? Jan Versweyveld's set - gradually raising and lowering at the start and close of the action - functions as both gladiatorial arena and mausoleum, as befits Eddie's headlong journey into a psychic abyss of his own making. And given that his eyes, we are told, "are like tunnels", how fitting that the rear of the stage should feature a door opening on to its own metaphoric tunnel of blackness - a vision of Eddie's unfortunate destiny and those doomed to exist in his (and its) orbit.
The plot has a simplicity worthy of the Greek tragedy that this staging explicitly evokes. Eddie (Mark Strong, looking in every way as lean as the staging itself in his first London stage appearance in 12 years) and wife Bea (the wonderful. ever-truthful Nicola Walker) watch as their marriage - indeed, their very existence - is upended by the gathering possessiveness felt by Eddie towards his orphaned 17-year-old niece, Catherine (Phoebe Fox), who shares their home. Eddie is forced to confront what turn out to be very real psychosexual demons when Beatrice's two Italian cousins come to stay - the younger of whom, Rodolpho (Luke Norris, pictured above facing off against Strong), quickly catches Catherine's eye.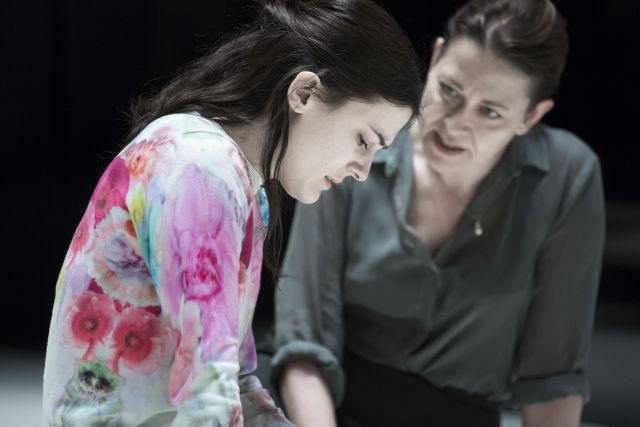 There are no fountains, we are informed, in the Red Hook area of Brooklyn where the play unfolds, that passing remark additionally evocative of the clamping-down of the very desire - Eddie and Bea's sex life, for instance, is virtually nil - that Rodolpho's arrival reawakens in all around him. "You could kiss him he was so sweet," Eddie says apparently innocuously of Rodolpho, and Strong makes tremulously clear the extent to which this Eddie owes his furies to the alarm bells that go off within him once Rodolpho enters the scene - and not just by his realisation that his beloved child-woman, Catherine, is now an independent flesh-and-blood creature. (An imperfectly accented Fox, pictured above left with Walker, may not cut quite the breezily sensual presence the role demands - and that brought Scarlett Johansson a Tony in the same part on Broadway a few years ago - but we'll let that pass.)
Tom Gibbons's gently ominous sound design allows the mournful undertow of the Fauré Requiem to underscore the action, while Versweyveld's lighting does its bit mercilessly to erode all remnants of civility in accord with Eddie's telling remark early on that "most people ain't people". One could argue that so ramped-up an arena aesthetic turns the play into one long extended climax, and there are times when proceedings do get a bit shouty. (That fine actor Emun Elliott, too, seems physically miscast as the necessarily imposing Marco, the older of the two arrivals from Italy.) But these cavils pale next to the pell-mell intensity of a production that on this occasion barely needs Michael Gould's expertly played lawyer-narrator, Alfieri, to cue us into the momentous import of events. It's instructive to watch this Alfieri growing in agitation as the audience paying heed to the action retreats into the sort of collective, sustained hush that - in the theatre - represents the best compliment of all.
Mark Strong makes tremulously clear the extent to which this Eddie owes his furies to the alarm bells that go off within him once Rodolpho enters the scene
rating
Explore topics
Share this article