When Corden Met Barlow, BBC One |

reviews, news & interviews
When Corden Met Barlow, BBC One
When Corden Met Barlow, BBC One
Celebrity schmooze-fest reveals unexpected hidden depths
Gary Barlow (with embarrassing snapshot) tries to cope with superfan James Corden
This had all the makings of a celebrity backslapathon of nauseous proportions, but it turned out to be a painfully touching exploration of the fragility of fame. Not that this means we have to feel sorry for filthy-rich pop stars and happy-chappy light entertainers, but it does mean we have to grudgingly accept that some of them may be human after all.
Corden and Barlow made an improbably well-contrasted pair. Corden came on like a chubby labrador puppy, almost peeing himself with delight at the chance to spend quality time with his favourite pop idol. Barlow remained laconic and slightly lugubrious, absorbing Corden's sugar-rush glee-barrage with an air of practised resignation. As they headed up the motorway in Barlow's Range Rover, aiming for his home town of Frodsham in Cheshire and the Manchester where Take That was born, Corden kept putting Take That songs on the stereo and getting Gary to do dance routines at the steering wheel.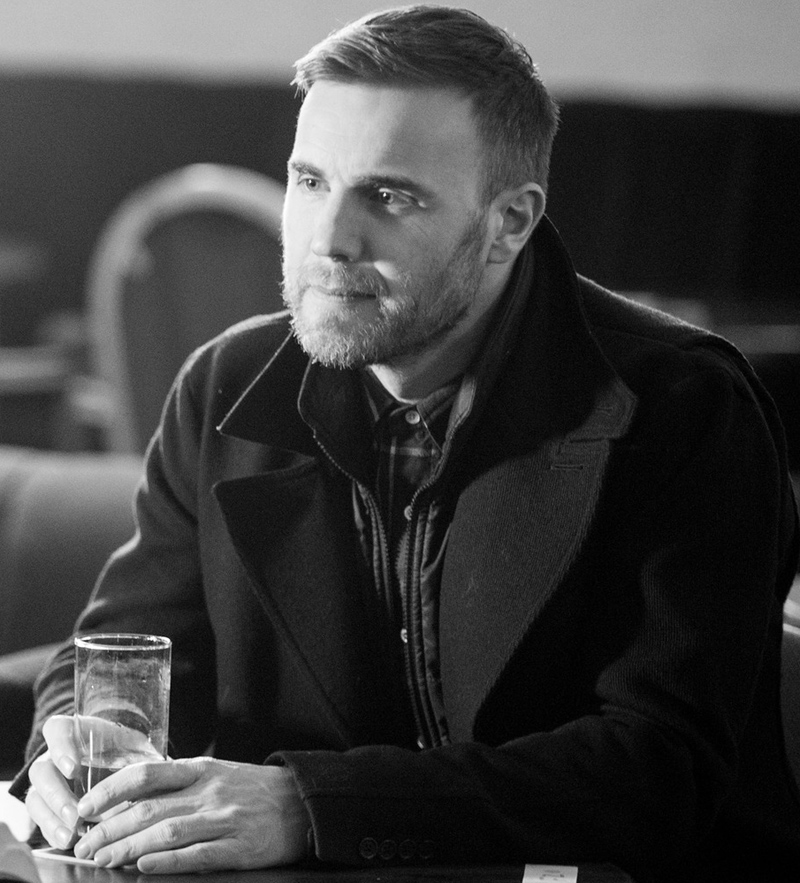 The mere unvarnished story of Barlow's precocious teenage years playing in working men's clubs was unfeasibly entertaining. Corden had unearthed a blackmail-evoking video clip of Gary performing Michael Jackson's "The Way You Make Me Feel", wearing what looked like a pair of Boy George's old pyjamas and doing a bizarre scissor-kick movement that had the present-day Barlow putting his head in his hands and groaning mournfully.
Footage from the formative days of Take That were yet more incriminating. Corden mercilessly lampooned Barlow's dance-routine costume of tight red cycling shorts with belt, scarf and no shirt, while the publicity photo Barlow had taken of himself to send to prospective agents and managers - lounging topless in jeans, with peroxide-blond hair - would provoke panic stations and an emergency lockdown in this paranoid post-Savile environment.
The heart of the matter, though, was the story of how Barlow went from being the dominant musician in Britain's top boy band Take That, knocking out chart-toppers with an ease reminiscent of Lennon & McCartney or Sir Elton, to a floundering nonentity with Van Gogh's ear for a hit. After Robbie Williams quit the group in 1995 and embarked on a solo career of flabbergasting proportions - remember that story about how his contract with EMI "guaranteed" that he'd break America? - Barlow coolly envisaged himself sailing effortlessly up the US charts. Instead he suffered a catastrophic backlash in which he was written off by fans and media alike (and by a cartoonishly spiteful Robbie), and didn't even have a record deal.
Barlow was too cocky and took too much for granted, but his account of the ordeal was as harrowing as it was low-key. Lapsing into depression as he saw himself being ridiculed time and again on TV - there was a telling scene where he watched a clip of David Walliams and Matt Lucas sending him up, and his face looked like an Arctic winter - he deliberately gorged on junk food in order to become fat (17 stone) and unrecognisable. Even his beloved white Yamaha piano on which he'd written most of his hits turned against him - "It just didn't talk the way it used to talk," as he put it.
Eventually it all turned around, and now Barlow is Britain's Pop Star Emeritus by Royal appointment, close chums with Harry and Wills and king of the celeb-charidee hill (Barlow with Take That at the 2012 Olympics closing ceremony, above). "He's following in my footsteps and I love that," commented Sir Elton, stricken by a catastrophic irony-malfunction. But Corden had saved his best for last, when he wondered aloud whether Barlow's single "Let Me Go" was written in the voice of his daughter Poppy, who was stillborn in 2012? Barlow's thoughtful and unhysterical response did him huge credit, I thought.