Joshua, Göttingen FO, Cummings, St John's Smith Square |

reviews, news & interviews
Joshua, Göttingen FO, Cummings, St John's Smith Square
Joshua, Göttingen FO, Cummings, St John's Smith Square
The orchestra known as the FOG have palpably gained in stature and expressive power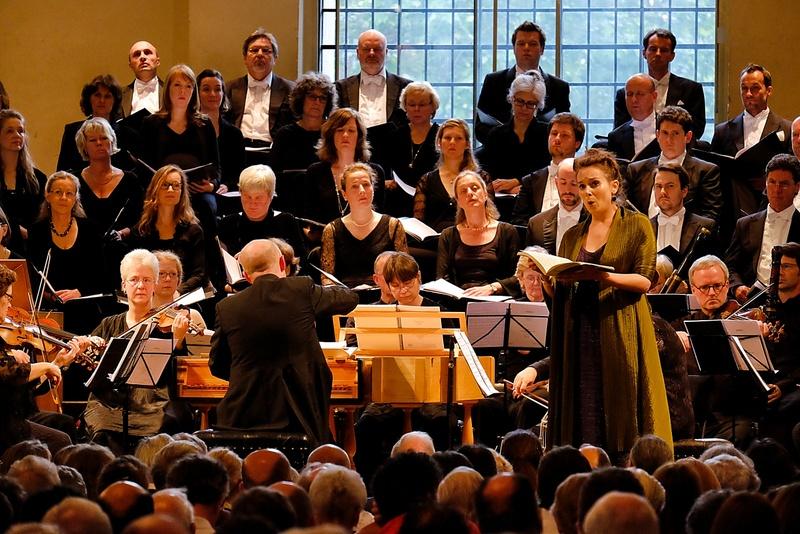 Anna Dennis with the Festspiel Orchester Göttingen and NDR Chor
This was smart programming. The final night of London's Lufthansa Festival of Baroque Music presented the forces of the Göttingen Ha(e)ndel Festival.
Both festivals - the London one ended last night, the Göttingen one starts next week - have taken as their theme this year the tercentenary of the Hanoverian accession, and there is no town which wears its associations with the Hanoverian/British monarchs with quite so much pride as Göttingen; it owes its main souce of an identity, the existence of its university, to Georg-August, the King we know in Britain as George II
(statue of William IV opposite the university founded by George II below, photo by David Nice)
.
Last night's performance of Handel's "military oratorio" Joshua from 1747 also marked the first visit to London by the orchestra which has been convened annually for the festival since 2006, the Festspiel Orchester Göttingen, known colloquially as the FOG. This hand-picked and genuinely international baroque band finds its home in the pit of the delightful and tiny Deutsches Theater for the festival's main offering, a new Handel opera production each year, a tradition which goes back to 1920.
The FOG was instigated by the previous Artistic Director Nicholas McGegan. What he wanted was a truly responsive group of players. Laurence Cummings has continued to work with essentially the same group of players, and established his own relationship with them over the time since he took over as artistic director in 2012. It's definitely working, as reports from theartsdesk have affirmed. The results he gets, the sheer range of orchestral colour are remarkable. In Joshua he gleefully took the orchestra through all its gears. I last heard them three years ago and they have palpably gained in stature and expressive power.
Cummings took relish, for example, in setting demandingly quick speeds for numbers such as "With redoubted rage". He also allows the orchestra moments of breadth and repose, letting the sound bloom, giving singers ideal support and complete freedom of expression. The orchestra is packed with top soloists. Principal flute Kate Clark was exceptional in "Hark! 'tis the Linnet and the Thrush". Cummings, directing from the harpsichord, has clearly developed a good partnership with the FOG's impressive existing harpsichordist Hanneke van Proosdij. The brass section of three baroque trumpets and two natural horns blazed when required, and didn't put a single foot wrong all evening.
Lindsay Kemp in his programme note calls Joshua a "less than fully focused drama". With that limitation, Cummings and his cast of four main solo singers succeeded remarkably in developing consistent characterization. Göttingen tends to make good choices of singers. These were well-matched and contrasted, both as individuals and as foils for each oher. It helped that the singers treated the performance as semi-staged, and remained completely in character throughout, enabling an audience to register what makes each character tick.
The trickiest role to bring across is Joshua. He is less of a protagonist, more the excuse for the celebration. Kenneth Tarver (pictured left) grew into the authority which the role required both vocally and dramatically. Anna Dennis in the soprano role of Achsah brought astonishing musicality and limpid, flawless phrasing to Handelian vocal lines. Her "To vanity and earthly pride" was a definite highlight.
Othniel is perhaps the simplest character. A mezzo trouser role, her character in essence wears a keenness badge in all situations, whether as a callow military recruit set on glory, with clunky couplets to sing such as "War to hardy deeds invites/ Love the danger well requites", or as the suitor for the hand of Aschah. Croatian mezzo-soprano Renata Pokupić kept communication and ardour going at a high energy level.
A new figure on the international stage, baritone Tobias Berndt, born 1979, has the ultimate German singing pedigree: a former treble in the Kreuzchor in Dresden, he has studied with both Fischer-Dieskau and Quasthoff. With an agile and expressive voice, his is a name to watch out for.
The Choir of NDR in Hamburg were characterful and consistent, but for me it was a very fine orchestra indeed and Cummings' superb way of getting the very best out of them that took the honours.
Cummings and his cast of four main solo singers succeeded remarkably in developing consistent characterization
rating
Explore topics
Share this article