Don Quichotte, Grange Park Opera |

reviews, news & interviews
Don Quichotte, Grange Park Opera
Don Quichotte, Grange Park Opera
Proof that Massenet's Cervantes opera is a work of variety, poignancy and emotional depth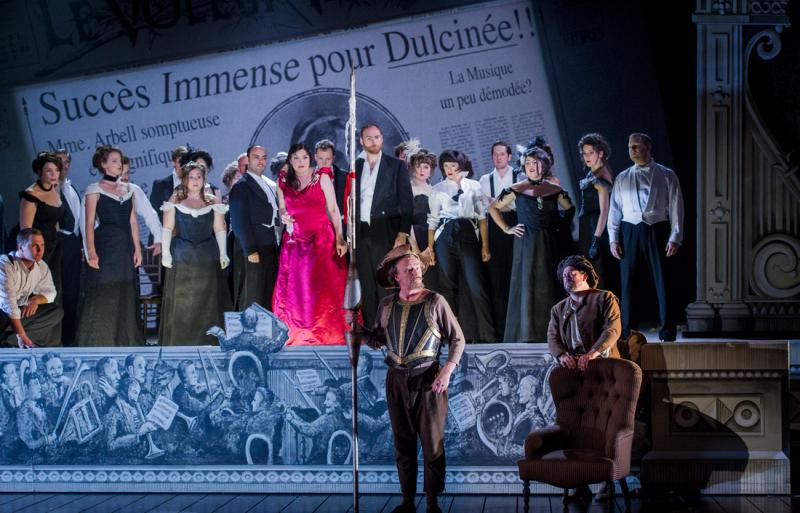 Clive Bayley (foreground) and the cast of 'Don Quichotte'
Grange Park Opera has a strong penchant for French repertoire, and has been valiant, consistent and highly imaginative in presenting it ever since 1998, when Wasfi Kani and Michael Moody first started inviting opera-goers to the unique setting of a Greek revival house in the Hampshire countryside. This year's production of Massenet's 1909 Don Quichotte is the eighth French work which the company has produced. Samson et Dalila next year will be the ninth.
Stagings of Don Quichotte in the UK are rare indeed, the last one of significance probably having been English National Opera's in 1994, with Richard Van Allan playing the title role. It does have some odds stacked against it: the three main protagonists are lower voices and it is an opera which dwells on deeply unsexy subjects like honour, ageing, death. However, this production, designed and directed by Charles Edwards certainly achieves one thing: it will have proved harsher critics of the work – Leonard Gilman's page of invective about the Met's 1926 production is well worth reading, mainly for entertainment value - very wrong. This production puts the case well that Don Quichotte is a work of variety, poignancy and emotional depth, and one which deserves to be seen and heard more.
Don Quichotte was not Massenet's last opera – there were three more after it – but it is nevertheless a work he was involved in completing as he was writing his memoirs. There are moments, brought out perhaps too obviously with a slightly tongue-in cheek subplot in this production, where he is clearly penning his own valediction. Massenet has his protagonist singing a prayer in Act 3 in which he asks the Lord to receive his soul, and reflects on his life and prepares for death at the end of Act 5. These were moments to which the BBC Concert Orchestra conducted by Renato Balsadonna – normally to be found as chorus director at the Royal Opera House – brought genuine emotion and beautiful shape. They felt like the emotional heart of the work, and I had the palpable sense of an audience completely spellbound.
Some commentators have been particularly irritated by the windmill scene at the end of Act 2, in which a puppet-head representing Stravinsky is brought on to represent the threat to Massenet's values of modernity in music. I found it highly effective as a way to draw attention to the vividness of Massenet's take on post-Salome grand guignol.
The production uses the small stage to great effect. Gabrielle Dalton's belle epoque costumes bring style and beauty to the enterprise. Paul Keogan's lighting desiign is highly imaginative in the way it differentiates parts of the split stage, brilliant in the way it calibrates mood-shifts, and felt additive throughout.
Clive Bayley's characterization of the knight of the woeful countenance (pictured above) was superbly varied. Unlike Richard Van Allan who may have left it until too late to perform the role, Bayley has laid down a strong marker that he owns it. Mezzo-soprano Sara Fulgoni (pictured below) is a Grange Park stalwart; she was superb, for example, as Brangaene in Tristan in 2011. She played Dulcinée very convincingly as Carmen with more miles on the clock. Her use of vibrato can be excessive. A revelation, and perhaps the singer whose cause will have been most advanced by this production, is the Sancho Panza of David Stout. He was authoritative, quick-witted, dramatically engaging and powerful, and vocally very strong throughout.
In the pit, Renato Balsadonna, in his first production at Grange Park Opera, was able to give real air and spaciousness to the more poignant moments of the score, without there ever being any question of doubt or hesitation or discrepancy between chorus, soloists and orchestra. The solo cello episode before the last act was brought out beautifuully and pricipal oboe, flute and clarinet took every one of their solo moments with distinction. Balsadonna's superb authority with the fast-moving chorus parts was very much in evidence.
Grange Park is a place which the word "destination" (when used as an adjective) was made to describe. It is a magical place, and the level of thought and attention to detail is inspiring. This thought-provoking and visually clever and attractive production is a milestone for the Grange Park company – it will be the first recording which the BBC have done at Grange Park. The broadcaster will record the final performance of the run on 9 July for future transmission on Radio 3.
It is an opera which dwells on deeply unsexy subjects: honour, ageing, death
rating
Explore topics
Share this article