Reissue CDs Weekly: The United States of America |

reviews, news & interviews
Reissue CDs Weekly: The United States of America
Reissue CDs Weekly: The United States of America
Landmark 1968 album which brought the electronic and avant garde to the psychedelic era
The United States of America with Joseph Byrd (back, left) and Dorothy Moskowitz (back, centre)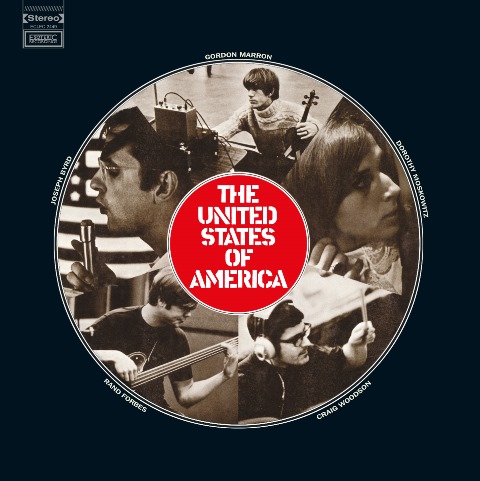 The United States of America: The United States of America – The Columbia Recordings
Nothing sounded like The United States of America. The release of their only album in March 1968 must have been greeted with a lot of head scratching. Although at one with the questing spirit of psychedelia, they clearly weren't brimming with love, peace, gentle vibes and the burgeoning back-to-the-roots movement. Their music incorporated jarring electronics and the deadpan voice of Dorothy Moskowitz, a singer even more dauntingly distant than the Jefferson Airplane's Grace Slick.
Joseph Byrd was the USA's mastermind. A composer who graduated from Stanford University, he had a head full of Charles Ives, left-wing politics, electronic and experimental music. While later teaching at UCLA he studied psychology and ethno-musicology, and brought it all to The USA. Incredibly, his eccentric new band signed to Columbia Records.
The resultant album played out like a musical revue. Not stylistically unified, it had shades of early Country Joe & the Fish, Jefferson Airplane, Ives, burlesque, show tunes and avant gardists like Luciano Berio and Morton Feldman. Byrd was fond of the circus-like tones of the Calliope and non-linear rhythms. No one was going to have a good trip to this kaleidoscopic stew.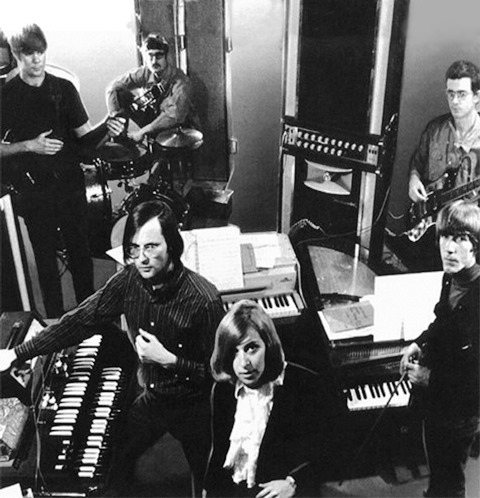 It is a landmark, and wonderful too. But it couldn't last. The reissue includes three very poor tracks recorded by a post-album USA featuring Moskowitz, no Byrd and a line-up of otherwise new musicians. Where Byrd himself was going is heard in a May 1968 take of "You can Never Come Down", re-recorded more impactfully (and punkily) for his album The American Metaphysical Circus. The extras also include two tracks from a September 1967 Columbia audition which demonstrate the band was fully formed from the off.
In the anything-goes bonanza which followed the arrival of psychedelia, The USA were not on their own in bringing the electronic into pop. The Bay Area's harsh-sounding Fifty Foot Hose, led by artist Cork Marcheschi, beat them into the shops with the Cauldron album, issued in late 1967. In New York, the otherwordly Silver Apples took it farther out with just drums, electronics, keyboards and vocals.
Existing bands also coloured their palettes with the new sounds and textures. Roger McGuinn of The USA's label mates The Byrds experimented with the Moog synthesiser and recorded the then-unreleased "Moog Raga". He did though bring his dabblings to The Byrds on their January 1968 album The Notorious Byrd Brothers with the track "Space Odyssey". Beatle George Harrison would issue the Electronic Sound album in 1969, and his band employed the synth on Abbey Road. The Monkees got their first with a Moog on "Daily Nightly", recorded in 1967.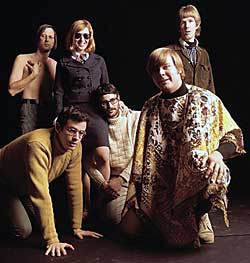 But The USA did not integrate the unusual new instruments into their existing arsenal. Instead, they were built from scratch to incorporate them. Lack of a guitar stressed how different they were. Their sole album bizarreness wasn't limited to the music. The lyrics of "I Won't Leave my Wooden Wife for you, Sugar" (listen to the track overleaf) declared "try to understand that tying you is fine, and whipping you is grand." The subject was a schoolgirl. This went much further than The Velvet Underground's "Venus in Furs" by taking S&M into the day-to-day world of the lyric's split-level suburban houses and neighbours sitting round a pool. Finding an audience was going to be tough.
Rolling Stone's May 1968 review noted that "this group has drawn its enthusiastic following from a New Left-intellectual crowd more than from the usual rock-hip audience [and] plays a challengingly complex brand of art-rock." The critique continued "the strictly technical abilities of the U.S.A. are not quite on a level with their ideas. The voices are flat and uninteresting…the instruments perform their assigned tasks adroitly, but all too mechanically. Obviously the U.S.A. is mainly into idea-rock...the resulting music is cold and cerebral. Like so much 20th-century classical music. Too bad, because there is much happening here that should be spread far beyond the limited number of people who will really dig this album."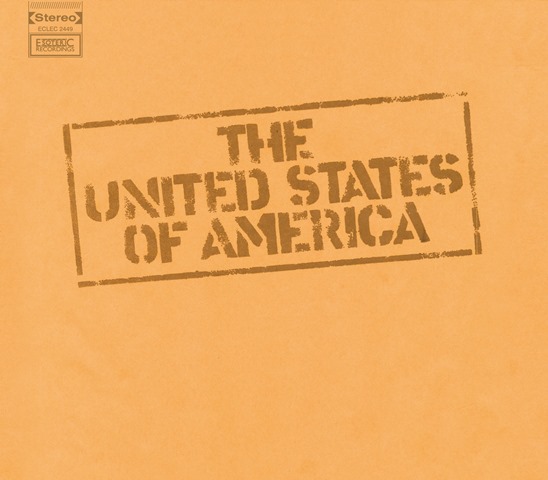 In time, that happened. The USA became a key, explicit influence on Broadcast, are now accepted as mavericks and drawn on by artists marrying the electronic with the organic. Like The Velvet Underground, they stood apart which helps make them timeless. It just took longer than some for their reassessment.
Even so, their album has been reissued previously and potential buyers should be aware that the extras here are the same and sequenced in the order of the 2004 reissue by the US label Sundazed and it would have been good to have the mono, promo-only version of the album appended. This then is a reissue of a reissue, albeit housed in neat slipcase mimicking the original's brown-paper-bag-like sleeve (pictured above left). Unfortunately, the annotation this time round is lacking (beyond recording dates, details of the bonuses are not given) and the new liner notes do not engage fully with the content or draw much on the copious interviews given over the years by Byrd and Moskowitz. A shame, as this important album deserves greater consideration. Even so, for anyone who doesn't have it, this is essential.
Overleaf: listen to the USA's "I Won't Leave my Wooden Wife for You, Sugar"
This United States of America's lyrics took S&M into the day-to-day world of suburban houses and neighbours sitting round a pool
Share this article
Subscribe to theartsdesk.com
Thank you for continuing to read our work on theartsdesk.com. For unlimited access to every article in its entirety, including our archive of more than 10,000 pieces, we're asking for £3.95 per month or £30 per year. We feel it's a very good deal, and hope you do too.
To take an annual subscription now simply click here.
And if you're looking for that extra gift for a friend or family member, why not treat them to a theartsdesk.com gift subscription?