The Importance of Being Earnest, Harold Pinter Theatre |

reviews, news & interviews
The Importance of Being Earnest, Harold Pinter Theatre
The Importance of Being Earnest, Harold Pinter Theatre
Or the importance of doing Wilde gracefully, in sensitively handled play-within-a-play
Christine Kavanagh's Cecily interposes herself between Jack (Martin Jarvis) and Algernon (Nigel Havers)
"Some might say we're getting too old for this sort of thing," declares Martin Jarvis's Jack Worthing, going off Wlldean piste. Well, we did wonder whether the reunion of Jarvis with Nigel Havers's Algernon after 32 years might not be some sort of vanity Earnest.
But you can trust director Lucy Bailey to make sense not only of "the boys" but also their mature objects of desire, not to mention a Lady Bracknell (Siân Phillips, flawless,
pictured below
) who at an astonishing 81 is past having a daughter of marriageable age.
It's a more radical twist now than getting a man to play Lady B (though that was hardly conventional when I saw it done by two Australians actors playing all parts, by the veteran actor/director Otto Schenk in Vienna as a crapulous dowager in Bunbury, as they call it over there, or by Alan Ewing in a pinstripe suit still being addressed as "Aunt Augusta" in Gerald Barry's brilliant, manic opera). I anticipated some sort of framework, and perhaps I get no prizes for being right: this "trivial comedy for serious people" is the latest five-yearly return to a beloved classic by the Bunbury Company of Players based in Morton St Cuthbert. And if that sounds like a pretext for Noises Off style foolery and chaos, it's one of the many surprises that the local worthies do it more slickly and naturally than any cast I've ever seen on stage.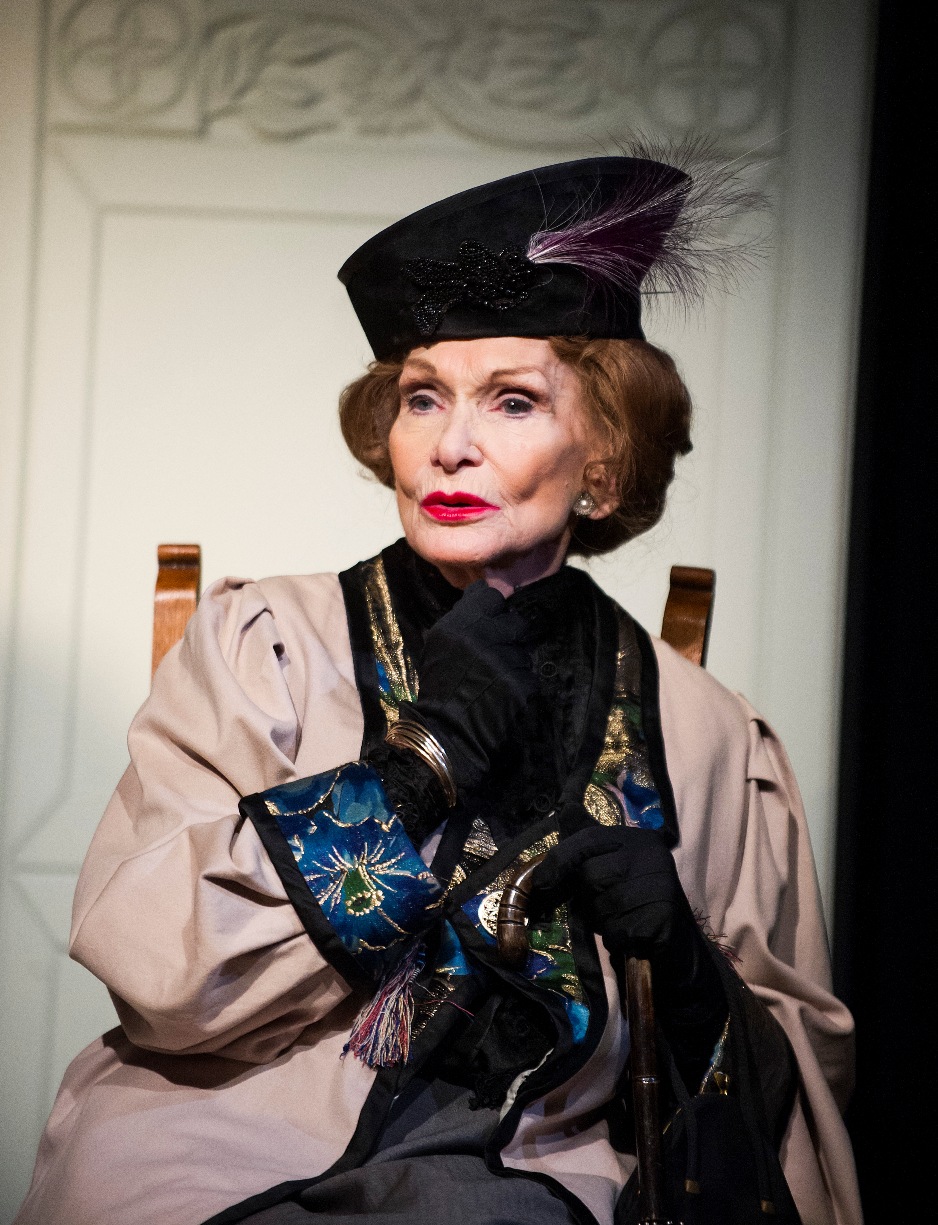 Indeed, what could have been clunking transitions between now and then are fluently done, the play itself mostly as light and airy as William Dudley's ravishingly beautiful design for an Arts and Crafts house (his models were an Ashbee home in Chelsea and Blackwell House on Lake Windermere). Hard to believe that the Bailey/Dudley partnership comes fresh from the black and smoking Globe-into-Colosseum setting for a stunning Titus Andronicus.
This very desirable residence is owned by George and Lavinia Spelman – one of many ironies being that he, played with delicious understatement by Patrick Godfrey, owns half the county but plays both servants well, Merriman superlatively so. Simon Brett's framework text is deft if inevitably obvious in its quck relay of information about the relationships between these not unsophisticated thespians, and there's a running gag about the consumption of the cucumber sandwiches which, like all other ideas, never becomes too insistent.
We expect a hamming-up of Wilde's text, but Bailey refuses to allow it, coaxing from all concerned a swift but never gabbled naturalness which refuses to pause as if to say – as I remember well from a footlights spoof – "Ha! Epigram" at every line. The grotesque wink to the audience of Havers as Dicky Oldfield as Algernon Moncrieff is one exception, used to cement a smooth transition. Otherwise there's plenty of mounting hysteria – Phillips is consummate at sewing in a more or less throwaway "handbag", which we've seen Lavinia rehearse near the start, within a crescendo of growing horror at Jack's railway-station narrative.
It's left to Jarvis to reflect the mounting violence which was so much a part of Barry's Wilde opera. His vocalizing of impeccable modulation and volume is matched by Cherie Lunghi's very definite Gwendolen. If Havers, and Christine Kavanagh as Cecily, are quieter to begin with, they have their grace, charm and psychosis in a second half which leaves the framework more or less alone and rises to the challenge of the ladies' bitchfest (pictured left) and a denouement which is, of all things, rather moving. After all, if the preposterousness of, say, Shakespeare's tying-up in Cymbeline can be so, why not a scene in which Victorian hypocrisy is finally unmasked?
In this, Niall Buggy's wonderful hairsbreadth-from-excess Canon Chasuble and Rosalind Ayres's rather lovable Prism play as much of a part as anyone – and I've never laughed so much at the Carrollesque (or Gilbertian) absurdity of the stain left by the explosion of a temperance beverage in the governess's holdall. More generally, though, the effect is one of quiet, inward and constant delight in the audience rather than any rolling in the aisles – and what could be more revelatory than that in a classic we all think we know so well?