Reissue CDs Weekly: Front Line – Sounds of Reality |

reviews, news & interviews
Reissue CDs Weekly: Front Line – Sounds of Reality
Reissue CDs Weekly: Front Line – Sounds of Reality
Exhumation of Richard Branson's John Lydon-assisted Seventies reggae label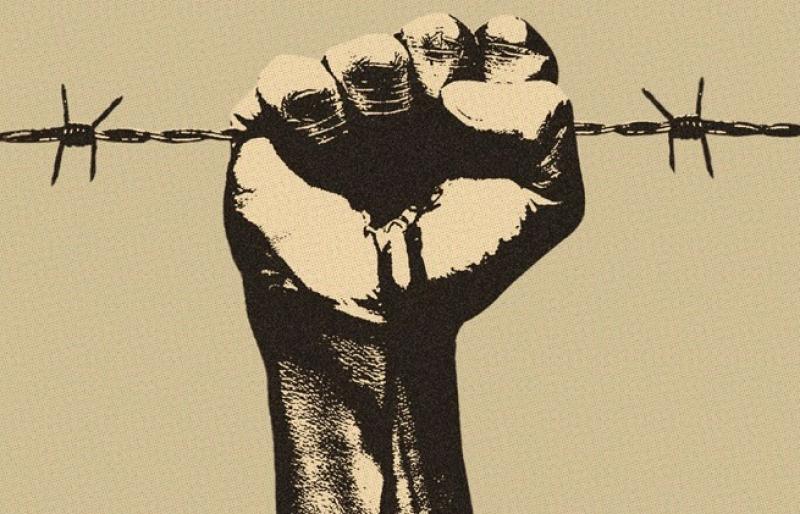 Various Artists: Front Line – Sounds of Reality
A month after The Sex Pistols sighed their last in San Francisco in January 1978, their label boss Richard Branson flew ex-frontman John Lydon and his entourage to Jamaica. Sid Vicious would hurtle towards oblivion while fellow former Pistols Paul Cook and Steve Jones headed to Brazil to trash their legacy by larking with on-the-lam criminal Ronald Biggs. Lydon's mission was to scout talent for Branson's new reggae imprint, the Virgin subsidiary Front Line.
Front Line was launched in March 1978. Over its less-than two-year lifespan, it issued 46 albums and 26 singles. High-profile signings included Big Youth, Keith Hudson, The Mighty Diamonds, Prince Far I, U-Roy and Tapper Zukie.
In his introduction to the book accompanying the Front Line – Sounds of Reality box, Lydon recalls "all these groups and singers coming to see us at the Sheraton hotel [in Kingston, Jamaica]. There was just an endless list". The chance of scoring a deal with the British label even enticed seminal vocal trio The Abyssinians who had spilt acrimoniously the year previously. Money in the air led to their reformation: a recollection which possibly resonated with Lydon when The Sex Pistols reconvened in 1996.
Front Line must have had a limited commercial shelf life
Over five discs, the box collects some of the most infectious music of the late Seventies and balances it against some of the most cryptic. I-Roy's Bunny Lee-produced "Don't Touch I Man Locks" begins normally enough but instruments soon come and go as guitars phase in and out. Though not wholeheartedly dub, it's nonetheless a disorienting experience. Beyond the sonic explorers, Branson also scooped up artists who could potentially compete sales-wise with Island Records' Bob Marley. Delroy Washington's "Freedom Fighters" has a Wailers-style swing and the post-"Uptown Top Ranking" Althea and Donna were also signed. Neither charted.
Many of those signed may have been conscious on a spiritual level, but sexism crops up. U-Roy sings "remember, you're just another girl" on "Runaway Girl". This is set against Front Line's still-extraordinary boundary-busting UK discovery, the Linton Kwesi Johnson-voiced Poet and the Roots, whose "Dread Beat an' Blood" resonates powerfully and timelessly.
When the set delves into the edgier martial – especially on discs four and five – it becomes clear Front Line must have had a limited commercial shelf life. Although tremendous, records like The Twinkle Brothers' "Africa" and U-Brown's intricate "Black Star Liner" weren't going to achieve much mainstream sales. Aesthetically, Front Line succeeded with its mavericks rather than its potential cross-over acts.
Discs one, two and three use three vintage budget compilation albums as their jumping off point: 1976's The Front Line; 1978's The Front Line II and 1979's The Front Line III. Extra tracks are added to each, bringing the original track lists of each up to CD length. Disc four is a selection of generally fantastic 12-inch mixes, while disc five is a mix of eight previously unreleased tracks, single sides and three cuts which were not originally issued in the UK.
The diligence apparent in searching in archives for unreleased tracks is not reflected in the package's presentation
Building the set from pre-existing albums rather than devising an entirely new selection brings problems when disc three is reached as, by this point in the story, Front Line was promoting glossier records on its compilations which lacked edge and therefore sound less interesting today. Sly Dunbar's syn-drum punctuated "Mr Music" and The Abyssinians' thin "South African Enlistment" aren't worth revisiting, while Gregory Isaacs' "Lonely Girl" – while a popular record – is fluff. A totally fresh track selection would have been more interesting. Indeed, this approach drove the predecessor box set, 2001's The Front Line.
The rear of the box is emblazoned "the ultimate celebration of the most iconic Jamaican music label of the late Seventies". While moot that Front Line really was as described, as it was British and had a roster including British and Britain-based acts (Joyella Blade, Poet and the Roots, Vivian Weathers), this box is not actually dedicated to Front Line. Virgin issued its first reggae album in 1975: 28 of the box's 92 tracks pre-date the 1978 launch of Front Line and were issued by Virgin on their main label. The box is not quite as billed.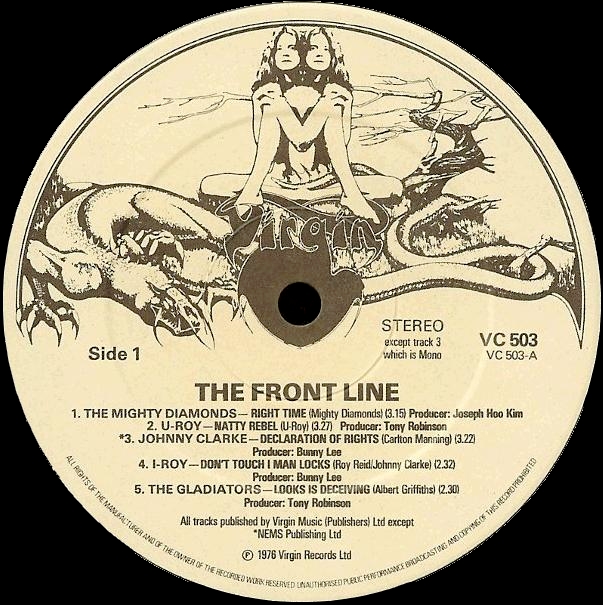 This loose approach is also seen in the book. On pages 16 and 17, it's stated the name Front Line was formulated in "late '77" and that the fist-with-barbed-wire image which visually defined the imprint was created in December 1977. This is wrong. The image was photographed for the cover of the 1976 compilation The Front Line which, in due course in early 1978, lent its title to the name of Branson's new sub-label. (pictured left: the label of side one of the 1976 The Front LIne album)
Similarly problematic is that the diligence apparent in searching in archives for unreleased tracks is not reflected in the package's presentation. I-Roy and U-Roy are referred to as I Roy and U Roy, without the integral hyphens used on all their releases (such as the compilation album illustrated above). The Twinkle Brothers are listed both with the definite article and as Twinkle Brothers.
Worst and most careless of all, the back of the box compounds that blunder by listing The Twinkle Brothers as The Winkle Brothers.