Prom 31: Coote, Hallé, Elder |

reviews, news & interviews
Prom 31: Coote, Hallé, Elder
Prom 31: Coote, Hallé, Elder
From Elgar at sea to the Eroica, a special relationship explored
Sir Mark Elder at the Proms
The levels of refinement now exhibited by the Hallé, the stylishness and elegance of the playing, define the special relationship that they and Mark Elder have cemented over the last decade and a half. The opening bars of Berlioz's Le corsaire came off the page like a manifesto for French sensibilities with rapier-like strings parrying airborne woodwinds like the most flexible of swashbuckling foils. The whole overture was so light on breath and string as to be positively balletic.
Elder's work with period instruments had properly informed both characterisation and sonority; there wasn't an ugly or over-weighted note within earshot.
And so it was that the impressionistic undulations of Elgar's Sea Pictures found a new transparency, buoying up Alice Coote's very distinctive vocals (very telling doublings in the orchestra) to invoke the very particular atmosphere of these lovely settings. I had honestly forgotten how exquisite Elgar's orchestrations were. Coote's engagement with the fanciful sentiments of these somewhat arch texts made no apologies for any of them but rather infused them with charm and a compelling mystery. It helps enormously that her voice is so evocative in the lowest contralto register and that without recourse to "chesting" (à la Clara Butt) Coote can give us such wonderfully dark and intense colours. "Sea Slumber-Song" was marvelous in that respect and just as "Where Corals Lie" quite literally "floated" in its understatement, Coote and Elder made something less "Edwardian" out of Elizabeth Barrett Browning rather fulsome "Sabbath Morning at Sea".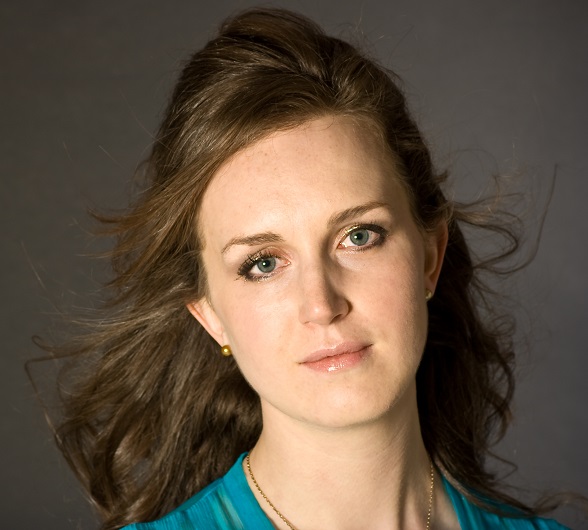 Boldly, the London premiere of the Hallé's Associate Composer Helen Grime's Near Midnight prefaced Elder's reading of Beethoven's Eroica in the second half of the concert (pictuered right: Helen Grime). In this context it might have been regarded as the night before the brave new dawn – though nothing about it sounded at all new or even challenging. "Chimes at Midnight" might be an alternative title as Grime piled on the bell effects and clamorous trumpet fanfaring. She orchestrates with the sharpness and precision befitting great ears but the total effect here was of a latter-day Firebird, exotic and fantastical but in the end merely cosmetic.
The shock of the new was still anticipated in Elder's Beethoven, and given his extensive work with period instruments and with a quick look at his orchestral layout with strings, including basses divided across the spectrum, we were poised for an arresting experience. But for all that this was an extremely "well heard" account of the ground-breaking Third Symphony with its many innovations, harmonic and otherwise, keenly addressed what it didn't deliver was the "revolutionary" imperative and drama of a piece that was exploding so many conventions. One craved less cultivation of sound and manner and more abandon, forcefulness, edge, and attitude.
Given Elder's bold deployment of string basses I might have expected more, for instance, from that extraordinary moment in the funeral march where suspended violins are disrupted by the seismic upheaval of basses from below. More sense of classical constraints being cast off and great spaces being crossed. And that was true throughout the performance. It occasionally excited but it didn't thrill.
Some marvellous playing, of course: a robust trio of horns in the scherzo and glorious first oboe in that ravishing final variation of the finale. But this hall demands a greater projection of big ideas and this piece abounds in the biggest.