Edinburgh Fringe 2014: Bridget Christie/ Men in the Cities/ Lazy Susan/ Outings |

reviews, news & interviews
Edinburgh Fringe 2014: Bridget Christie/ Men in the Cities/ Lazy Susan/ Outings
Edinburgh Fringe 2014: Bridget Christie/ Men in the Cities/ Lazy Susan/ Outings
More from the world's biggest and best arts festival
Wednesday, 13 August 2014
Bridget Christie marries the political and the personal in her brilliantly constructed show
Bridget Christie: An Ungrateful Woman, The Stand *****
This is the "difficult second album" show for Bridget Christie, despite her having done 10 years at the Fringe. She finally found her voice at last year's festival, deservedly winning the Edinburgh Comedy Award after a raft of five-star reviews for her avowedly feminist show, A Bic for Her - but how do you follow that? With another five-star show, obviously.
An Ungrateful Woman starts with Christie "confessing" that she expected last year's show, about everyday sexism, to fail to attract an audience - so then she would have an excuse to give up comedy and live off her husband's income. It's a clever bit of self-satire to draw us into an hour that deals with some very serious subjects - female genital mutilation included - but which never feels preachy.
Christie references all manner of things, including a trip to a sex shop to buy some bunny ears for the show or (so she says) a letter to former Education Secretary Michael Gove - who really let her down by replying - while developing the gag-packed hour into a brilliantly argued polemic about the state of women today.
She picks up on an asinine comment from a right-wing journalist, who suggested that British sexists are in some way better than foreign sexists, to deliver a wonderfully sarcastic, withering tour de force about a frightened young woman walking home late at night who unfurls a Union flag in celebration of the fact that the violent sexual assault that will follow will be better than the one she might suffer in, say, Saudi Arabia.
Christie deftly marries the personal to the political in a brilliantly constructed show, and she will be touring An Ungrateful Woman and A Bic For Her in a double bill later this year. I can't recommend them highly enough.
Bridget Christie is at The Stand until 25 August
Men in the Cities, Traverse Theatre ****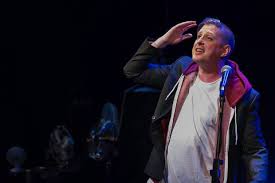 We seem to have lost the art of storytelling in our culture and the nearest most of us get to it nowadays is in the theatrical monologue. Here, writer Chris Goode delivers his 90-minute story, in which he blurs fiction and reality but which was inspired by the shocking death of soldier Lee Rigby in London last year.
It's 23 May 2013, the day after Drummer Rigby was murdered by two British self-styled jihadis and Goode, pictured right, tells us about seemingly unconnected characters – a young gay man preparing to commit suicide, a lonely widower, a father with a secret, a newsagent increasingly not understanding the world he lives in, a 10-year-old boy obsessed with online pornography – and what they are doing that day, and the days following.
Goode is an entrancing narrator and, under Wendy Hubbard's astute direction, delivers the piece near faultlessly, with humour and compassion, weaving in and out of the men's stories while exploring modern male anxieties and what he sees as the bleakness of city life.
While he gets great humour out of his God-like role in deciding whether his characters live or die, Goode doesn't quite marry the personal to the political, and I found the bleakness of it hard to believe. The absence of women is telling, and the inner rage that Goode expresses – at some length, unnecessarily so - lets down an otherwise entrancing piece.
Men in the Cities is at Traverse Theatre until 24 August
Lazy Susan: Extreme Humans, Pleasance Courtyard ****
Lazy Susan are Celeste Dring and Freya Parker (pictured left by Steve Ullathorne). Together they are a sketch duo once known as Lebensmüde, and Extreme Humans, their debut Fringe show, is broadlly about love - waning or waxing - in which they prove themselves adept at accents, characterisation and narrative, if a little shy on killer lines.
Most of it works very well – Parker's saddo diarist, dropping tears into the page as she describes her horrible life, the ill-starr'd Geordie lovers Viv and Steve, who share a fondness for double denim and poor puns, and warring posh sisters Sally and Jilly, with shades of Whatever Happened to Baby Jane? The highlight is two sock puppets, operated from beneath a black curtain, who are the bride and bridesmaid at a disastrous wedding and where every scenario ends with "I've fucked it, haven't I?"
A few more characters would have been welcome and it's rough around the edges, but that adds to this show's undoubted charm.
Lazy Susan are at Pleasance Courtyard until 25 August
Outings, Gilded Balloon ****
The voice of Olympic diver Tom Daley comes over the speakers as we hear his online message last year to fans in which he told the world he is gay. Then four comics – Rob Deering, Zoë Lyons (pictured right), Andrew Doyle and Camille Ucan (plus a daily guest, Russell Grant the day I saw the show) - read and act out gay, lesbian, bisexual and transgender people's coming-out stories, which have been gathered and edited by Thomas Hescott and Matthew Baldwin.
Some stories are poignant – Deering tells the story of a man who underwent aversion therapy when homosexuality was illegal - others talk of regret that they didn't do this earlier, while others are funny; "I just can't bear to wash your pants any more," says one homophobic mother.
My favourite concerns the emo teenager furious to discover that his parents really don't care that he's gay - they always knew, just want him to be happy, etc - so he has a "diva strop" and insists that he and his mother (performed by Doyle and Lyons) act out a scenario in which she pretends to be shocked and disappointed and then he storms out, only to walk back in moments later, job done.
This could be horribly mawkish but never descends to that. Rather, it's sweet, humane and life-affirming, and ends on a surprisingly upbeat note – surprising, because Ucan speaks the words of a young evangelical Christian who, on telling her fellow congregants that she is a lesbian, has found that true Christianity is about loving people, not judging them.
Director David Grindley, while injecting some energy into what is essentially a static piece, allows the audience room to savour the words.
Outings is at Gilded Balloon until 25 August
It's a gag-packed hour, a brilliantly argued polemic about the state of women today
Explore topics
Share this article