CD: Barbra Streisand - Partners |

reviews, news & interviews
CD: Barbra Streisand - Partners
CD: Barbra Streisand - Partners
La Streisand takes bloodless music to new heights
Saturday, 13 September 2014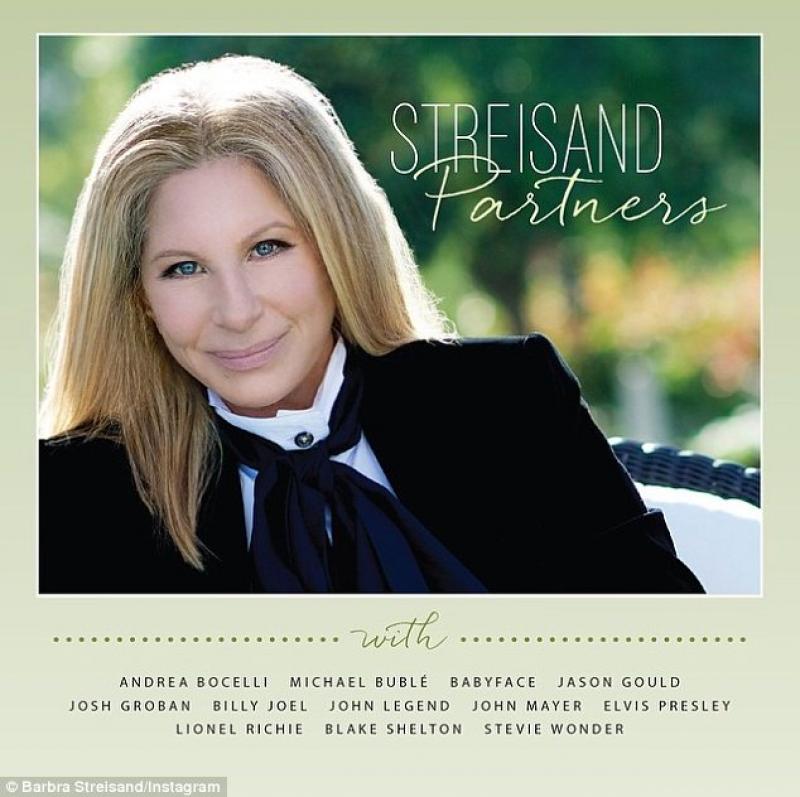 The album's cover image does not do justice to the true campness of the photo so we've included it in full below
When a person approaches a Barbra Streisand album, they would be a fool to go in carrying the same expectations as with, say, the forthcoming collaboration between experimental frontiersmen Scott Walker & Sunn O))). Or even, in all honesty, the new Jesse Ware album, the new Marooon 5 album, or some such. This applies most especially to music journalists, so often obsessed with the vanguard, with what's coming next, and dismissive of mainstream, comfortable or rehashed sounds.
So let's approach the 72 year old actress-diva-legend's latest in the knowledge that her debut album appeared 51 years ago and that she's an easy listening empress, marinated in Broadway musical history.
This thinking, if held onto with steely resolve, will take a casual listener to Partners, a collection of 12 new duets, as far as precisely three songs. At a push. With determination I gleaned the best from the syrupy Hollywood orchestral sweep of "It Had To Be You" with, God help me, Michael Bublé , the by-numbers salsa super-lite of "People" with Stevie Wonder on auto-pilot, and the Eric Clapton-esque stylings of "Come Rain or Come Shine" featuring John Mayer. After this barely bearable voyage, R&B uber-don Babyface arrives on a hideous version of the already mawkish "Evergreen", theme to Streisand's 1976 flick, A Star is Born, and my good intentions collapse like confetti body armour.
The album is basically schmaltz. Of course it is. It's Barbra Streisand! But for anyone under 75, it's so bland and insipid it's almost unlistenable, whether M.O.R. slop featuring Billy Joel, opera slop featuring Andrea Bocelli, country & western slop featuring Blake Shelton or the unwelcome Elvis-beyond-the-grave slop of "Love Me Tender". A special shout out should go to one of the bonus tracks, a previously released cut, "I Finally Found Someone", which features Bryan Adams, whose voice, gravelly diarrhoea for the ears, actually makes the skin crawl. So, no it's not for me, probably not for you either, but your aunt who's 104 might enjoy it.
Overleaf: Watch the video/mini-documentary for "It Had To Be You" featuring Michael Bublé
The album is basically schmaltz. Of course it is. It's Barbra Streisand!
rating
Share this article