Prom 66: St Matthew Passion, Berlin Philharmonic, Rattle |

reviews, news & interviews
Prom 66: St Matthew Passion, Berlin Philharmonic, Rattle
Prom 66: St Matthew Passion, Berlin Philharmonic, Rattle
A deeply moving and daringly simple staging of Bach's great Passion
Sunday, 07 September 2014
At the core of Peter Sellars' theatrical "prayer" was Mark Padmore's astonishing Evangelist
Peter Sellars' work used to be about making a statement. He would dislocate texts from contexts, subvert musical suggestion and ignore written statement for the sheer joy of the artistic friction it would generate. The beauty of his St Matthew Passion staging however, first seen in 2010, is that it does nothing of the sort.
By the end of three hours of delicate, interpersonal drama and choric tableaux, Sellars has made no statement at all, and that refusal, that restraint, allows Bach's music to speak louder than any amount of "konzept". Of course Sellars is not alone in this. Jonathan Miller's St Matthew staging is equally, if not more, simple, but there's a ritual stature to Sellars' that Miller pulls back from, scared somehow to commit himself to any large-scale gestures.
Rattle's reading emerged from the emotions of the music, apparently unmediated by any stylistic affinity or agenda
The Royal Albert Hall is a space that can swallow even the largest gestures whole, and Sellars himself reconceived the production for this Proms performance. He also reassembled almost all his original cast, with the exception of the now-retired Thomas Quasthoff, replaced here by bass Eric Owens. Singing without scores, as did both the Berlin Radio Choir and the young choristers of Wells and Winchester Cathedrals, the soloists were free not only to narrate the musical drama, but to enact it in a series of physical movements and encounters.
While not all were clear, not all equally effective in this odd environment, the visual choreography silhouetted the emotions of Bach's score against the orchestral backdrop, helped by Sir Simon Rattle's instinctive and organic direction. Rattle's reading emerged from the emotions of the music, apparently unmediated by any particular stylistic affinity or agenda. Allowed to shape itself, the music flowed in some unexpected directions, offering us a startlingly subdued demand for crucifixion from the chorus, and an unusual musical assault from the obbligato violin on a cowering Owens for "Gebt mir meinen Jesum".
If the quality of the orchestral playing and chorus singing wasn't quite matched among the soloists, then it had surprisingly little impact on the intensity of the performance. Some alchemy between Sellars' movement, Rattle's music, Mark Padmore's astonishing, raw Evangelist and the space of the Royal Albert Hall held us all in a state of emotional reciprocity, transforming a rag-bag of parts into a transcendent whole.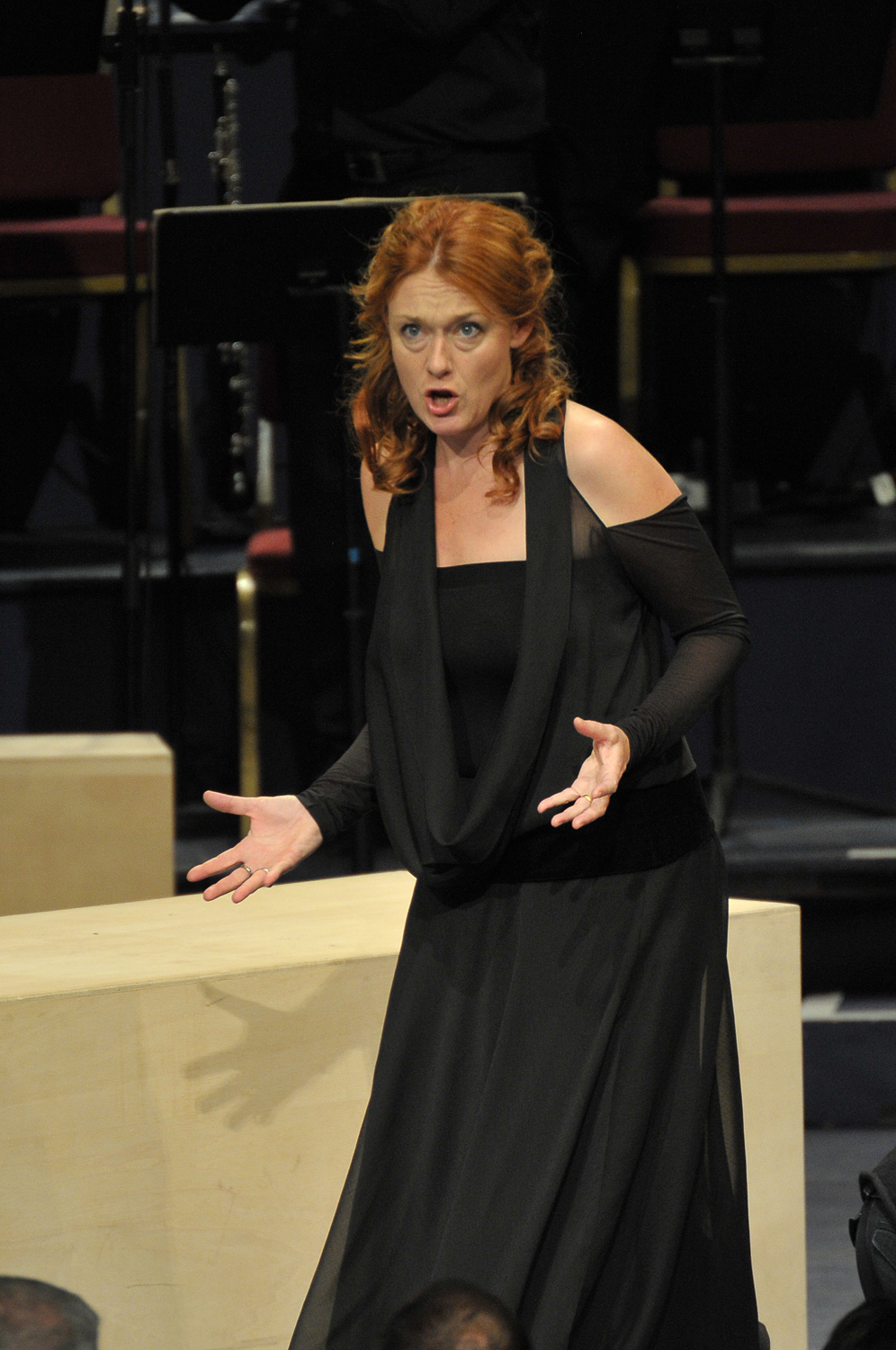 Listening, watching, narrating, Padmore's Evangelist was at the heart of it all. Projecting with absolute clarity, the expressive shades he found in this music, in this hall, were startling. Camilla Tilling came close to his intensity, finding a rough immediacy to her soprano solos that brought life to their loveliness. Tilling's physical stillness was set against Magdalena Kožená's pacing, restless Mary Magdalene. A little too busy both in action and voice for this delicate treatment, Kožená (pictured left) seemed to be playing Carmen while everyone else was singing Bach – a shock absorbed by Bach's music, though not one that brought any memorable insight to "Erbarme dich" or "Können Tränen meiner Wangen".
Christian Gerhaher, underused as Christus, never quite found his vocal stride (though an off day for the German baritone still proved finer than other people's best), while bass soloist Eric Owens held tantalisingly back, offering delicious hints but never fully showing his vocal hand.
On paper this wasn't an exceptional performance. In the hall (and on Radio 3) though, it was transmuted. Call it an aesthetic ritual or a spiritual one, a collective act of artistic engagement or an act or worship – something came together in the moment here to make this Passion so much more than the sum of its parts. Whether the alchemist was Rattle, Sellars or Bach himself is hard to say, and that in itself might just be the secret.
Something came together in the moment here to make this Passion much more than the sum of its parts
rating
Share this article