Reissue CDs Weekly: Sun Ra |

reviews, news & interviews
Reissue CDs Weekly: Sun Ra
Reissue CDs Weekly: Sun Ra
Cautious entry-point into the world of the visionary jazz explorer
Sunday, 21 September 2014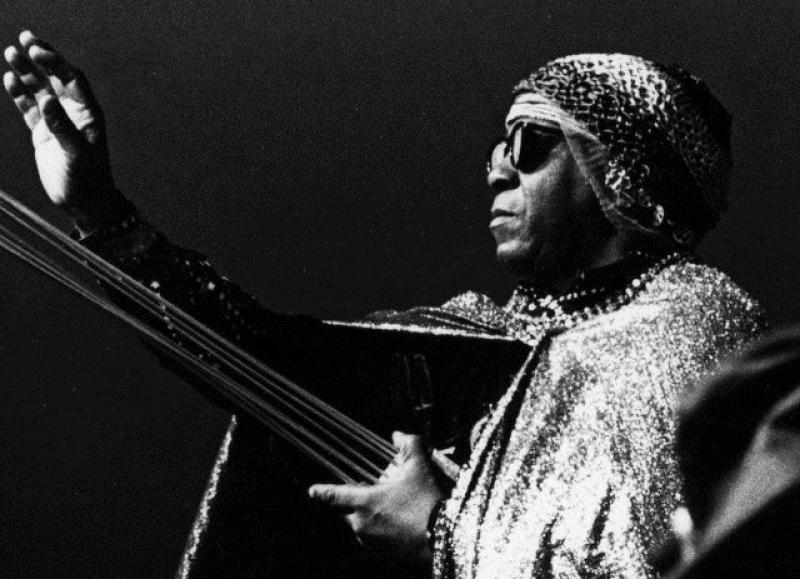 Sun Ra on stage in Germany, 1979
Sun Ra and his Arkestra: In the Orbit of Ra
Up till his death in 1993, the space-fixated jazz bandleader, composer, musician and visionary born Herman Blount had issued around 117 albums, about 46 of which were live sets. Trying to pin down exact numbers with Sun Ra is unrealistic. Some albums repeated material from previous releases. Others were re-recordings or re-titlings. Since his passing there has been an outpouring of collections of previously shelved studio material, more live offerings and reissues on CD and vinyl. Getting to grips with this monumental catalogue is close-to impossible. Unless you had followed his releases since the first arrived in the mid-Fifties, finding an entry point is equally awkward.
Of course, there are accepted classics like Jazz in Silhouette or The Heliocentric Worlds of Sun Ra, but in terms of volume this is a forbiddingly confusing musical legacy. Matters aren't helped by his earlier albums, on his own El Saturn label, having been pressed in editions of less-than 100. And then there's the stylistic variance, ranging from (frequently in the same composition) big band-type recordings through free jazz to the free-form and even disco. Nonetheless, Sun Ra's influence was widespread and both his music and uninhibited approach impacted on rock acts (such as Detroit's MC5) and out-there experimentalists (San Francisco's Residents).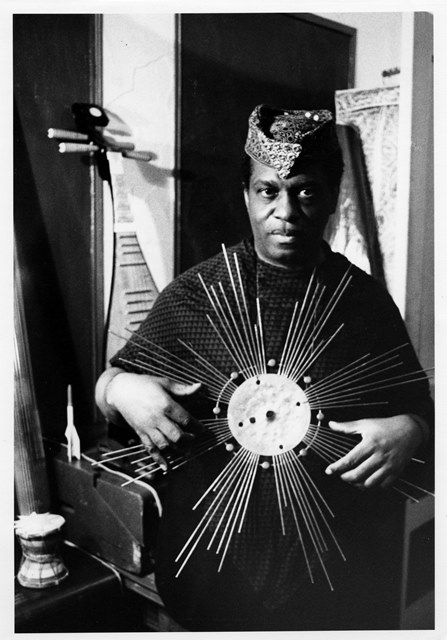 Anyone attempting to compile an aural primer of Sun Ra manifestly has their work cut out. In the Orbit of Ra bears the subtitle Marshall Allen Presents. This new collection (issued as both a double CD and double album) was compiled by the still-extant Arkestra's leader Marshall Allen who had, as he writes in the liner notes, first met Sun Ra in 1957. If anyone has an understanding of Sun Ra in toto, it is Allen, His alto saxophone, flute and percussion became integral to Sun Ra's music and he was in the Arkestra for longer than any other member. In keeping the legacy alive, Allen has now turned to fashioning a sorely needed entry point. (Pictured left: Sun Ra in 1966)
Unsurprisingly, the well-annotated In the Orbit of Ra is not a clear-cut best of. The solo performance, "Trying to Put the Blame on me", is previously unreleased and recorded in Rome in 1977 with Sun Ra at the piano. Also previously unheard is 1962's "Reflects Motion (Part One)". The version of "Island in the Sun" is an unedited cut, extending what was heard on the 1974 album The Invisible Shield. Otherwise, the other 17 tracks are straight versions of what was issued on albums between 1960 and 1978.
Disc One concentrates on shorter, more accessible material and features a heck of a lot of flute. Disc Two has almost as much flute but more-satisfyingly collects longer, more-complex and challenging workouts which convincingly demonstrate that the music of Sun Ra was like that of no one else. Head here to find out what the fuss is about. "Astro Black", from the 1973 album of the same name, is a wild ride through pattering percussion, Moog synthesiser and chanting female vocals punctuated by Duke Ellington-like stabs of brass and underpinned by rumbling electronic white noise. Incredible. The concise "Interplanetary Music", originally released in 1967 but recorded in 1960, sounds like a template for The Beach Boys' Smile-era Brian Wilson/Van Dyke Parks track "Vegetables". Taping of that had begun in 1966, so it's unlikely Wilson had heard "Interplanetary Music" but there was a surprising commonality between the headspace of both composers. (Pictured right: Sun Ra in New York, 1966, with Marshall Allen second left)
In the Orbit of Ra won't satisfy die-hard Sun Ra fans, but it isn't meant to. With Disc Two it does, however, convincingly make the case that Sun Ra is the important figure he's meant to be. In doing so in a bite-sized way, it renders getting to grips with this monumental musician's output no less daunting. Where to go from here? No doubt the man himself would have pointed upwards, gesturing towards his beloved Saturn and beyond towards outer space.