Downton Abbey, Series 5, ITV |

reviews, news & interviews
Downton Abbey, Series 5, ITV
Downton Abbey, Series 5, ITV
On this evidence, there's still plenty of life in Lord Fellowes's beloved national institution
Monday, 22 September 2014
Will Lady Mary (Michelle Dockery) seal the deal with Tony Gillingham (Tom Cullen)?
As unavoidable as death and taxes, as inevitable as the rotation of the seasons, Downton Abbey has created the illusion of time-hallowed permanence in a mere four years.
As unavoidable as death and taxes, as inevitable as the rotation of the seasons, Downton Abbey has created the illusion of time-hallowed permanence in a mere four years. It is often asked how long Julian Fellowes can keep up his script-writing heroics (if it was an American show he'd be marshalling a writing team of dozens), but this opener to series five was so playfully deft and thunderously enjoyable that you'd have to conclude that Downton has become Fellowes's personal fountain of youth.
The trick is to embrace change while remaining solidly rooted in Downton's dynastic saga. What Fellowes does particularly well is to use authentic historical events as grist to his narrative mill without allowing them to overpower his characters (a fatal flaw in the likes of the recent-ish Upstairs Downstairs or The Mill). Thus, Ramsay MacDonald's 1924 election as Britain's first Labour Prime Minister was used to prod Hugh Bonneville's Earl of Grantham into some dyspeptic grumbling about a government "committed to the destruction of people like us and everything we stand for," but also to elicit more sympathetic responses from both the below-stairs staff and the Earl's daughters. The show somehow manages to endorse the fundamental conservatism of the Crawleys and their milieu while filtering it through a gauze of fashionable liberalism. You know it could never have happened, but it gives Fellowes bags of dramatic licence.
Downton has suffered some misfiring episodes in the past, with plots seemingly flung together in a panic and the gaps patched over with ludicrous coincidences, but this one hummed along like a vintage Bentley as we re-made our acquaintance with the household. Lady Mary (Michelle Dockery) seems to be edging towards an understanding with ardent suitor Tony Gillingham (Tom Cullen), though I doubt the bookies are planning to pay out just yet. Meanwhile genteel hostilities were resumed between Maggie Smith's Dowager Countess and bossy Isobel Crawley (Penelope Wilton), as the Dowager moved smartly to intercept a potential union between Isobel and Lord Merton by planting the widowed Lady Shackleton (Harriet Walter) in between them. "You've gone to a lot of trouble," said Mrs Crawley icily. "I like to help where I can," smirked the Dowager.
The Earl, who has never quite got over being sidelined from fighting in World War One, found his psychological scars being picked open when the village war memorial committee chose Carson the butler as its chairman instead of him. Carson was ambivalent, not to mention sonorously philosophical - "I feel a shaking of the ground I stand on... the nature of life is not permanence but flux." The Earl's humour was not improved when local schoolteacher Sarah Bunting (Daisy Lewis, pictured above) ruined his wedding anniversary dinner with an attack on the waste and futility of the war. "She is not allowed that opinion, not in this house," he fumed. He later vented his exasperation on the hapless footman Molesley, who had been dyeing his hair an unsuitable shade of blue.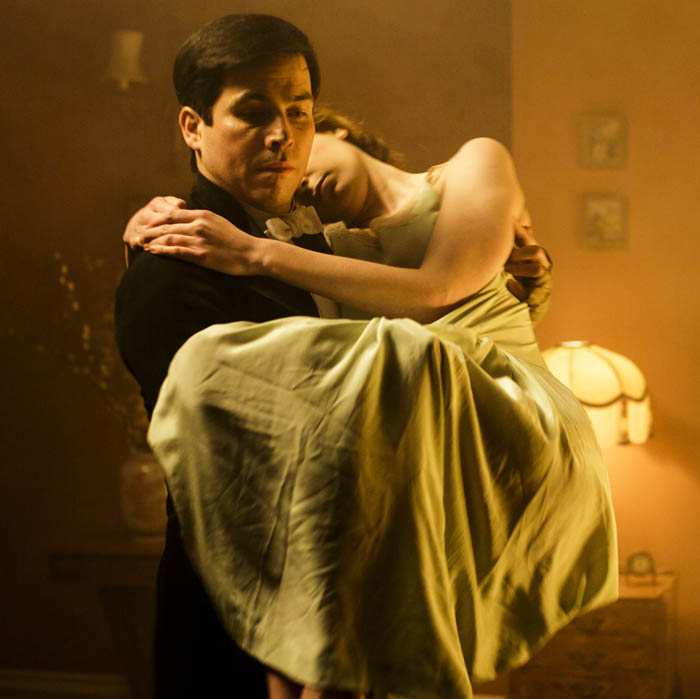 No 90-minute series opener would be complete without a major crisis, and this one duly peaked with a full-scale conflagration, caused by a crass breach of health and safety guidelines by Lady Edith (still moping over her AWOL lover, though her daughter Marigold is being secretly raised by Mr and Mrs Drewe on their farm). "Save the dog!" bellowed the Earl, as he seized control of the situation. It was dynamic stuff, though Lord Fellowes took the lustre off it slightly by permitting the ever-scheming Thomas (Robert James-Collier, pictured above) to rehabilitate himself amid the flames only moments after being on the brink of getting the sack. This pantomime villain is obviously a job for life.