Goat, Concorde 2, Brighton |

reviews, news & interviews
Goat, Concorde 2, Brighton
Goat, Concorde 2, Brighton
Swedish voodoo freakoids rock a sweltering, overcrowded seaside venue
Wednesday, 01 October 2014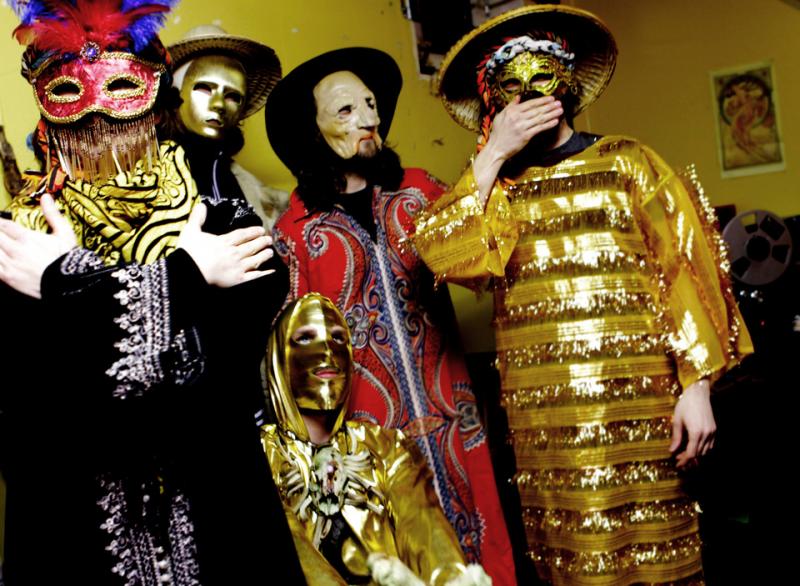 Goat: not the usual
This is what Goat look like: There are seven of them, five band members and two front-women, the latter constantly whirling about the stage like dervishes. One of the guitarists and the bassist are clad in dark attire with black cowls over their heads akin to those worn by nomadic Arabic riders in the Sahara – but also a little like hangmen.
The second guitarist has on a beanie hat underneath which resides a gold mask, as if he were a sinister ancient deity returned to haunt an Eighties B-movie. The drummer, in an Afro-flavoured smock, wears a mask that's part bird, part skull, and the bongo-player, perched at the front, has a necklace of bones and a dome-shaped hat whose front rim bleeds into ratty straw-like straggles that make him look abjectly horror filmic. And then there are the shamanistic front-women, both dressed similarly, bare-legged – the better for stomping – in knee-length Kaftans, colourfully African-patterned, each with a headdress, one in red, one peacock, a mane of feathers on top, tassles from the ears, and beading hanging down over their mouths.
One of rock'n'roll's multiple problems in 2014 is that it's mostly not very rock'n'roll. Never mind all the musicians' insistence on being nice and approachable - which isn't what they're there for. Never mind them infusing their music with input from pop collaborators alongside production that's stylistically closer to Ellie Goulding than Link Wray, Lynyrd Skynyrd or the Butthole Surfers. Let's focus right now on how dull they all look. Some of them wear fleeces. In public! They're rock's leisurewear abomination generation. Grey style. Boring. This cannot be said of Goat.
Goat are an outfit from Sweden whose smokescreen of image and online PR portrays them as commune-living voodoo freaks. One of them has said that they're merely the latest in a long line of incarnations of Goat, all of whom have played locally for many, many moons in their rustic northern Scandinavian homeland. Who are we to deny it? They have also claimed that, "We don't play songs – we make music," and, indeed, the listener is swept along on their tides of tight hypnotic jamming rather than melodies and lyrics, especially with the pummelling, extended "Gathering of Ancient Tribes, the closer to their new album Commune, and a ringer for the mantric hammering dealt out by bands such as Spacemen 3 and Loop a quarter of a century ago. On the other hand, they emanate a warped steroid funk, tinged with Afro flavours and are even unafraid to drag their audience off on a drum'n'bongo odyssey that may make the oldest here recall Hawkwind jamming at Stonehenge in days of yore.
Over it all the frontwomen let rip with strident tones recalling Grace Slick at her most fiery-lunged. This is music to listen to on drugs but I am woefully straight, merely a few cans of Red Stripe beer to the wind. The heat in the venue is relentless. I have been here many times with capacity crowds – tonight is sold out - but this gig seems much fuller than usual, jammed to the gunnels. Crammed in together, everyone is sweat-drenched, my shirt and jacket leave the venue as if they'd been in a monsoon deluge. Goat's front-women are feeling it too. By the end their kaftans are soaked, having to be physically held away from their bodies. Such an inferno suits their music, though, which pauses only for the twinkling – and actually tuneful – slowie "Goatman". Otherwise, for an hour and twenty minutes - a surprisingly short set for this style of band – they ramp it up non-stop, working their way to an encore that sends a crowd who range from teen fresher students to grizzled Psychic TV-esque men with rough-hewn neck tattoos, dripping out onto Brighton's unseasonably temperate seafront.
Overleaf: Watch Goat perform "Run To Your Mama" live in Stockholm