Uncle Vanya, St James Theatre |

reviews, news & interviews
Uncle Vanya, St James Theatre
Uncle Vanya, St James Theatre
Anya Reiss plays safe with her modern updating of Chekhov
In vino veritas: Astrov (Joe Dixon) unburdens himself to Sonya (Amanda Hale)
Purists may take issue with Anya Reiss's incursion into the classics. Having already tackled The Seagull and Three Sisters, she's now turned her dogged 21st-century gaze on Uncle Vanya. But Reiss's adaptation, though fresh and punchy, is notable, in fact, for its amiable fidelity.
The framing is in place for a provocative revamp, yet, in appropriately Chekhovian fashion, Reiss appears to have hit some kind of a psychological barrier partway through the process. This is one of the wittier versions you'll encounter, honouring the comedy in "tragicomedy", but it never develops an audacious interpretation to replace the resonant context lost in translation.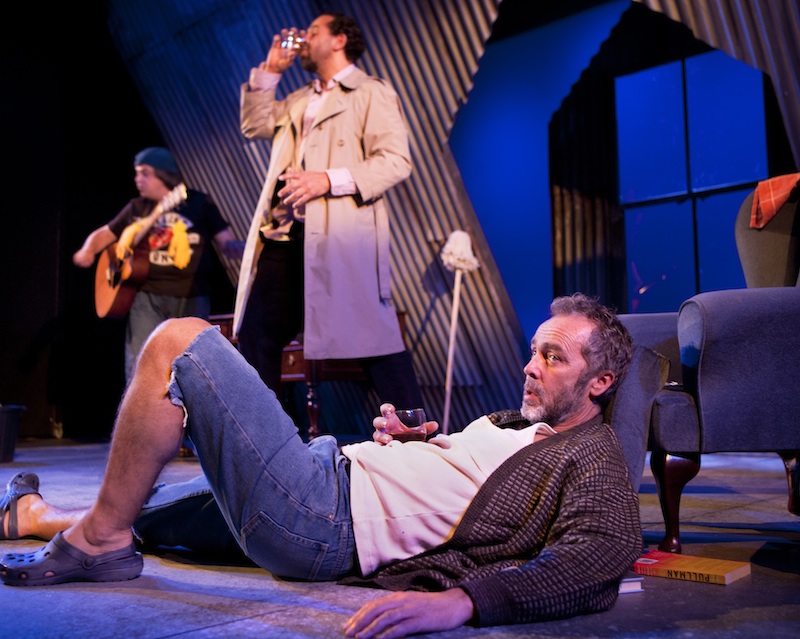 Reiss – in theory – moves the action from fin-de-siècle Russia to contemporary rural England, although the precise when-and-where remain hazy. Nor does the cast's array of wandering accents elucidate matters: John Hannah (pictured right, with Joe Dixon and Alan Francis) is to Northern as Dick Van Dyke is to Cockney. Potent class distinctions are scrapped, and the farm itself never quite gains the symbolic power necessary to support the second-half familial fireworks.
Where Reiss succeeds admirably is in conveying Chekhov's thorny web of co-dependent relationships with nimble clarity. From the droll opening, in which suave doctor Astrov (Dixon) searches for his own heartbeat while oblivious housekeeper Marina (Amanda Boxer) tries to press food upon him, it's apparent this Uncle Vanya will wear its existential despair lightly. The challenge for director Russell Bolam is how to reach the churning depths beneath the small talk and tea parties through Reiss's resolutely matter-of-fact dialogue.
Dixon proves a major asset here, lending weight to bland statements like "I don't like this narrow little life". His drunken unravelling is a tour de force, a futility in realising change is impossible heartrendingly poignant, without excusing his casually cruel treatment of lovelorn Sonya (Amanda Hale, pictured left with Jack Shepherd and Rebecca Night). Hale and Hannah, as the uncle and niece who have devoted their lives to maintaining a ramshackle farm with little return, struggle to convey the essential tragedy of that hollow sacrifice, with Vanya's abolition of responsibility and scapegoating of brother-in-law Serebryakov (Shepherd) merely reading as petulant, but Hale does lend a "Keep calm and carry on" Britishness to Sonya's resolve.
Shepherd nicely balances the charlatan professor's weary awareness of mortality with his overwhelming narcissism, though his horror at being consigned to the "purgatory" of rural life is difficult to fathom with such underdeveloped context. More compelling is Astrov's eco-warrior obsession with dwindling natural resources and overpopulation, while, in a similar updating, Reiss hints at Vanya's mother Maria's (Buffy Davis) foray into feminism.
This Uncle Vanya has a breezy charm that makes it the perfect primer for those wary of Russian angst, exemplified by the easy-listening soundtrack of Francis's guitar strumming. Yet one might have hoped Reiss would make a bolder statement rather than settling for accomplished affability.
Where Reiss succeeds admirably is in conveying Chekhov's thorny web of co-dependent relationships with nimble clarity
rating
Explore topics
Share this article