Call of Duty: Advanced Warfare |

reviews, news & interviews
Call of Duty: Advanced Warfare
Call of Duty: Advanced Warfare
Louder, flasher, bigger, but not better, first-person shooter
Thursday, 13 November 2014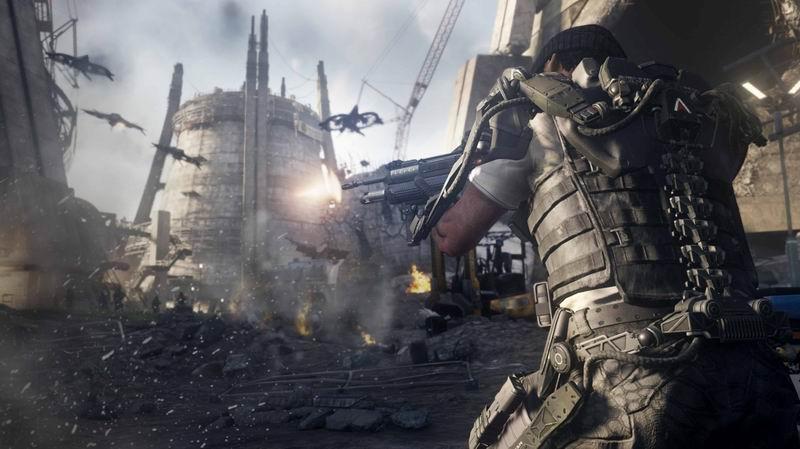 'Call of Duty: Advanced Warfare': The military-entertainment complex in full flow…
It's Call of Duty, in the future, with Kevin Spacey. For many, the biggest and most important game of the year is here. But for the most part, Advanced Warfare is as conservative and reactionary in terms of innovation as it is in terms of the pro-military, ends-justifies-the-means politics it peddles.
For those less than familiar with the Call of Duty franchise, a brief recap – the series specialises in epicly over-the-top first-person shooter action. These games are the Jerry Bruckheimer, the Arnie, of action games. They started out in WWII, but rapidly moved focus to cover Modern Warfare in a spin-off series.
Whether mythologising WWII, Vietnamor current conflicts, Call of Duty games, in single-player, tend to switch between rapid run-and-gun corridor shootouts – narrow, confined and adrenaline-surge fast – and epic and highly-scripted setpieces – blowing up the EiffelTower, setting off nukes in major world cities, the invasion of Washington etc. Think big, then blow it up bigger.
There is no change from this formula in Advanced Warfare really, apart from perhaps the budget. Now we get Kevin Spacey playing the bad-guy head of a giant multinational mercenary corporation, setting out to kill off the UN and invade the US.
In Call of Duty, everyone always wants to invade the US and it's always down to the plucky troops on the ground to save the day. And on top of Spacey's fee, the game has ploughed huge resources into visual acuity – it's like being inside a marine's helmet. Except that marine isn't absolutely terrified, and all the messy moral bits of warfare have been replaced with gadgets. CoD, in short, serves as a massive advert for militarism, to such an extent that soldiers and insurgents on all sides routinely describe the horrors they see as being "like something from Call of Duty"!
In Advanced Warfare there are more toys than ever before. By leaping into the near future, you get walking "mech" tanks, exoskeletons and active camouflage suits. And even bigger explosions, naturally. But beyond that, nothing – not a jot – has changed about the single-player experience.
The overall result is that while you can see the pores on Spacey's motion-captured face, his eyes are dead and the game will be so utterly familiar to CoD and other first-person shooter players that the innovations will be nigh-on unnoticeable.
The same is not quite true of multi-player – arguably the real draw of the CoD series these days. The fluid and incredibly fast-paced multi-player now includes the ability to jump and grapple up surfaces vertically – for a far more varied battlefield. But underneath even these innovations, the experience is still going to be videogame crack for experienced fans, but tough to access for novices.
Slick in presentation, this is Call of Duty turned up to 12. But at its heart it's still a deeply familiar, conservative approach to the series and the portrayal of warfare in games. And, perhaps crucially for this kind of macho fluff, it's less fun than Titanfall.
Call Of Duty: Advanced Warfare is out now for PC, PS3, PS4, Xbox One, Xbox 360. Version tested: PS4 with Turtle Beach Elite 800 Headphones. Developed by Sledgehammer Games. Published by Activision..
While you can see the pores on Spacey's motion-captured face, his eyes are dead...
rating
Explore topics
Share this article