Canterbury Cathedral, BBC Two |

reviews, news & interviews
Canterbury Cathedral, BBC Two
Canterbury Cathedral, BBC Two
The first of three episodes is little more than a puff piece for the Church of England
Saturday, 13 December 2014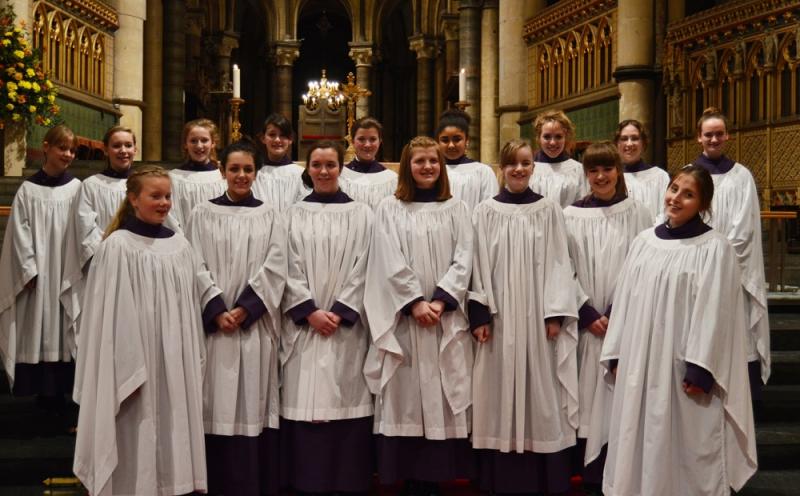 Canterbury cathedral's first ever girls' choir after their inaugural Evensong in January 2014
Attracting over one million visitors each year, Canterbury Cathedral is one of the most popular tourist destinations in the country. With its picturesque location and very nice, very white staff, the cathedral offers an easy metaphor for the version of England that Ukip supporters apparently hanker after, the narrator Saskia Reeves describing it as "England in stone".
With traditions and routines that haven't changed much in 1000 years – although one imagines the Reformation shook things up a little
–
the very idea of Canterbury must be balm to the soul for anyone given to bouts of flag-waving nostalgia.
For all the cathedral's convenience as a vehicle for this populist reality series, it is disappointing if not surprising that such an uncritical programme could be commissioned by the BBC. Following Justin Welby's first year as Archbishop of Canterbury, this was a perfect opportunity to engage critically with the Church of England, but it proved instead to be as heavy-handed a piece of marketing as the beleaguered Church could wish for.
Nevertheless, in its eagerness to have us on first name terms with the lovely people at Canterbury, and to show us that it is doing all the right things – like being transparent, and establishing a girls' choir – the programme demonstrated exactly why the Church cannot win the PR war it is embroiled in. If it retreats into the protective cocoon of tradition and ritual, it is accused of being distant and irrelevant. But if the clergy behave like good-intentioned, well-adjusted people who understand the mundane trials of earthly life, television somehow transforms their every word and action into self-parody.
Dean Robert seemed a nice chap, admitting to a bit of pre-Christmas panic and Canon Nick showed us the lightsaber he keeps in the umbrella stand (Pictured above right). Even the Archbish himself lapsed into a wonderful piece of bathos, praying, "May the baby who brings peace to the world strengthen us that we might love one another, even when there's lots of pressure over Christmas. Amen". In their harmless normality, they looked like the sort of crew who might stick up a poster saying "You don't have to be mad to work here, but it helps".
While the decision to form a girls' choir at Canterbury seems to have been motivated as much by the need to give the boys occasional days off as a desire to make the Church more equitable, its inauguration was rightly recognised as an important, historic occasion (main picture). In a programme that flitted about all over the place, never giving us much time with any of its subjects, it was the astonishing hard work of both choirs that really stood out.
Much as the Church of England is desperate to have us believe that it is up-to-date, it remains, nevertheless, an institution that has "lady volunteers". A few minutes with the Holy Stitchers, the women (what is wrong with calling them women?) who hand-sew the robes and vestments, was enough for them to let slip a flicker of displeasure about women in the clergy, veiled, as it was, in good humour. "It is much more difficult since women have come in because they are so short", said one stitcher. "We took off a foot on one of these robes, and it could never go back on again. Joan here said they should be interviewed by size."
Arguably the only topic of real consequence though, and probably the most television-friendly aspect of the programme, was the perilous condition of the great south window, requiring the entire, tennis-court sized structure to be dismantled, assessed and rebuilt. And yet it was given disappointingly little attention, with no acknowledgement of the uproar caused by the decision to loan the 12th-century glass to the Metropolitan Museum of Art, New York, while the window was being restored.
In fact, controversy was avoided altogether, with little or no mention of Justin Welby's regular forays into political debate. But his comment at the end of tonight's programme that, "Jesus was one of the most controversial figures in history and if we are faithful to Him, we will be controversial", suggests that with any luck, that could change next week.
Television somehow transforms their every word and action into self-parody
rating
Share this article