Olive Kitteridge, Sky Atlantic |

reviews, news & interviews
Olive Kitteridge, Sky Atlantic
Olive Kitteridge, Sky Atlantic
Frances McDormand excels in superlative four-hour adaptation of small-town American life
Lonely shores: Frances McDormand as Olive Kitteridge
Some of the best films this year have been the longest. The one most likely to be remembered is Richard Linklater's Boyhood, at a modest enough 165 minutes, followed soon after by Nuri Bilge Ceylan's Turkish masterpiece Winter Sleep, at a weightier 196.
Now, close to year end, along comes Lisa Cholodenko's
Olive Kitteridge
, bringing with it a considerable tinge of regret that outside a single theatrical outing at this year's Venice Film Festival, this HBO miniseries is coming to us only on the small screen. At 232 minutes, no less.
That's because Cholodenko's film is a masterpiece of often melancholic mood and slow-burn atmosphere, crowned by a performance from Frances McDormand in the title role that is simply outstanding. I couldn't help being reminded a little of Boyhood for recurring, close references to the growth and changing dynamics of family life: we may not have the unique year-by-year build-up of Linklater's film, but Olive Kitteridge's growing tide of life, seen over roughly 25 years and broken into four chaptered episodes with narrative loops back and forward, gives us a similar sense of knowing these characters inside out, where they've come from, and where they're going.
Do the local coroners here ever get to record a natural death?
Or rather, more often, not going, since the film's location is largely unchanging, the small seaside town of Crosby, Maine, which has a more than expected share of sadnesses, the kind that only mature with age, not to mention straight-out depression ("whack-jobs" is one of Olive's subtle-as-ever ways of referring to those, herself included, who can't help but find life a challenge). The seduction of suicide comes up in the very first scene, to be reprised nearly four hours later; in between a fair number of characters depart, or very nearly do, of their own volition. One epitaph to this saga of man handing down misery to man, given that they're twice referenced in the film, might be John Berryman's Dream Songs lines, "Save us from shotguns & fathers' suicides … Mercy! … do not pull the trigger or all my life I'll suffer from your anger."
The film is a loose adaptation of Elizabeth Strout's Pulitzer Prize-winning eponymous "novel in stories", a collection of 13 pieces that showed a kaleidoscopic small town world, in which Olive provided a central link, even though her presence in some of the stories was background. Cholodenko and her scriptwriter Jane Anderson (co-scripting with Strout) have brought Olive closer to centre stage, along with her husband Henry (Richard Jenkins) and son Christopher: the first episode, set in the Seventies, is titled "Pharmacy", and catches the latter's middle-school years (dinner-table disharmony, pictured below).
It's a marriage that has clearly become rocky, though any close relationship with someone like Olive, who might politely be said to have a flinty side, could never be easy: Jenkins (channelling the absentminded goodness of a Jim Broadbent) is marvellous as the long-suffering Henry, and gets a late line that perfectly defines their bond: "All these years, you've never apologised to me for anything." He's the local town pharmacist, the centre of a community that never quite becomes over-homely, and he's caught in the moment, despite his best intentions, by an attraction for Denise (Zoe Kazan), the girl who comes to work as his assistant and embodies perfectly that eternal question, "Why do bad things happen to good people?"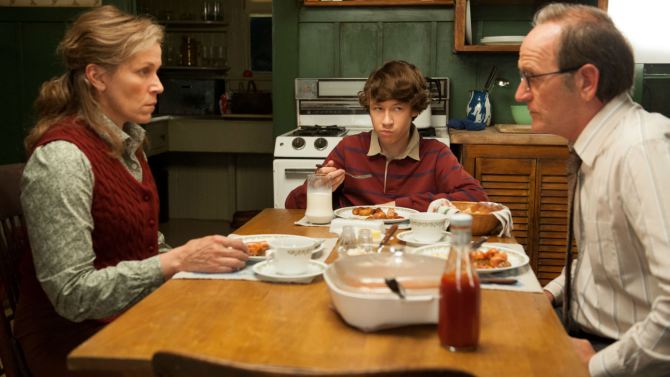 Meanwhile, her husband's devotion hasn't been enough to stop Olive's own heart shifting towards a colleague at the local school where she teaches maths. Our very own Peter Mullan more than convinces on these foreign shores as Jim O'Casey, who brings with him hints of an exotic world beyond this quotidian existence, into an oh-so-tentative relationship that never gets beyond glances. Unfortunately Mullan's there all too briefly, since his Jim is one of the early departers from life's rich banquet (let's just say that when Berryman's your favourite poet, you're quite likely to be).
Just when we were thinking that Olive couldn't be less sympathetic, the second chapter, "Incoming Tide", proves us wrong, so wrong. Olive and Henry are now retired, and about to face Chris's impending marriage (he's now played by John Gallagher, Jr.). Returning out of the blue from New York is one of Olive's former pupils, the clearly disturbed Kevin (Cory Michael Smith), his intentions made all too clear by that shotgun on the back seat of the car. Somehow Olive senses all these traumas, and the two witness an attempted suicide – do the local coroners here ever get to record a natural death? Kevin, by averting that one, somehow comes back to his senses, all guided by the real sensitivity of Olive. Who then goes on into the ordeal of the wedding day, cantankerous and yet so right at the same time as she's confronted by the Californian falsity of her future in-laws. Olive has made herself a dress – a beautiful flowered one – only to overhear the cruellest comments on it, to which she responds with quiet malice and complete aplomb. Wicked.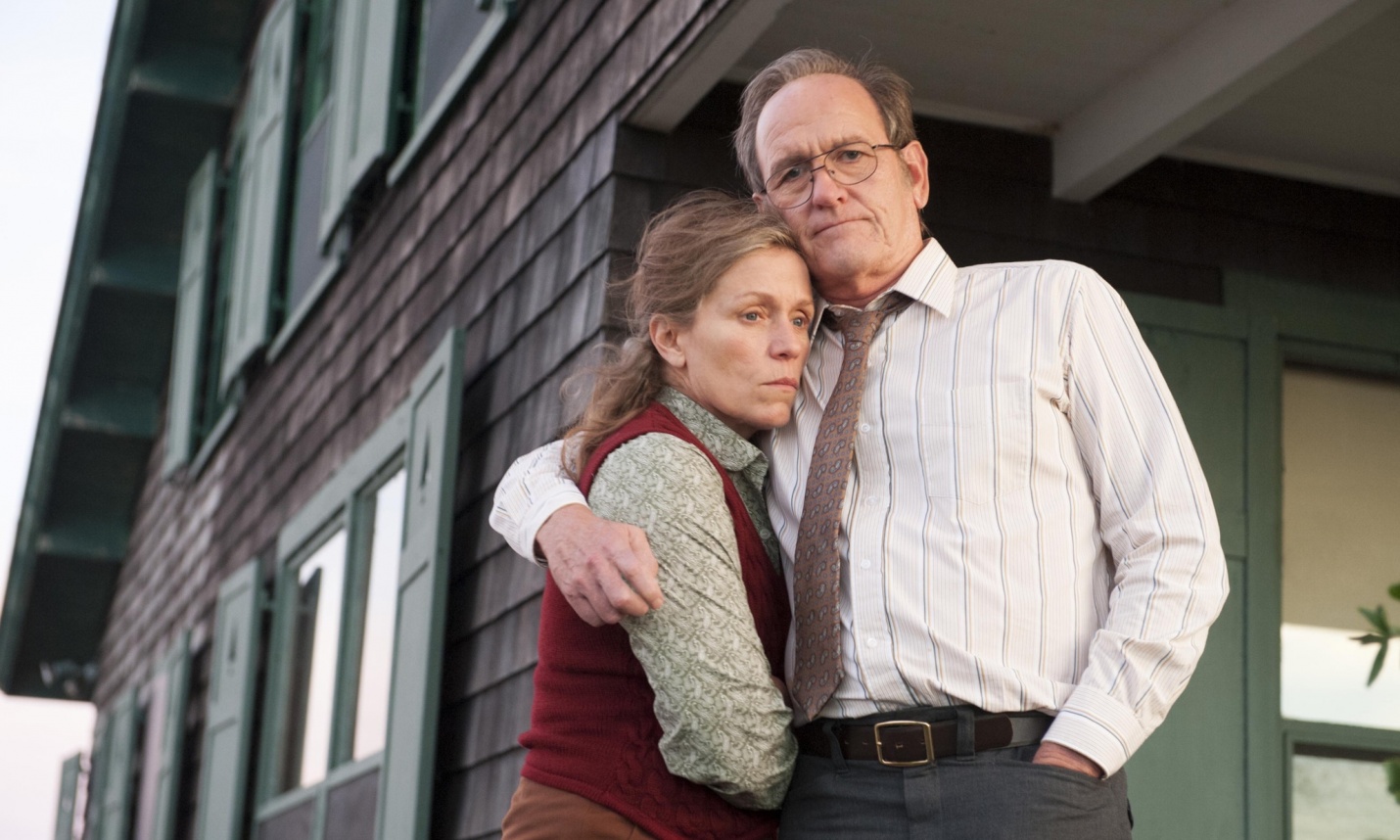 Sky Atlantic viewers who caught last night's broadcast will surely know where they'll be tonight for the last two episodes of Olive Kitteridge (those without that channel are hugely recommended to track it down however they can). The closing half has treats aplenty: a really disturbing scene in which the irrationality of the outside world suddenly intrudes into the small boundaries of the story's miniature one; Olive's lacerating excursion to New York to visit her son, who's now with a second wife, and keeping the talking cure profession busy as he tries to come to terms with his childhood; then, finally, the sad realities of the failing body, and the sheer emptiness of lost companionship. (Frances McDormand and Richard Jenkins, pictured, above right.)
Curously, it's not all unremittingly bleak, and McDormand's character, for all her brittleness, can be killingly funny. A closing coda brings in Bill Murray (reunited with McDormand after Moonrise Kingdom), and even a small hint of optimism. Cinematography by Frederick Elmes beautifully catches the often glowing, sometimes wintry Maine landscapes. Watch out for Martha Wainwright as a bar-room pianist, frequently tipsy, whose melodies reflect on that loose theme, "As time goes by", supported by a rich score from Carter Burwell. Cholodenko has brought together these wide and disparate strands immaculately. But it's McDormand who deserves fullest kudos not only for the staggering role she delivers, but for having developed the whole project herself, optioning the book even before it won a Pulitzer. Quite simply, a hugely powerful viewing experience – small screen or big, no difference.
But it's McDormand who deserves fullest kudos not only for the staggering role she delivers, but for having developed the whole project herself, optioning the book even before it won a Pulitzer
rating
Explore topics
Share this article