Reissue CDs Weekly: Powder |

reviews, news & interviews
Reissue CDs Weekly: Powder
Reissue CDs Weekly: Powder
The home-grown, Brit-influenced mods that took on hippy era San Franscico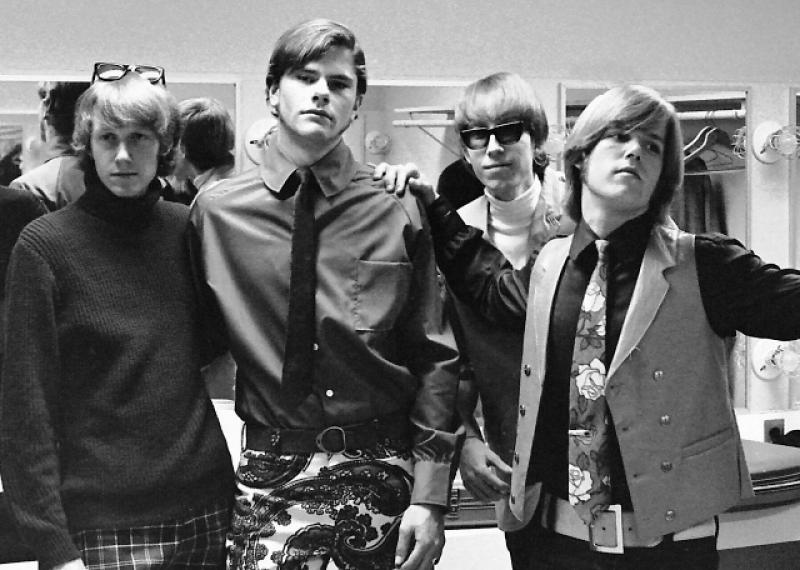 Dedicated followers of fashion: the pre-Powder aggregation The Art Collection in March 1967. Left to right: Rich Martin, Steve Murdoch, Tom Martin, Scott Arbulich
Powder: Ka-Pow! An Explosive Collection 1967–68
It's an instantly familiar sound. Crescendo follows crescendo, and power chord follows power chord. For The Who, "I Can see for Miles" was the apex of this style. But this is not The Who. Instead, it is a band from California called Powder whose shelved album from 1968 was crammed with thrilling, British-influenced gems. Like Todd Rundgren's contemporaneous band The Nazz, Powder filtered a British sensibility through an American outlook.
Ka-Pow! collects the surviving recordings by Powder and the band they seamlessly evolved from, The Art Collection. After a spell under the latter name backing transplanted New Zealander Ray Columbus – who they accompanied on one punky single, the crunching "Kick me (I Think I'm Dreaming)" – and an stint as Sonny and Cher's on-stage backing outfit in late 1967/early 1968, the band slimmed from a quartet to a trio and changed their name to Powder. Sonny Bono helped fund the recording of the shelved album, yet "Kick me (I Think I'm Dreaming)" was their only release while extant. This is the first easily available Powder collection – most of these previously unheard recordings first surfaced on an American imprint in 1993. Three tracks here are new vault exhumations, and the sound quality of Ka-Pow! is markedly better and punchier than before.
As the collection plays, all it's possible to think is "how did a band this great, this melodic and this potent escape attention at the time?" Every song – barring the Simon and Garfunkel-ish "Too Many Miles" – is a powerful pop gem. The archetypical Powder performance is "Gladly". Waves of guitar surge, drums are attacked Keith Moon-style and the vocal is cleanly delineated with rich harmonies. The forward motion is relentless. As Sixties' pop-art pop goes, it's as forceful as anything on The Who's second album A Quick One. But Powder do not sound exactly like their inspiration: their melodic sensibility is in keeping with West Coast harmonisers like The Beach Boys.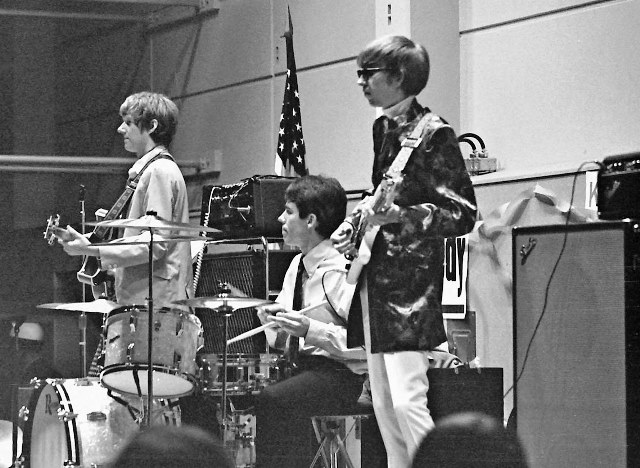 After looking at their contemporary context, it becomes clear why Powder didn't attract widespread attention. They simply didn't fit in. In Ka-Pow's booklet, their lynchpin Rich Martin declares "we revelled in not conforming to the San Francisco sound – it was a badge of honour and a bit of rebellion against what was popular." (Pictured left: Powder live in 1968)
Formed in San Mateo on the San Francisco peninsula first as The Newcastle Five and then The Art Collection, Powder played San Francisco but weren't part of the ballroom scene. They were suburban and definitely not hippies. As much an anomaly to San Francisco as the equally straight-ahead Flamin' Groovies, Powder weren't rootsy like them or the soon-to-be popular Creedence Clearwater Revival.
Musically, the San Francisco narrative for 1967 was and is dominated by lengthy songs, jamming and a general looseness. Quicksilver Messenger Service played a half-hour "Who do you Love", while Jefferson Airplane elongated their songs with almost free-form instrumental passages. Although more song-focussed, Moby Grape were recognisably in the new West Coast style. The kinetic, sharp-edged Powder were something else. Their heads were filled with neon visions of a concise mod-pop rather than notions of soundtracking journeys to inner space.
In the fine liner notes, Martin confirms that "we were Who fanatics and got hold of the My Generation album before it was released in the States. People used to think we were from Britain because of our stage attire." The songs they covered live were mostly British and included Dave Dee, Dozy, Beaky, Mick and Tich's "Hideaway", The Kinks' "Tired of Waiting for you", Small Faces' "(Tell me) Have you Ever Seen me", The Who's "So sad About us", and – quite bizarrely – "Take up thy Stethoscope and Walk" from Pink Floyd's first album.
But it's Powder's original material which shines. And thankfully, it was captured on tape. The fantastic Ka-Pow! An Explosive Collection 1967–68 actually is as exciting as its title suggests. Essential.
As Sixties' pop-art pop goes, Powder are as forceful as anything on The Who's 'A Quick One' album
Share this article