Reissue CDs Weekly: Creedence Clearwater Revival - Live at Woodstock |

reviews, news & interviews
Reissue CDs Weekly: Creedence Clearwater Revival - Live at Woodstock
Reissue CDs Weekly: Creedence Clearwater Revival - Live at Woodstock
Overdrive and relentlessness define the great American band's 1969 festival appearance
The red-hot Creedence Clearwater Revival at Woodstock
Apparently, Creedence Clearwater Revival drummer Doug Clifford's snare drum broke during the first song of their set at Woodstock Festival. On the new double album Live at Woodstock, it's impossible to detect this happening. As "Born on the Bayou" progresses, the band's forward motion is relentless and their dedication to the groove is undiminished during this and the remainder of a blistering, paint-peeling set.
This percussion hiccup and an allied perception that it was a sub-standard show prevented the band's leader John Fogerty from allowing CCR to be included in the subsequent live album and film of the event.
The absences didn't matter. CCR's profile was unaffected. Green River, their totemic third album, was issued a week-and-a-half before Woodstock. It was the second of three LPs they released in 1969. Their 1969 singles – which included the As and Bs "Bad Moon Rising", "Born on the Bayou", "Down on the Corner", "Fortunate Son", "Green River" and "Proud Mary"– were all smashes. They were and are a great American band, fusing directness with an explicit identity.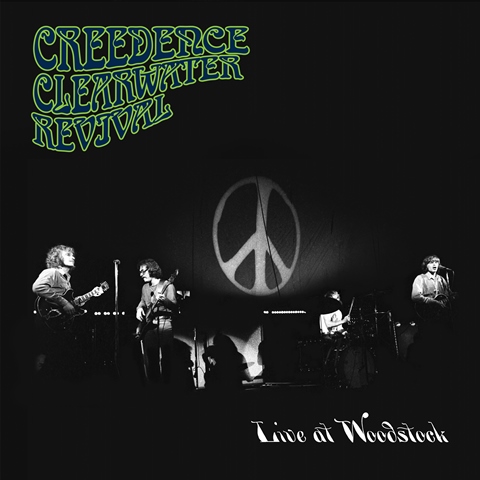 CCR were the first band contracted to play Woodstock. Their fee was $10,000. Joan Baez was paid the same. Only Blood, Sweat and Tears ($15,000) and Jimi Hendrix ($18,000) got more. CCR ended up playing between sets by Grateful Dead ($2,500) and Janis Joplin ($7,500). The Who's fee was $6,250.
In bald terms, the numbers confirm CCR's position in the pop pecking order of 1969. At Woodstock, they were sandwiched between The Grateful Dead and Janis Joplin, and went on at 12:30am on Sunday 17 August. They'd most recently played with the Dead on 28 May at San Francisco's Winterland but had not previously been billed with Joplin and her band.
Although not strictly a San Francisco band, CCR ascended through the city's ballroom circuit so knew exactly what the other Bay Area bands were about and what they were going to contrast with. Theirs was a keen appreciation of who else was out there. On 2 August they'd played Atlantic City, New Jersey with Tim Buckley, the Butterfield Blues Band, The Byrds, the Crazy World of Arthur Brown and Jefferson Airplane. The last date they played before Woodstock was a headliner at New York's massive Singer Bowl Stadium.
The CCR Woodstock set is – supposed drum shenanigans aside – as confident as would be expected and thanks to Fogerty's excision of the band from the festival's narrative stands apart from the deadening hoo-hah and hype surrounding the event as it hasn't officially been heard until now. It had circulated on tape and first hit CD as a bootleg in 1989 (pictured left). Three tracks were extracted from the set for the legal 2009 box set Woodstock 40 Years on: Back to Yasgur's Farm. Now, 50 years after Woodstock, the whole thing has been issued.
Sound quality-wise, what's released isn't that far from the bootleg. There's a greater clarity, separation and toppiness but no surprises. What hits (very) hard though is the band's focus and power. There is no flam-flam. The steamhammer version of "I Put a Spell on You" kicks into an overdrive at 02.47 setting them alongside the Detroit bands of the period. Live at Woodstock shuts down the 1970 Oakland show erroneously issued in 1980 as The Royal Albert Hall Concert.
Whether this urgency was typical of the 1969 CCR or a reaction to coming on after The Grateful Dead (judging by what's been issued, it was a flaccid performance) is impossible to tell. But it is certain that Fogerty and co were a full-bore proposition. While splendid to have this red-hot show available – the only let-up comes during some fiddling about with the drums after third song "Ninety-Nine And a Half (Won't do)" – the packaging is perfunctory. There are no liner notes and, surely, there are more photographs from the performance than the three which are used. As a landmark release, Live at Woodstock deserves bells and whistles rather than the thin presentation it's been given.
Next week: Factory Records could-have-beens Tunnelvision

'I Put a Spell on You' has an overdrive setting Creedence Clearwater Revival alongside the Detroit bands of the period
Share this article