Konono Nº1, Café Oto |

reviews, news & interviews
Konono Nº1, Café Oto
Konono Nº1, Café Oto
Congolese punk-trance leaves breathless human debris in its wake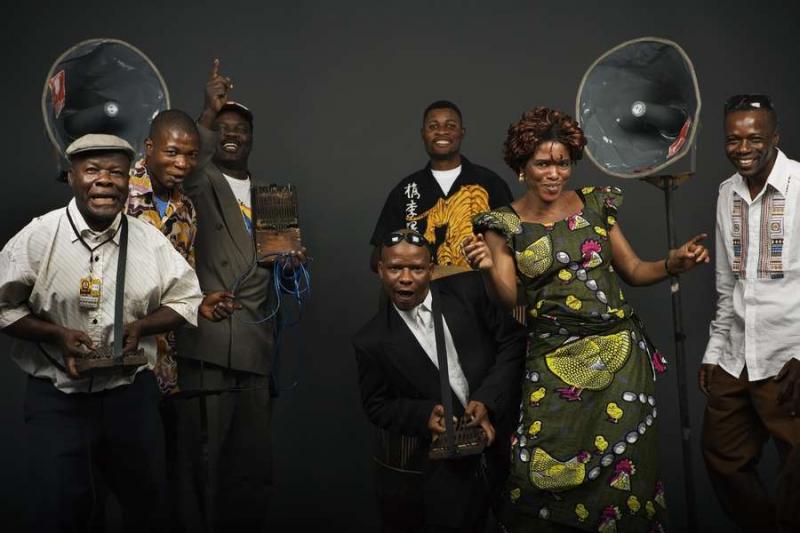 Konono Nº1 have a 'distinctive junkyard sound'
Rarely in London do the lights rise up after a live gig to reveal eyeballs glistening with euphoria, total body sweat and a communal stitch gradually dying down among the water-guzzling herd. Indeed it's an unusually bestial scene for Café Oto, mostly home to a more intellectual post-concert fervour. But fully-misted windows and naked midriffs, it turns out, suit their concrete Berlin-esque chic surprisingly well.
In fact there are few London venues who, through persistently interesting programming, have retained enough artistic integrity to properly showcase a group of Congolese punk-trance. No draped fabrics, dreadlocks, or vegan food are needed, by the way, because Konono Nº1 bring all the context, energy and musicality required to understand not just the spirit of Africa, but also the most visceral need of all people (no politicians excluded): to dance.
As undeviating as a steamroller, their deep groove seemed to bulldoze any hipster inhibitions, decimating soulless trendiness in its maverick path. The revolutionary team aboard the machine features an ensemble of tam tam, reduced drumkit, cowbells, female vocals and dance, with a Baobab-solid bass likembé (or "thumb piano") and gesticulating lead singer Augustin Makuntima Mawangu on treble likembé.
The breathless crowd was left both exhausted and invigorated
Their distinctive junkyard sound derives from the branded vintage megaphones that frame the stage – the only loudspeakers available in colonial Congo back in the 1960s when Konono Nº1 were formed. Amplified through ingenious homemade magnets and car parts, the likembé came through distorted and trashy - a quality which they now exaggerate with a distortion pedal, to riotous effect.
The Café Oto space suited them perfectly for another crucial reason: the lack of a stage avoided the often unhelpful separation between band and audience. Their energy, and that of the audience's wilful consent to Mawangu's persistent demands ("BOUGEZ! DANSEZ!"), were symbiotic and the perspiration entirely mutual. However they are also experienced veterans in the art of structure, both internally within each piece, and as a whole show.
With a quick flick from snare to hi-hat, from circular melody to nagging half-riff, their universal tongue of "dance" and "dance harder", coupled with a groove of spiderweb intricacy and thrusting doggedness, guided the congregation into a hysterical vibrating mass. And we continued buzzing higher and higher, almost ready to vaporise when they hit the set's mid-point – a (slightly) more languid groove – providing a moment to appreciate the effortlessness of their music as well as to heed the early-onset rheumatism. Their break-times, however, adhere to a sports coach's watch and when they finally resigned the breathless crowd was left both exhausted and invigorated.
The unpretentious and polite punk girl-band Trash Kit were a well-curated support, whose stylishly clumsy rhythm and joyful "blah blah" attitude set a carefree tone, also illuminating and thanking the mbira and likembé for their profound influence on many great electric guitar riffs, from Thomas Mapfumo to many of Britain's new afrophile rock bands.
Konono Nº1 continue their Café Oto residency until Sunday night. Good luck to all remaining attendees. Wear flat shoes, disposable layers and eat at least one hour before attendance. Zumba® and recreational drug-use be damned, the purest serotonin comes from the gut, kids.
Their deep groove bulldozed any hipster inhibitions, decimating soulless trendiness in its maverick path
rating
Explore topics
Share this article