Dancing in Jaffa
Dancing in Jaffa
Rumba and tango engage with Israeli-Palestinian tensions in moving documentary
Wednesday, 11 February 2015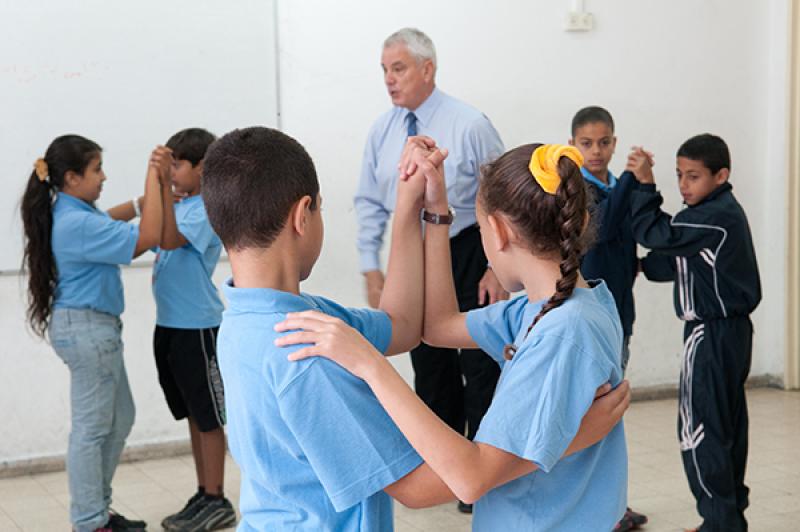 Managing tensions: Pierre Dulaine oversees children who don't want to dance - certainly not together
Your initial impressions of Hilla Medalia's Dancing in Jaffa may be influenced by whether you go into it knowing anything about its central character, Pierre Dulaine. His is a name that needs no introduction to anyone familiar with the world of ballroom dancing: he has been a world star in that field for decades, who together with his dancing partner, Yvonne Marceau, set up the American Ballroom Theatre in New York in 1984.
New Yorkers will certainly know Dulaine too, through his establishment of Dancing Classrooms in 1994, a programme that took ballroom dancing into schools, to 11-year-olds, many from troubled backgrounds, and involved them in 10-week courses with results that have changed lives. Over 20 years some 350,000 young people have passed through the scheme, which first reached the screen in the 2005 documentary Mad Hot Ballroom; a year later Antonio Banderas portrayed Dulaine in the feature Take the Lead.
Dancing in Jaffa sees Dulaine bring that exact same ten-week formula to Israel. The extraordinary challenges he would encounter there were obvious from the beginning, with girls and boys from the Israeli and Palestinian sides reluctant – frequently refusing outright – even to touch one another, let alone learn to dance together. He finds different approaches and degrees of receptivity in each of the five schools he goes to, and director Medalia watches as contacts gradually build, as well as offering home "snapshots" of the lives of children involved.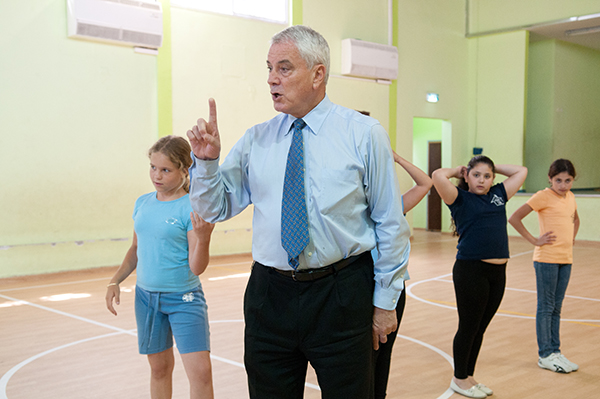 But the clincher in the film is that Dulaine was returning home for the first time in his life. He was born in Jaffa in 1944, and lived there for the first four years of his life, until the upheavals of 1948 saw the family dispossessed – like the other 70,000 Jaffa Palestinians who suffered a similar fate. (The Dulaine family moved to Amman in Jordan, before settling in Birmingham in 1956, displaced again after the Suez crisis).
In another kind of documentary, Medalia might have made Dulaine the focus of her film, but here it's the process itself that counts (Dulaine instructs, pictured above). But it means that we learn less about Dulaine himself, at least until around the 40-minute mark, when he reveals his origins in greater detail: that his mother was Palestinian (the fact that he speaks Arabic had indicated some such connection), his father Irish, in the region with the British army.
And then follow a couple of minutes when he really opens up about what's motivating him, admitting to a greater kinship with the Palestinian children with whom he's working. It's as strong a moment as any: in a quasi-parental role, he wants for them what he wanted for himself, a "chance to better themselves". Though it's clearly felt more acutely in Jaffa, we're left thinking about whether it's been just that experience which has inspired his whole work in education – and somehow wishing for a somewhat deeper insight. Dulaine somehow retains a rather distinct, professional formality through the film, his working costume for most occasions a suit and tie.
There's never any doubt of how much the odds were stacked against his idea working in a society where the celebration of Israel's Independence Day is marked by the Palestinians as Nakba, or as one teacher here describes it, the "day of huge catastrophe". It would be a spoiler to reveal the film's conclusion; enough to say that Dancing in Jaffa makes use of the format of competition build-up anxiety to move its closing stages along.
Watching the children move from the state they started in to the one with which the film ends is the centre of the film. There's surprise along the way for all, as well as some humour, as when Pierre's dance partner Yvonne arrives for a visit of encouragement, and he's is asked whether they are married. "You don't have to marry everyone you dance with," he replies, to a degree of astonishment from his audience.
The personalities we see in greater depth are memorable, too. There's teacher Ms Rachel from a rare mixed Israeli-Palestinian school, who comes from a conservative Jewish background, but finds a meeting of the spirit with Pierre. And the three children on whom the director concentrates in greater observational depth, the girls Noor and Lois (pictured together, above left) and boy Alaa. Noor's situation is the most affecting, and most symbolic of the confused allegiances of the environment: her mother was born Jewish but converted to Islam when she married a Palestinian man, Noor's father, who died when the child was six. Noor goes from being a "closed flower", as she's described here, who's having considerable difficulties at school, to achieve a real new confidence.
We may be left wondering in strictly formal documentary terms quite when and how Medalia came to focus on these three, namely whether she selected them in medias res, and then shot background appropriately (as indeed we wonder how many such requests for greater access were refused by parents). But when we see Noor at the film's conclusion, we're not left wondering at all at the truth of Dulaine's central tenet: "My belief is that when a human being dances with another human being, something happens."
Overleaf: watch the trailer for Dancing in Jaffa
Subscribe to theartsdesk.com
Thank you for continuing to read our work on theartsdesk.com. For unlimited access to every article in its entirety, including our archive of more than 10,000 pieces, we're asking for £3.95 per month or £30 per year. We feel it's a very good deal, and hope you do too.
To take an annual subscription now simply click here.
And if you're looking for that extra gift for a friend or family member, why not treat them to a theartsdesk.com gift subscription?