Cake |

reviews, news & interviews
Cake
Cake
Jennifer Aniston aims for awards-season big time and misses
Thursday, 19 February 2015
`I want my Oscar!': Jennifer Aniston (right) with Adriana Barraza in `Cake'
Jennifer Aniston changes pace without changing any fundamental perception of her skills in Cake, the austerely self-admiring new film that finds the onetime Friends star playing a none-too-friendly sufferer from chronic pain.
Adopting a halting walk and clenched demeanour and delivering the majority of her lines with a gallows-humour mordancy that quickly palls, Aniston tackles the part head-on in a putative bid for the kind of career about-face Oscar glory that led Charlize Theron to the podium some years back in
Monster
. No such luck on this occasion: Aniston wasn't even nominated.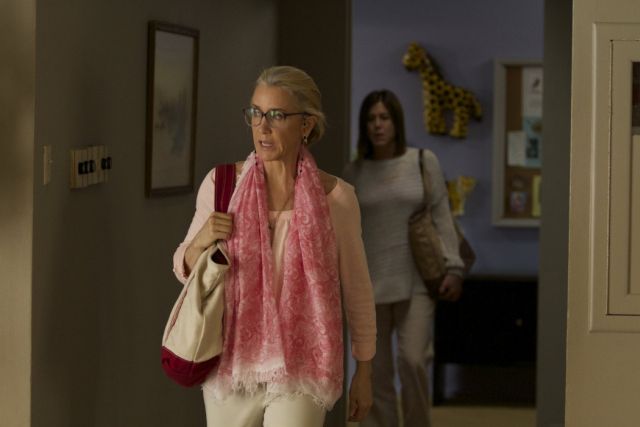 But even playing an LA monster - "are you always such a fucking shrew?" Aniston's character Claire is asked late in the game in case we have somehow missed the point - Aniston can't find within herself sufficient emotional colours to shade our response to one of life's victims who may have in some way contributed to her cavalcade of ills. With reference to this year's distaff crop of Oscar hopefuls, one can only begin to imagine what the Julianne Moore of a decade ago (or even now) would have made of this same part, a woman so toxic that even her self-help group (headed by Felicity Huffman, pictured above with Aniston) can't tolerate her any longer.
But whereas Mike Leigh, whose own films have trawled similarly depressive female psyches (in Another Year, especially), often mines comparable material for unexpected reservoirs of emotion, Cake for all its self-conscious lack of glamour trawls an all-too-familiar Hollywood path. Of course Claire still has an ex (Chris Messina) who continues to adore her even as she is seduced into the orbit of an angsty hunk, Roy (Sam Worthington), who greets her by remarking portentously, "I can't save you; I can barely save myself." After a while, Patrick Tobin's script seems to wear its plain-speaking tendencies like some perverse badge of honour, all the while ignoring the fact that the movie's overarching narrative seems itself to be a lie.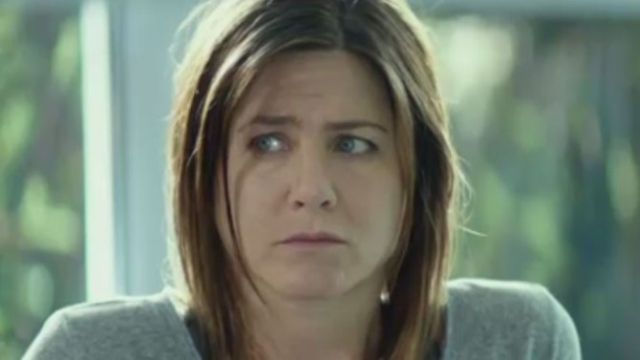 Roy's late wife (Anna Kendrick), having herself committed suicide, comes to haunt Claire's life, her opening gambit "hi, slut" upon first appearing to Claire not quite the sort of message one expects to receive from beyond the grave. Doing what she can to keep things on course is Claire's ever-loyal housekeeper (onetime Oscar nominee Adriana Barraza, of Babel renown, in easily the film's best performance), who not only makes a mean mango tamale but is available to drive Claire south across the border to Tijuana in order to stock up on meds that this pill-popping Angeleno can't get as easily back home.
There's a ferocious if all-too-brief scene where Silvana loses her cool and the movie looks as if it might head toward truly dangerous, artistically enriching terrain, but the moment soon passes. For all that director Daniel Barnz here exists in the service of an Oscar-baiting leading lady who practically has "aren't I brave?" imprinted across every frame, Cake at heart is surprisingly toothless: no second helpings here.
Overleaf: watch the trailer for Cake
There's a ferocious if all-too-brief scene in which Adriana Barraza's Silvana loses her cool and the movie looks as if it might head toward truly dangerous, artistically enriching terrain
rating
Explore topics
Share this article