Die Zauberflöte, Royal Opera |

reviews, news & interviews
Die Zauberflöte, Royal Opera
Die Zauberflöte, Royal Opera
Young lovers, a comic turn and paternal priest triumphant in Covent Garden staple
Anna Siminska's Queen of the Night with her venomous ladies (Sinéad Mulhern, Nadezhda Karyazina and Claudia Huckle)
Mozart's The Magic Flute is one of those operas, like Verdi's Il trovatore and all the mature Wagner masterpieces, which need a line-up of equally fine singers but rarely get it in the compromised world of the opera house.
With Christiane Karg and Pavol Breslik as the trial-enduring lovers joining three performances in the latest revival of David McVicar's production, and only Anna Siminska's fifth-element Queen of the Night unknown to me, last night's team looked good in principle. And so it was in practice, if sometimes compromised by occasionally erratic staging, conducting and chorus work.
Cornelius Meister led a game of two halves, less reliably so than Mozart in his mix of light and dark, with the Royal Opera Orchestra not always on top form. It may have been Meister's insistence on little vibrato, period style, that robbed the strings of their warmth and vital singing quality. His first half rushed by, presumably adhering to the speedier spirit of Mozart's age, but a top champion of authentic values like Sir Charles Mackerras would have given the singers more space to express their artistry at key points.
That freedom only came in a looser second act, but it gave us two arias of pure perfection. Georg Zeppenfeld (pictured right in the centre), a peerless King Marke in Glyndebourne's Tristan und Isolde, gave high priest Sarastro the perfect nobility of legato line and seamless range in his consolation of the beleaguered Pamina with "In diesen heil'gen Hallen". And lyric soprano of the moment Christiane Karg caught all the light and the beauty of phrasing in the heroine's aria of bewilderment at Tamino's trial-inflicted silence in "Ach, ich fuhls".
You knew that this Pamina was a girl destined to become a powerful woman from the strength of her calls for Tamino on her Act One adventure, and her gleaming utterance of "Die Wahrheit" ("The truth") when companion Papageno asks her what they should tell Sarastro. The scene of her attempted suicide pierced the heart, never mind a slip in the last few bars; let's not forget the pitch-perfect projection of the Three Boys who stop her, last night Michael Clayton-Jolly, Matthew Price and Alessio Andrea, which was as good as it gets.
As for the wondrous reunion with Tamino, it brought sublimity from both Karg and the apple of her eyes, handsome Pavol Breslik as a Tamino prone to convincing adolescent anger in the early stages of his development. They're a well matched pair, both with fast vibratos kept in check by superb musicianship. Unfortunately McVicar's production didn't help Karg (pictured above; no second-cast images available) with the feminist impetus she found in Pamina's journey: as Barbara Hendricks once told me, "she ends up leading him", but in these feeble Trials of Fire and Water, she doesn't (the movement group should also be told to stop gibbering and moaning over the flute solo; silent writhing would be more powerful). The opening-up of the sexist brotherhood to women thanks to Pamina's initiative isn't stressed clearly enough either, however promisingly set up
Nothing impeded the simpler journey of birdcatcher Papageno in search of a wifey. Markus Werba, wielding authentic Austrian dialect, instilled confidence from the start as a virile rather than a childlike natural man. He had what presumably were his own gags, including a premonition of Beethoven's "Ode to Joy" on the panpipes, supplying the missing notes with his voice. He's also a nifty dancer, and the second engagement of his magic bells brought a nice touch from McVicar, the two pompous priests sent to guide him (Harry Nicoll and Donald Maxwell) breaking into steps at the pretty tune.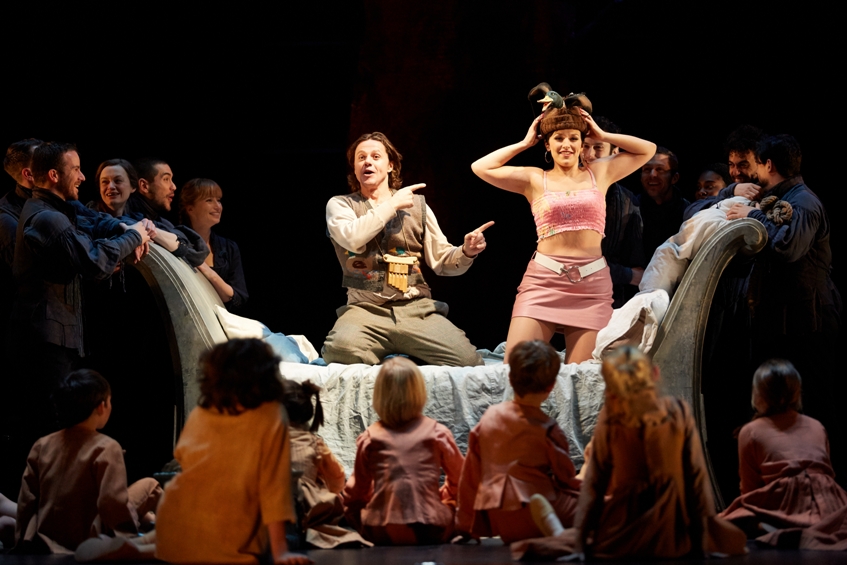 The duet with Papagena (Rhian Lois, bouncy, pictured with Werba right) brought the pure but rare delight of the wondering, then ecstatic "Pa-Pa"s. Anna Siminska's Queen of the Night had the flintiness for a mother's theatrical plea, excellently supported by physical gesture, if a more careful approach to coloratura (though all bar absolutely perfect Fs in alt worked). Sinéad Mulhern produced too strident a top line for the necessary Mozartian sensuality as the first of the Queen's Three Ladies, though they convinced as a group, given good snake-like movements in this production.
McVicar's whole I've always find less convincing than many, despite some beautiful tableaux from genius John Macfarlane, sometimes at odds with old-fashioned follow spots on the singers and a space not quite filled by the performers. Some of us still want a bit more fantasy around the age of enlightenment and orreries. The cut-down dialogue was admirably delivered, though - three native German speakers among the leads certainly helped - and this is probably as strong a cast as the Royal Opera Magic Flute is going to get. That may well be true of the other team, led by Toby Spence and Janai Brugger, but this assembly is well worth catching in the next two performances.
McVicar's production didn't help Christiane Karg with the feminist impetus she found in Pamina's journey
rating
Explore topics
Share this article