Poldark, BBC One |

reviews, news & interviews
Poldark, BBC One
Poldark, BBC One
Can this new version of Winston Graham's novels compete with its 1970s predecessor?
Aidan Turner looking hardly preposterous at all as Ross Poldark
Hooray! The BBC has learned its lesson from the "Mumblegate" furore that erupted around last year's adaptation of Jamaica Inn, and ensured that even the most unwashed and toothless Cornish yokel in this all-new Poldark is almost 90 per cent intelligible. As the central character Ross Poldark, Aidan Turner (of Hobbit fame) is a model of robust actorly diction.
However, elsewhere Poldark displays potentially more damaging failings. The Corporation is indecently fond of bigging up its own creations, but the trailers for Poldark were better then the thing itself. It feels like a mash-up of similar pieces, like the aforementioned Jamaica Inn spliced with a bit of Moonfleet and some Treasure Island, resulting in a kind generic historical yarn peopled with one (or fewer) dimensional characters. In a further echo of Jamaica Inn, the actors have their work cut out to get as much screen time as the Cornish scenery, since we're bombarded with interminable tourist-board shots of windswept cliffs, poignant sunsets over a sparkling ocean and vistas of unspoiled countryside. Not to mention derelict tin mines, of which Ross has two as part of his almost-worthless inheritance from his dead father.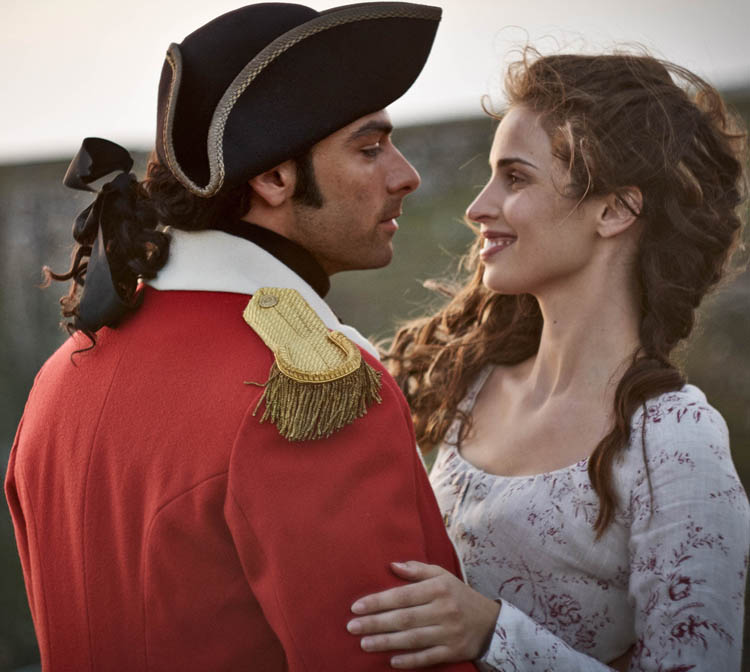 The setup promised much derring-do, wild romance and dynastic rough and tumble as Ross returned to his beloved Cornwall after a stint fighting with the British Army in the American War of Independence. In fact this debut episode got off to a cracking start, with a brief but hectic scene of Poldark's unit being ambushed by the bellicose colonists in Virginia, leaving our hero unconscious with a vicious slash down his left cheek.
After that though, events unfolded with deflating predictability. Although Ross had sustained himself during his hazardous stint in the military by replaying flashbacks of his beloved Elizabeth (Heida Reed, pictured right) as they frolicked together on an especially picturesque clifftop, his belated return found her on the brink of marrying his cousin Francis (Kyle Soller). But what did he expect after being away for three years? Francis is an exasperating drip with girly hair and the personality of a bar of soap, but (bullied by her unpleasant mother) Elizabeth has persuaded herself that she loves the jerk. Also he's quite wealthy, unlike most of the inhabitants of this unemployment blackspot. Since Ross failed to seize a golden opportunity to drown Francis in a flooded mineshaft, the thwarted love theme is set to run interminably.
There are several pantomine villains, chief among them Ross's Uncle Charles (Warren Clarke in his final TV role). Charles wants Ross to put Elizabeth behind him and travel as far away as possible (to London, perhaps), and he's prepared to hand over a substantial cash bribe to make his decision a no-brainer. But Ross is broody, stubborn and heroic, so obviously he can't agree. Also quite villainous (and he hasn't yet done anything like his worst) is George Warleggan... Warleggan?... abetted by his uncle Cary (Pip Torrens, sounding like he's trapped in a Groundhog Day of Bernard Matthews turkey commercials). For light relief, there's the knockabout duo of Jud Paynter (Phil Davis) and Prudie (Beatie Edney), the squalid and conniving housekeepers Ross has inherited as part of his tumbledown estate.
It's all harmless enough for a Sunday evening, but it's hard to imagine this eclipsing the BBC's revered and hugely successful 1970s dramatisations. We'll have to wait for the wild and untamed Demelza (Eleanor Tomlinson, pictured above), rescued by chivalrous Ross from the ghoulish gallery of grotesques posing as her family, to put a keg of dynamite under the floorboards.