Spandau Ballet, Brighton Centre |

reviews, news & interviews
Spandau Ballet, Brighton Centre
Spandau Ballet, Brighton Centre
Former new romantic soul boys take a tour of the 1980s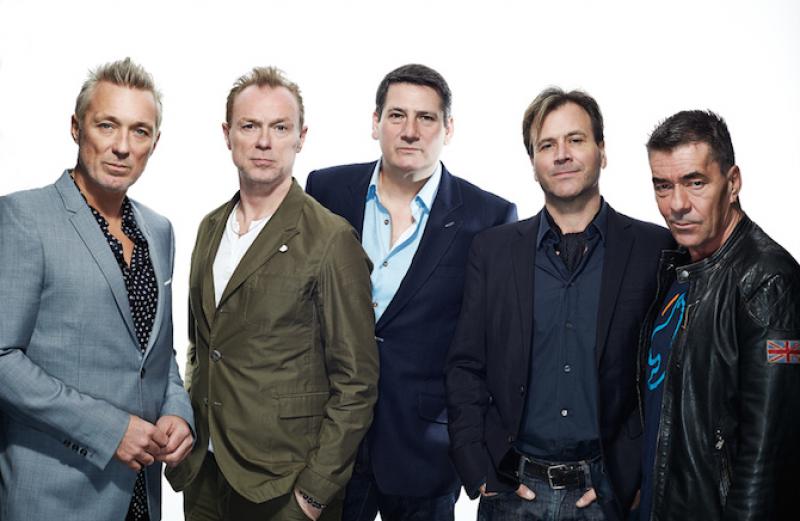 Martin Kemp, Gary Kemp, Tony Hadley, Steve Norman and John Keeble - Spandau Ballet
Of course they had to end with "Gold". It's one of those songs which, once heard, even if you dislike Spandau Ballet, is impossible to remove from the brain, a bona fide Eighties classic. Lead singer Tony Hadley and guitarist Gary Kemp, the man who wrote their songs, even performed a short acoustic version earlier on, perched amid the Brighton Centre's 4500 capacity crowd in the sound desk area.
"Gold" is a joyful climax to a night of ups and downs from a band whose occasional musical highs are balanced by a welter of contradictions.
Spandau Ballet started the Eighties in the avant-glam post-punk firmament of new romantic, an era they made reference to during one of the concert's highlights, when they performed a medley of songs in honour of Steve Strange in front of a neon visual proclaiming "BLITZ" (after his scene-defining London club). These four numbers, from their 1981 debut album, Journeys to Glory, have a zinging, synth-pop power, a tight, energized alt-funk. However, Spandau, like OMD and Simple Minds, have a problem. As the Eighties went on, they eliminated any remaining trace of post-punk spirit from their music, perhaps to appeal to the hugely welcoming and lucrative American market. Their set, then, included vibrant early work alongside later fare that's vapid Eighties wine bar soul.
New song "Steal" was particularly insipid but, fortunately, not all their new material was as bland. They opened with another newie, "Soul Boys" - last year's Spandau documentary and this tour are both entitled Soul Boys of the Western World. The song packed a reasonable punch, as did 2009's "Once More", played later in the set. The night's first real moment, though, was when they played "Round and Round" from 1984's Parade album. Behind them footage played of their original career from start to 1989 finish as Hadley intoned the chorus, "This is the game that we came here for/Round and round it goes." Effective, and the band still looked the part.
All around me the crowd, women in their 40s and 50s, many with partners to slow-dance with, swayed with sparkle-eyed pleasureGary's brother Martin on bass was black-suited, white shirted, his hair an ersatz silver quiff, his expression blue eyed and benevolent. His brother, in purple strides, has a harder, steelier face, and there was occasionally a sense of tension between him and Hadley. Or, perhaps, that's just me reading into their well-reported differences over the years, not least that the latter is a rampant Tory. Saxophonist Steve Norman is a tanned, tinted, flop-fringed creature who emanates rock star smug. He lived for years in Ibiza where he formed a Balearic cocktail jazz outfit with post-fame Bucks Fizz singer Shelley Preston. He looks just like that sounds. Drummer John Keeble thrashed his kit with gumption. He seemed to be having the best time. He and Martin Kemp were the two who look like they'd be fun to go down the pub with.
Hadley is an odd cove. He doesn't look the typical frontman of his era. Dressed in a navy suit, red-faced and hot, he swigged Jack Daniels and beer as the set progresses, his voice a fine, sturdy instrument that hasn't aged a jot. He seems to come from another era, a pre-rock'n'roll singer who punctuated his soft, emotional songs, with geezer-ish asides. He reminds me of Matt Monro, "the singing bus driver" of the Sixties. He certainly threw himself absolutely into the irresistible likes of "Chant No.1" and "To Cut a Long Story Short", as well as the raunch-funk of late-Eighties non-hit "Raw", but the one the crowd had been waiting for all night was the band's 1983 chart-topper "True", a preposterously soppy song that I've never been able to take seriously. All around me the crowd, women in their 40s and 50s, many with partners to slow-dance with, swayed with sparkle-eyed pleasure. Eventually we all joined in with the "ah-ah-ah-aaaaaah-ah, I know this… much is… true," chorus. Great fun.
At the very end, after playing their final Top 10 hit, the over-the-top epic "Through the Barricades" from 1986, and hammering home "Gold", Spandau Ballet gathered for a bow. They stayed there, standing shoulder to shoulder for a good while, basking in it, really enjoying the roaring adulation. They were massive pop stars once and for these few moments, they were again.
Overleaf: Watch Spandau Ballet in concert at the O2 in 2009
Tony Hadley seems to come from another era, a pre-rock'n'roll singer who punctuates his soft, emotional songs, with geezer-ish asides
rating
Share this article