Hotline Miami 2: Wrong Number |

reviews, news & interviews
Hotline Miami 2: Wrong Number
Hotline Miami 2: Wrong Number
Kill, die, repeat in this garish, hypnotic action sequel
'Hotline Miami 2: Wrong Number': Guilty gaming pleasure…
There are so many worthy, interesting, non-violent games in the world. And then there's this… this steaming hot mess of pulsing electronica, endless ultraviolence and drug-inflected hyper-visuals. This is the videogame the Droogs would have played in A Clockwork Orange. And, rather worryingly, it's absolutely brilliant fun.
Forget the rather pointless plot, involving drug-addled protagonists and hallucinatory phone calls. Instead focus on the play. Your job in each level is to work your way through whatever hellhole (police station, crack den, mafia penthouse etc.) you find yourself in, killing everyone. Just grab a weapon and splatter their brains all over the carpet. It's ludicrously blood-flecked, grossly violent and absolutely stylish to boot.
This is the videogame equivalent of Nicolas Winding Refn's Drive, pulsing to a similarly electronic period-feeling score and visual style, similarly splattered with lashings of ketchup and featuring similarly near-mute protagonists.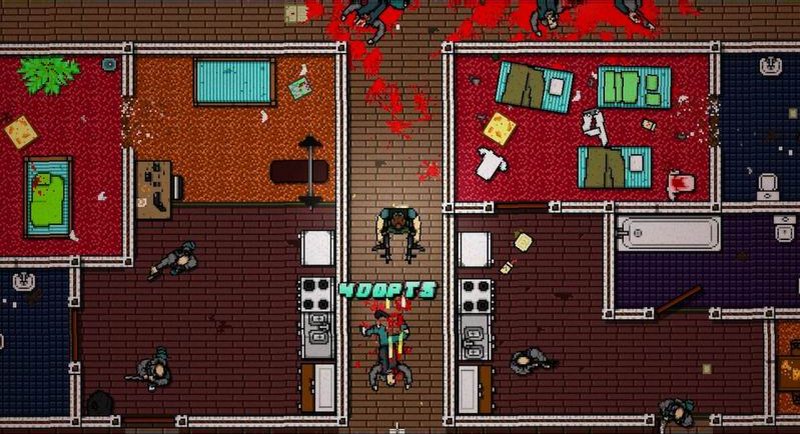 What makes Hotline Miami 2 (and its predecessor) so much fun, underneath its garish trappings, is the level design – a brilliantly labyrinthine mix of prowling melee weapon and gun-toting enemies, narrow corridors and doors and windows. A mix of guts, fast-reaction and mostly, trial and error problem-solving gets you through each level.
One, for instance, starts with a corridor leading to an open plan area with multiple rooms – loads of bad guys prowling through the lot. Pile into the open area and you're peppered from too many angles at once. But hang back and fire off one shot into the area – this alerts your enemies, who come running… right into your funnel corridor. Then it's blam, blam, blam. Another level sees several rooms linked by windows – this opens up threats and opportunities as you can take oblique shots at enemies in another room, but vice versa is also true.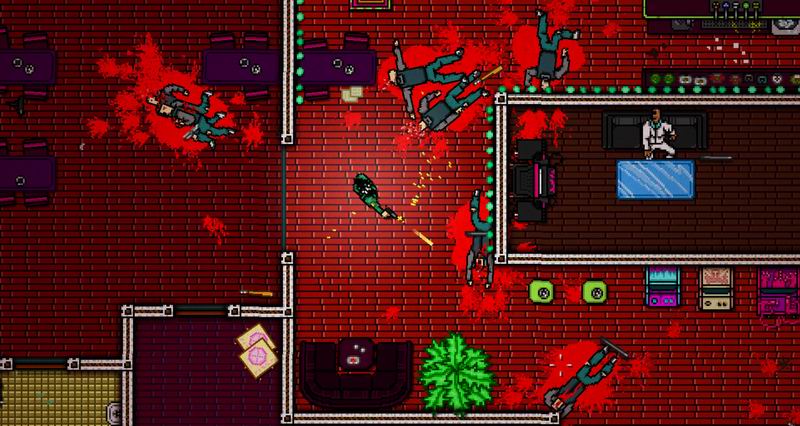 Throughout, the level design is wonderful – ratcheting up difficulty without just throwing more bodies at the problem (although the body count is insanely high by the end of the game). You'll need to develop all sorts of clever tricks – such as tossing an ammo-empty gun at an enemy in desperation, or using the "look" button to line up long range shots. And you'll need to develop a mix of super-speed reactions and muscle-memories of each level learnt to get through.
The end result is bloodily brilliant – a gleefully controversial splatter-fest that pushes and cajoles players to master both strategy, puzzle-solving and lightning reactions. It's absolutely recommended fun, if your definition of fun can involve chainsaws, nailguns and mass-murderers in pig masks. It only misses a perfect score because essentially, it's just the original Hotline Miami tooled up with slightly more character variety, new levels and puzzles – the shock of the new is dulled somewhat.
Hotline Miami 2: Wrong Number is out now for Linux, Mac, PC, PS3, PS4 and PS Vita. Developed by Dennaton Games and published by Devolver Digital.