Joshua Reynolds, Wallace Collection |

reviews, news & interviews
Joshua Reynolds, Wallace Collection
Joshua Reynolds, Wallace Collection
The portraitist's experiments in paint buckle under the weight of too much information
Joshua Reynolds, Self-portrait, c. 1747-49
The grand but domestic setting of Hertford House, home of the Wallace Collection, makes a fitting backdrop to an exhibition of paintings by Joshua Reynolds. The Marquesses of Hertford acquired some 25 paintings by Reynolds in the artist's lifetime, and after it, and the 12 that remain in the collection form the focus of this exhibition.
Not only does the Wallace Collection give an impression of the way that paintings were collected and viewed in the 18
th
century and beyond, but in its wealth of Old Master and 18
th
-century French paintings, for example, it shares characteristics with Reynolds's own collection, that served as a source for study and inspiration.
It is a little disappointing, then, to find oneself directed to the basement, which offers the single practical advantage of space – modest at that – and none of the charm of the 18th-century rooms upstairs. But this is not just a question of aesthetic sensibilities; with its yellow, uneven lighting the downstairs space only exacerbates the condition problems the exhibition serves to highlight.
The nature of these condition problems might seem a little surprising given Reynolds's reputation as a pillar of the establishment, but despite being the President of the Royal Academy and Principal Painter to the King, in his artistic practice he was a radical, experimenting with composition and the use of narrative elements in portraiture, and playing fast and loose with materials and techniques (main picture: Self-portrait, c1747-49). The results were often unsuccessful, and even in his own lifetime Reynolds's paintings had a reputation for fading and have provided a conundrum for conservators ever since.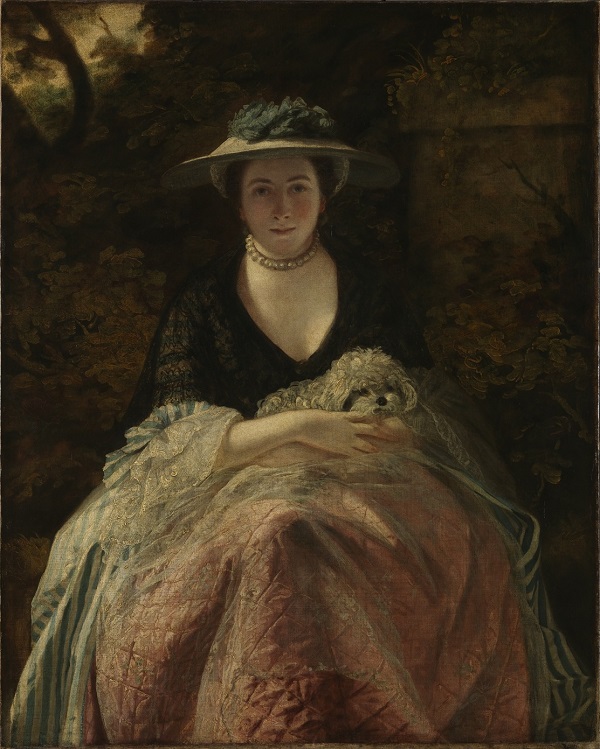 Reluctant to carry out conservation work on paintings whose material composition was uncertain, the Wallace Collection joined forces with the National Gallery and the Paul Mellon Centre for Studies in British Art to launch the Reynolds Research Project, whose name, surely unwisely, echoes that of the much-maligned, and now defunct Rembrandt Research Project. But while the more famous RRP attempted to establish authorship, the Reynolds project has investigated the artist's technique in order, primarily, to inform the cleaning of paintings apparently obscured by discoloured varnish.
While the project itself appears to have been fruitful and worthwhile, the resulting exhibition is bewilderingly uninformative, with snippets of technical information serving only to distract from and undermine the paintings themselves. From texts so extensive that they compete for wallspace with the paintings, we learn that Reynolds's experiments with unorthodox mixtures of pigments and binding media have caused many of his pictures to darken and fade. But while it is pointed out more than once that his choice of red lake pigments, favoured for their translucent qualities but prone to fading, has caused a loss of brightness in draperies and the whitening of skin tones, the only other specific example that is given is an instance of cracking caused by the presence of varnish in the paint mixture.
This is a problem, because having been primed with the information that these paintings are not altogether as they should be, we need to know precisely what is wrong. Oddly enough, this seems most pressing when looking at Reynolds's treatment of foliage, which appears in the background of a number of his pictures and is often so dark as to be almost illegible, as in the very fragile painting of St John the Baptist, after 1776. Equally however, there are examples of bright, fresh greenery, nowhere more so than in the monumental portrait of Mrs Elizabeth Carnac, 1775-6.
While it is easy to imagine that some paintings have succumbed to time and poor use of materials, while others have simply fared better, the truth is inevitably less straightforward. Reynolds's attempts to emulate Old Master paintings, which in an era before the routine cleaning of pictures were often much darker than they are today, led him to deliberately knock back some areas of colour. In his celebrated portrait of Miss Nelly O'Brien, 1762-3 (pictured above left), Reynolds toned down areas of foliage by overlaying areas of yellow and green with dark glazes and varnish. The painting is an exploration of the effects of light and shade, and the striking contrast between Nelly's luminous skin, bright, multi-textured draperies and the shady woodland setting is surely a carefully calculated extension of the painting's central theme. The trouble is, that with a head full of darkening paint, it is just as easy to read the muted background as an area of loss.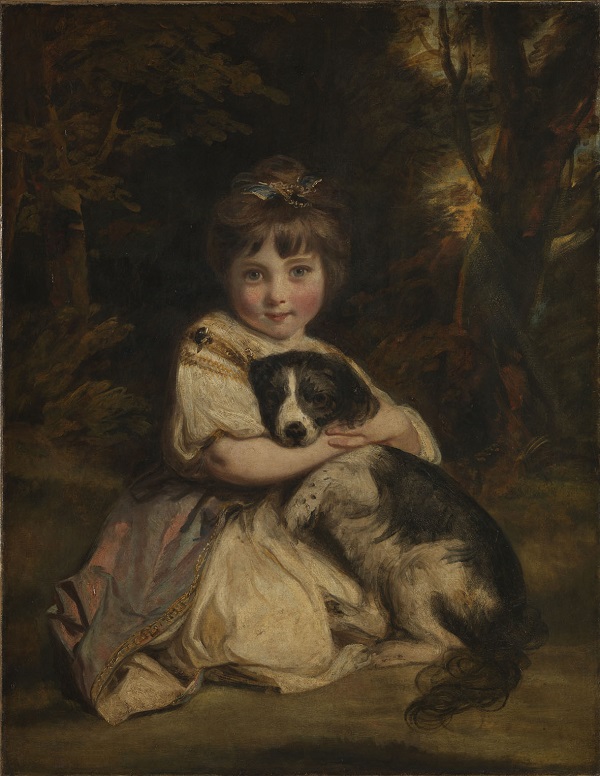 And to what should we ascribe the relatively bright background of Miss Jane Bowles, 1775-6 (pictured right), a painting that seems to have borne the ravages of time remarkably well, perhaps because it was made for a patron nervous about Reynolds's reputation for fading painting? Like the portrait of Nelly O'Brien, the little girl with her dog has received conservation treatment as part of the current research project, but because we are never told exactly what has been done, there is a nagging uncertainty about what we are looking at. And if its pristine appearance did not make you suspect it, you would only find out from the catalogue that Mrs Elizabeth Carnac, has also recently been cleaned.
In fact, for an exhibition centred around the insights provided by technical examinations and conservation treatments, the curators are surprisingly coy about the particulars. We are told that conservation work done on Miss Nelly O'Brien has revealed "Reynolds's great skill in rendering the different tones, textures and delicate colour harmonies of the sitter", but not how this has been achieved. The answer, presumably, is by the removal of varnish using solvents, a process that seems so banal, low-tech and wide-open to blunders that it perhaps seemed expedient to let the public conjure up some imaginary laboratory procedure, reassuringly safe from human error.
The use of science as a comfort blanket is depressingly familiar territory, and while a smattering of x-ray and infra-red photographs serve as signifiers that "science has been done", their small scale means they amount to little more than window dressing. The aspects of Reynolds's working process that they claim to elucidate distract from the opportunities to look first hand at paint-handling and composition, and, uniquely, to compare the two portraits of Nelly O'Brien, brought together here for the first time since they were made. Other aspects of Reynolds's practice that could very effectively be explored in an exhibition, like his habit of producing a study alongside a painting so that he could test out ideas before committing them to the final version, are given only fleeting attention.
While a bigger exhibition might have allowed the paintings more space, with opportunities to explain by example, thus reducing the need for extended wall texts, the concept behind it is surely fundamentally flawed. By focusing on what we cannot see, or aren't supposed to see, it is easy to lose sight of a painting altogether.
Primed with the information that these paintings are not altogether as they should be, we need to know precisely what is wrong
Explore topics
Share this article