The Subways, Institute, Birmingham |

reviews, news & interviews
The Subways, Institute, Birmingham
The Subways, Institute, Birmingham
Punk poppers give the beginning of the week an almighty shot in the arm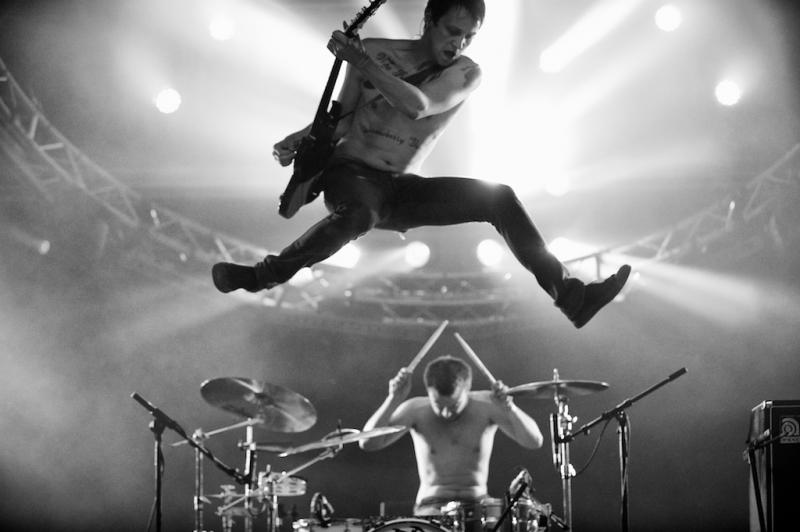 The Subways' Billy Lunn goes into orbit
Not unreasonably, anyone might imagine that a band might lose a bit of their usual vigour if they found themselves four albums into their career playing in a room not much bigger than a church hall, miles from home on a cold Monday evening. Not so the Subways.
The Hertfordshire three-piece bounced onto the stage in the Temple room in Birmingham's Institute and tore straight into the anthemic "We Don't Need Money to Have a Good Time" and didn't let up until they finally left the stage more than an hour later with sweat dripping down the walls in torrents.
More impressively, they also had the audience singing along and generally throwing themselves around to songs old and new right from the off. All of which only seemed to spur the band on further, with guitarist and lead singer Billy Lunn leaping high off the drum riser during second song, "I'm in Love and It's Burning in My Soul" and crowd-surfing during final tune "It's a Party". In between, the Subways pumped out adrenaline-fuelled punk pop gem after punk pop gem. From instant classics such as "Good Times" and "We Get Around" from recent album The Subways to old favourites like "Mary" and "I Want to Hear What You've Got to Say" from 2005's debut Young For Eternity, every song was greeted with a passion from the crowd of mainly teenagers and twenty-somethings – which remained a heaving mass of bodies singing along and bouncing around with hands held aloft throughout.
The Subways could certainly be described as one of the UK's hidden gems
Things got even more lively for the Subways' calling cards, "Rock 'n' Roll Queen" and "Oh Yeah". Drinks got thrown around and the crowd went ape-shit, yelling along to the refrain of "these teenage years, well they don't last" while making sure that they soaked up as much of theirs as possible.
Unfortunately, some songs like "Girls and Boys", from 2008's All Or Nothing album, did suffer somewhat from the sound limitations of a smallish room. When rock 'n' roll is served up this raw and gritty though, it's all pretty much an integral part of the experience. Indeed, if anyone wanted a sound characterised by clinical precision, they should have stayed at home and listened to the albums. Not that there seemed to be any complaints.
The Subways could certainly be described as one of the UK's hidden gems, with a career that has consistently served up life affirming rock 'n' roll by the bucket-load but without the well-deserved acclaim. On the evidence of this gig, they might also soon be acknowledged as the most exuberant live band in the country. They certainly provided the beginning of the week with a serious shot in the arm: they were so good that you could almost forget that it was still only Monday.
The Subways pumped out adrenaline-fueled punk pop gem after punk pop gem
rating
Explore topics
Share this article