Cinderella |

reviews, news & interviews
Cinderella
Cinderella
Cate Blanchett steals her stepdaughter Cinders's show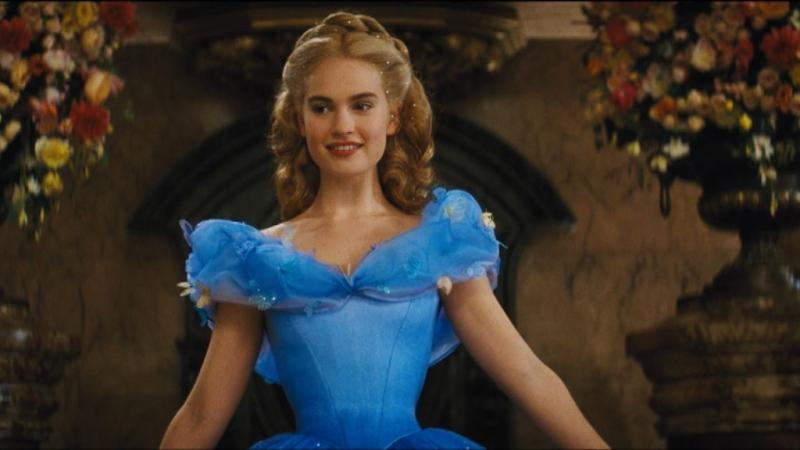 Having a ball: Lily James is celluloid's latest Cinderella
Lushly produced to within an inch of its pictorially ripe life, the new Disney/Kenneth Branagh live-action Cinderella couples swoony imagery with a cloying message about compassion. But all its pro forma qualities fall away as and when Cate Blanchett takes to the screen, the actress as beady-eyed as she is bristling – and Branagh's film that much the better for it.
Playing the stepmother from hell who makes poor Cinderella's life a nightmare, the actress is all but heaven-sent within the context of a movie that desperately needs her bite. That the two-time Oscar winner also looks magnificent even in fully venal mode might make you want to retitle this latest effort Maleficent if that name hadn't already been pressed into use a year or two ago. Sporting Sandy Powell's surely Oscar citation-bound costumes like so much sartorial weaponry, Blanchett's Lady Tremaine (pictured below) is a bully with a back story.
Hard done by life, Blanchett's antagonistic anti-heroine gives off the airs of a social schemer at once affronted and undermined by the preternatural good grace of Lily James's Cinderella, whose pluck is tested by the dual losses first of a mum and then a dad, only to find solace in her prince (Richard Madden, pictured below) – not to mention the company along the way of a retinue of especially charming mice, all of whom have names. Taken aback both by Cinderella's youth and by her innocence, Lady T responds by shifting ino vengeful overdrive, all the while making one wonder whether she doesn't wish she had birthed Cinders instead of the two eternally sniping OTT young shrews that this stepmother is none-too-keen to call her own. (Sophia McShera and Holliday Grainger play the stepsisterly grotesques.)
At least the female side of the film is of some interest. That's more than can be said for the men, especially once the likeable Ben Chaplin departs the action as the doting dad whose loss renders his beloved daughter an orphan before her time. Compensating, at least in the amorous sweepstakes, is Madden's inevitably wet prince (how can this role be otherwise?), a titled chap who turns out to have a bit of a social conscience, to boot, and differences in class be damned. Intriguingly, Branagh is said to be re-teaming James and Madden onstage within the next year to play Romeo and Juiet for his embryonic West End company. Let's hope they strike sparks in three dimensions that aren't much in evidence here.
For her part, Downton Abbey alumna James visually suggests younger versions of Kate Winslet and Jessica Lange in turn, without ever marking out this girl-woman as possessed of the witty self-knowledge that characterised Anna Kendrick's take on the same character in the film of the stage musical Into the Woods. Instead, we hear time and again the often-repeated mantra that Cinderella must "have courage and be kind". So not wanting a Disney bromide to go by the boards, let me just thank those involved for having the courage to cast Blanchett and for kindly confirming anew that, when it comes to such ventures, the beastliest personage really does have it best.
Overleaf: watch the trailer for Cinderella
At least the female side of the film is of interest, which is more than can be said for the men
rating
Explore topics
Share this article