Reissue CDs Weekly: Bert Jansch |

reviews, news & interviews
Reissue CDs Weekly: Bert Jansch
Reissue CDs Weekly: Bert Jansch
Defiintive reissue of essential debut album from influential folk stylist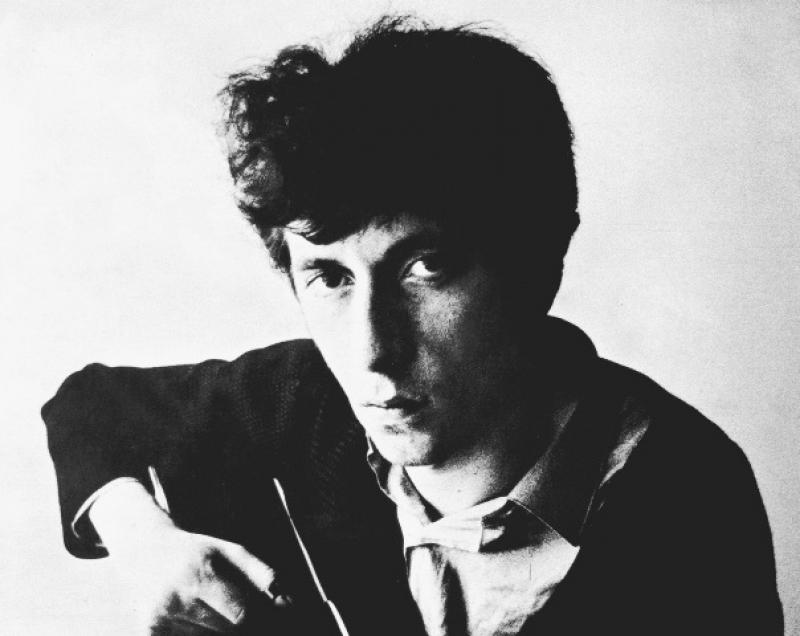 Bert Jansch in 1965: well-rounded, lightly hued yet intense
Bert Jansch: Bert Jansch
North Villas is a short street parallel to Camden Road, the main artery linking Camden Town to Holloway in north London. It's off Camden Square, where Amy Winehouse lived and died. In August 1964, Bill Leader began recording what would become Bert Jansch's debut album in his home at 5 North Villas. The first-floor flat had two living rooms, a bathroom and a kitchen. Leader would set up his tape recorder in the same room as who he was recording and monitor what was being caught on tape through headphones.
At the same time as Leader was using his home as a recording studio, Joe Meek was doing exactly the same thing – due east, at 304 Holloway Road, a relaxed 15-minute walk from North Villas. It is extraordinary – staggeringly so – that two north London flats so close together were hothouses producing music which still resonates. Meek had John Leyton, The Tornados, The Honeycombs and so on. All were pop and hit the charts. Leader was not part of the pop world though. His was folk. He had and would record The Dubliners, Ian Campbell, Ewan MacColl, Peggy Seeger and more. Despite the musical disconnect, Meek and Leader were united by more than geography and their unusual set-ups. Both pursued their own creative vision. And if it caught on, fine.
This album is one that did catch on. As the liner notes of this fine reissue of his eponymous debut long player point out, Jansch directly affected what Paul Simon would bring to Simon & Garfunkel. Jimmy Page borrowed Jansch's arrangement of "Blackwaterside" for Led Zeppelin. But Jansch, who died in 2011, cared not a jot for commerciality and exploitation. In a 1974 interview quoted in the booklet he said, "In no way did I ever entertain any thoughts of going commercial. I don't want to be party to any hype. I suppose I'm a pawn like everyone else in this business, but at least I'm a conscious thinker and I know where to draw the line."
What that quote says of his opinion of Page is open to interpretation, but of Paul Simon he did explicitly say "didn't think much of him. Still don't."
Despite himself, and despite what he declared, Jansch did have a commercial ear
Jansch's partly instrumental debut album, originally issued on 16 April 1965, was going to have problems being marketed to the mainstream anyway. Being a folkie wasn't the issue. "Needle of Death" was. It explicitly addressed the use of heroin.
Nowadays, the album is lauded as the first showcase for Jansch's complex and dextrous guitar playing. His style was as influential as the songs he wrote and/or performed. But the album's 50th-anniversary reissue brings a chance to assess it as a collection of songs rather than a technical manual. Jansch's version of folk drew on blues, American troubadour folk and the traditionally British. There is a little Dave Brubeck in "Alice's Wonderland." Boundaries weren't there to respect. It is a well-rounded, lightly hued yet intense album.
His direct singing voice gets straight to the melody. Yet he lingers on final syllables and mid-word vowels. Underneath, his guitar continues its circular, rhythmic path. Leader perfectly balanced the two: guitar and voice. Without its sound and Jansch's sense of melody, his debut album would not have had the impact it did. Despite himself, and despite what he declared, Jansch did have a commercial ear. Listen to "Oh How Your Love is Strong" for the proof.
The album has been endlessly reissued, and originals can be found for about £30. It was both a strong seller and was not obscure. This new reissue sounds fantastic. Leader's original master tapes have been revisited with a rare sensitivity. The album sounds more immediate than ever – even when compared to an original pressing. There has been no monkeying with EQ or over-egging of levels. The cutting-stage compression apparent on a 1965 pressing is absent. As is the flatness of the UK CD reissue of last decade. This is exactly what was on tape. An essential reissue of an essential album.
The 50th-anniversary reissue of Jansch's debut brings a chance to assess it as a collection of songs rather than a technical manual
Explore topics
Share this article