Ahnen, Tanztheater Wuppertal Pina Bausch, Sadler's Wells |

reviews, news & interviews
Ahnen, Tanztheater Wuppertal Pina Bausch, Sadler's Wells
Ahnen, Tanztheater Wuppertal Pina Bausch, Sadler's Wells
Family lore and deep-seated fears explored with surprising humour, and a technical glitch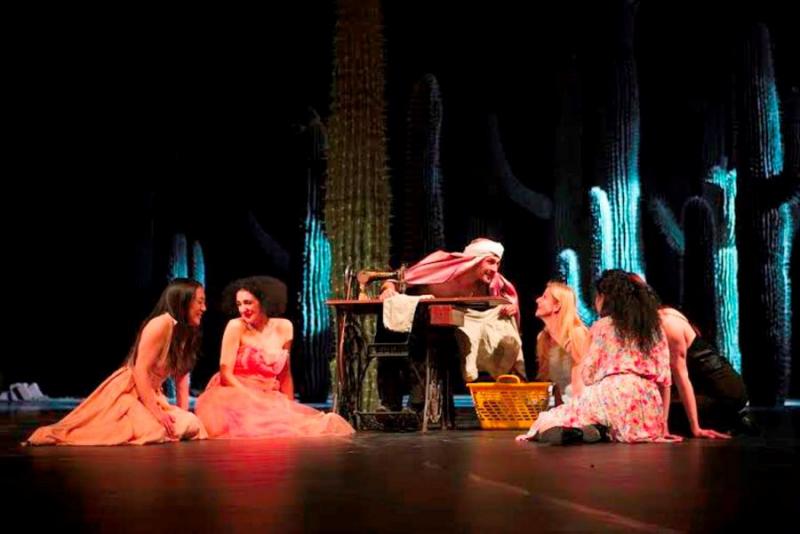 Grandmother's footsteps: one of the warmer family times recalled by members of the Pina Bausch company in a revival of 'Ahnen'
You're already in the land of the unpredictable with Pina Bausch. Creating unease was her métier. But when she pulls a gag intended to convince you that something has gone badly wrong on stage, and then it really does, the discombobulation is profound.
When stage hands brought on a portable ballet barre, some 110 minutes into Thursday night's opening performance of Ahnen (German for "ancestors", but also "foreboding"), a few hearts among the Sadler's Wells audience may have leapt: ah, at last, they thought, we're going to get something more like dance. But the barre was a trapeze for a punk rocker in a kilt, who mimed eating bananas while hanging from it like a monkey. All par for the course.
And then an alarm sounded and the fire screen descended to the floor, with ominous slowness, shutting off most of the stage and the extraordinary world Bausch had created. There had been plenty of lighted candles in use and some of us thought we smelled burning. But you're in a pretty susceptible state after two hours of Pina Bausch. A man then appeared carrying a life-sized toy walrus – flubbery and floppy and horribly realistic, until he unzipped its great lolling head and climbed inside, zipped it up again and proceeded to tell a joke.
Bausch's goal is to animate the dark, neglected corners of our minds
So it's easy to imagine why, after the man had emerged and wandered about a bit, examining the fire screen and realising he was stuck on the outside of that extraordinary stage world, that we thought it was also in his script to say: "I'll just have to go and ask my directors what to do next". In the event, they called an impromptu second interval of 20 minutes to sort out the safety screen that refused to retract. Alarmed by the prospect of the show running on past 11pm, some audience members with trains to catch (and reviews to write) made their exit.
Yet I'd hazard that none of them left feeling short changed. The show's final stretch, once it finally rolled, was mostly a recapitulation of earlier images. And a feature of all Bausch's work is that the most potent images replay themselves on a loop in your head – for weeks, even years – as your unconscious mind sets about processing them. People mistakenly look for a message, or demand to know what Bausch's work means. But her genius idea was to create in each work a slideshow of stage pictures (some lasting minutes, others a single blink) that work on you subliminally, and cumulatively, not just on the night.
Ahnen, a piece from 1987 revived for the company's 40th anniversary, is typical of the period when Bausch had established her working method and her principal themes: love and loss, yearning and regret, relations between men and women, extremes of human joy and pain. The selection of recorded music ranges from tribal singing to punk rock, Monteverdi to Fred Astaire. The mood, then, is lighter than you might expect.
Interpersonal cruelty – so pronounced in Nelken (1982) and Viktor (1986) is notably absent in Ahnen, despite Peter Pabst's ominous stage setting – a landscape of tall, lethally spiky cacti. We're not meant to think this is the Arizona desert, though: this isn't one of the choreographer's postcard-from-my-travels pieces. It's visual code for a mental landscape, one of harsh challenges and phallus-fixation. Some of the more branching cacti also bring to mind entire human forms, hailing us from an ossified distant past.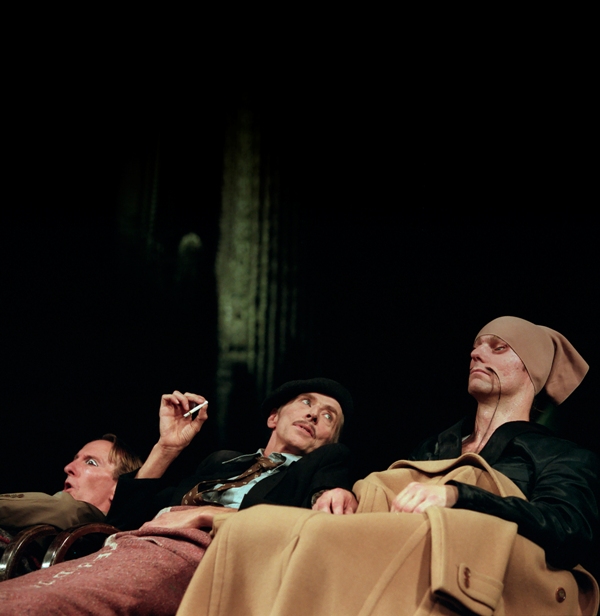 Typically, the large cast of 25 actor-dancers pay no heed to this setting. A crumpled man wearing what looks like Native American feathers sits leaning against a cactus, but you notice that his headdress is actually a tutu: he's just one of the ancestors of the title who's lost his way. A couple, played by Dominique Mercy and Nazareth Panadero – both from the original 1987 cast – mime inventive, and horribly funny, ways of mutilating one another – what each secretly longs to inflict in the course of a long and mutely unhappy marriage.
Another of the longer set pieces involves a trio of old gaffers in deckchairs (pictured above right), possibly enjoying a performance of operatic hits in the park. While one gives a truly terrible rendition of "L'amour est un oiseau rebelle" from Bizet's Carmen, a second delivers a dry bar-by-bar translation of the libretto to the third old man, who hasn't asked for it and doesn't react. It's both a delicious send-up of specious sentiment in opera and an observation of a tendency among older people to misjudge a situation.
Momentum is sometimes lacking in the course of a long evening, the characters often milling about as if waiting for something to happen. Others carry out repetitive tasks: endlessly rolling wool into a ball, stacking bricks, washing the floor. A repeated motif is an impassive Julie Anne Stanzak (also from the 1987 cast and still astonishingly beautiful, even with a lipstick heart outlining her face), who sits primly on a kitchen chair for long minutes at a time rubbing a stub of soap into powder. Each time she sits down to this mindless task, she inserts a lighted candle between her thighs – an act of pragmatism (it keeps her hands free), or hopeless sexual longing?
Bausch's creative process reportedly always began with a questionnaire, and the results of her probings into how her company members felt – in this case about the notion of ancestry, of inherited traits, and their personal family history – lie more than usually close to the surface in this piece. We see a corpse in a glass coffin that's ominously filling with water, a blind woman in Jackie Onassis dark glasses and pearls who repeatedly pulls out a revolver and shoots, a remote-control toy helicopter whose swooping and hovering is surprisingly unnerving, and in a gloriously sunny gap between the clouds, a retro beauty-pageant hand-jive routine at the climax of which the winner gives us the benefit of her fluffy personal philosophy – in Japanese.
Describing the late Pina Bausch as a choreographer has always been inadequate, and this work contains even fewer actual dances than usual. She is indeed a choreographer, but one whose ultimate goal is to animate the dark, neglected corners of our minds by whatever means it takes. Psychotherapy by association? Something like that.
Each work is a slideshow of stage pictures (some lasting minutes, others a single blink) that work on you subliminally
rating
Share this article