Masurca Fogo, Pina Bausch, Sadler's Wells |

reviews, news & interviews
Masurca Fogo, Pina Bausch, Sadler's Wells
Masurca Fogo, Pina Bausch, Sadler's Wells
Tanztheater Wuppertal in one of their founder's lightweight works
Shiny happy: Regina Advento in Pina Bausch's Portugal-inspired 'Masurca Fogo'.
Tanztheater Wuppertal Pina Bausch are at an interesting juncture. Eight years after their eponymous founder died, and over 40 since she took over at Wuppertal, the troupe is reaching a point when, even if Bausch were alive, it would be facing change, as the older dancers in the company - many of whom have been there since the beginning - enter their late 60s.
Bausch, of course, was not in the slightest bit reluctant to put older dancers on stage - one of the most wonderful and distinctive things about her choreography is the sheer variety of ages, body shapes, nationalities on display - and she would have hired new dancers, borne the loss of familiar faces, and mounted her back catalogue with the same ingenuity and assurance she displayed throughout her career. But so strong and distinctive was her genius that it seems - if possible - harder than ever that her company should now have to do all these things without her.
It may seem odd that Masurca Fogo provoked such melancholy reflections, since the Portugal-inspired, 1998 piece is among the sunniest in Bausch's oeuvre. Compared to the likes of Auf dem Gebirge..., which the Wuppertalers brought to Sadler's Wells two years ago, Masurca Fogo is a beach holiday. The kind of searing sequences that make some of her pieces so uncomfortable to watch - like a man blowing up balloons till they burst in his face or a woman running and running and always being knocked over by some men holding a table - are absent. Masurca Fogo wears its sharpness much more gently: it highlights absurdity and the oddness of relationships, as all Bausch's work does, but with an attitude more akin to the raised eyebrow of a sceptical grandmother, rather than the anguished testimony of the oppressed. Witness the scene when an older dancer (Nazareth Panadero) tells us how beautiful she is, and all the men follow her around sighing 'ah', completely ignoring half a dozen younger, more nubile dancers in swimsuits at the back of the stage. Are we to think that she, like many of Bausch's characters, has a loose grasp on reality? Or is it actually a spirited defence of the confident sexuality of older women? It says both, perhaps, but it says them gently.

In some sequences, the lightheartedness is simply delightful: no-one will forget in a hurry the end of the first half, which sees four dancers in swimming costumes cavort, giggling, in an improvised water slide while a rubber walrus lumbers across the stage behind them and Regina Advento smiles seductively from a bubble bath out of which she occasionally pulls a clean plate and hands it to Andrey Berezin to dry. Orgasm jokes are funny; a brief dance party in a makeshift beach shack is uplifting; and there is the usual Bausch play with both drinking and eating – dancers blow water jets, dump sugar over coffee, and generally feed and splash themselves and others in a variety of creative ways.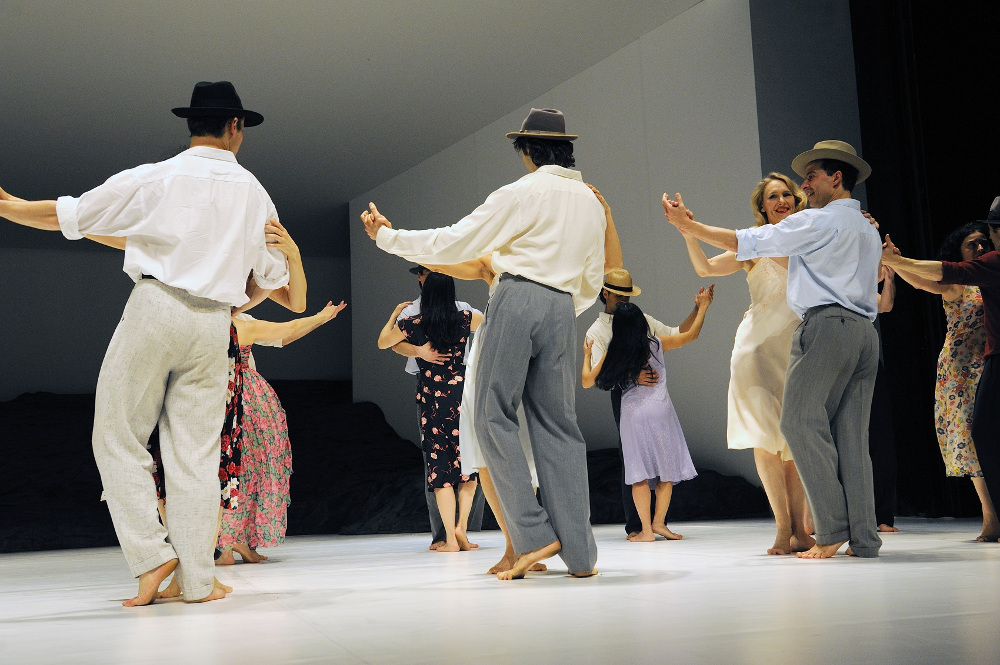 All this is good. But there are longueurs too, often coinciding with video projections. These, with the exception of a some euphorically surging waves near the end, are generally distracting and in some cases just boring; a series of flowers opening while dancers lay prone on the floor was one of the most yawn-worthy sequences I've seen in a Bausch work. There are a fair number of straight dance sequences, which I generally find less exciting than the tanztheater antics; yes, we got to see lots of the new young male dancers strutting their stuff, but actually, the glory of Tanztheater Wuppertal is difficult to separate from its veteran members and the young chaps' dancing left no after-image on the retina to compare with Andrey Berezin pushing dancing couples around while wearing a burgundy taffeta dress, unseen heels, and a rigid poker face: dowager duchess, dancing master, and Lurch the butler rolled into one, glorious, package.

Those who saw Masurca Fogo on its last London outing 15 years ago will be more able than I to say whether the muted tone of last night's performance is attributable more to the piece or to the position the company finds itself in these days. I love Tanztheater Wuppertal; I love Bausch's work. It would be wonderful if they were both immortal and infallible, but they are not; Masurca Fogo shows neither at their best. But Bausch on a bad day is still better than many choreographers on a good one. Her company and her work are always worth seeing, and we are lucky indeed that they visit London so frequently.
Tanztheater Wuppertal Pina Bausch perform Masurca Fogo at Sadler's Wells until 12 February
Masurca Fogo wears its sharpness gently
rating
Explore topics
Share this article