The Audience, Apollo Theatre |

reviews, news & interviews
The Audience, Apollo Theatre
The Audience, Apollo Theatre
Kristin Scott Thomas is a worthy successor in Morgan's rejigged revival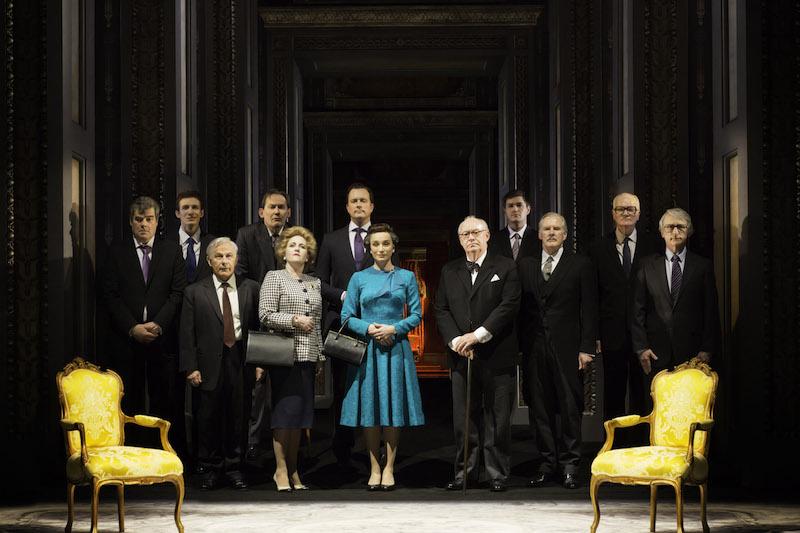 Queen of all she surveys: Kristin Scott Thomas's sovereign and her PMs
As The Queen gains an audience with the latest royal addition, her theatrical alter ego returns to the West End, with Kristin Scott Thomas inheriting Tony-nominated Helen Mirren's role in Peter Morgan's updated revival. Callaghan is out; au courant gags about election battle buses and Thursday's result are in. Ed Miliband lookalikes must be lining up at the stage door.
Morgan's sumptuous 2013 backstage comedy mischievously imagines six decades of private audiences between the "postage stamp with a pulse" and her "dirty dozen" prime ministers. The zigzagging chronology is facilitated by Stephen Daldry's slick production, featuring evocative Bob Crowley designs and magical quick changes that transform the monarch from tentative newcomer to weary veteran, while her lonely juvenile self (enjoyably stroppy Marnie Brighton on press night) haunts the halls of Buckingham Palace.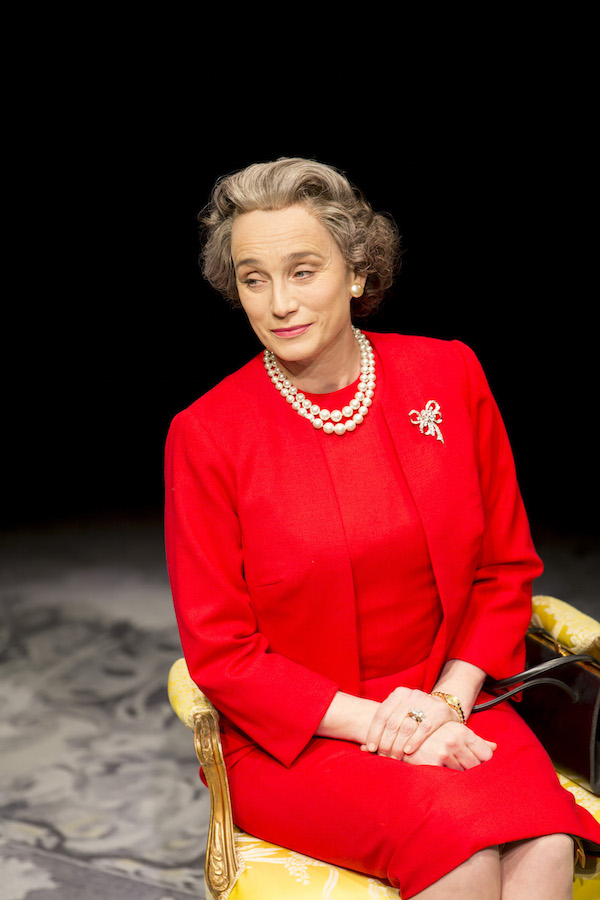 Elegantly languorous Scott Thomas (pictured right) is less of a physical match than her predecessor, who embodied the straitjacket of duty, and doesn't quite equal Mirren's extraordinarily precise vocal gradations, but her arch comic delivery adds spice to the waspish putdowns. She excels in moments of wistful yearning, stressing Morgan's contention that ours is a gracefully reluctant ruler, in contrast to the stream of power-hungry politicos.
The latter treat Her Maj as a combination of mother, shrink and confessor. Their sovereign grows in confidence, from enduring Churchill's condescension to crisply schooling the latest incumbents, but her role as conflict-averse constitutional monarch rather stymies the drama. Love-struck Morgan also seems unwilling to suggest fallibility; with right royal hindsight, Liz is on the winning side of every issue. It makes a virtue of her occasional interventionist forays, but – as Mike Bartlett pondered – would we be quite so sanguine if it were Charles demanding divine right to meddle?
Making the most of their sketch-like cameos are David Calder as Churchill, battling to stay relevant; Michael Gould's beleaguered, blubbering Major, unsuccessfully applying Serbian diplomacy strategies to Charles and Diana's marriage; Gordon Kennedy's instantly recognisable hangdog Brown; David Robb's sly, twitching Eden; and – in a neat bit of casting – Mark Dexter as two interchangeably bland modern PMs: toothy Blair and vapid Cameron. Sylvestra Le Touzel is limited by a one-dimensionally villainous depiction of Thatcher, but Nicholas Woodeson (pictured below with Scott Thomas) is a joy as impish Wilson, one half of a charming odd couple – the Huddersfield interloper who finds common ground with the personification of establishment. His deterioration is quietly moving.
Though lacking narrative drive, Morgan's timely meditation on the burden of power illuminates several interesting parallels. Blair's chilling Iraq rhetoric mirrors Eden's on Suez, Britain's international role is constantly re-examined, and multiple PMs discover that winning on a protest vote means inheriting the previous government's problems. Whatever happens at the polls, The Queen remains a fixed point, and her sacrifice of self to lifelong public service adds an engaging, if simplistic, emotional dimension to this behind-the-scenes comic romp.
Love-struck Morgan seems unwilling to suggest fallibility; with right royal hindsight, Liz is on the winning side of every issue
rating
Share this article