The Tribe |

reviews, news & interviews
The Tribe
The Tribe
Extraordinary sign language-only film catches bleakness of contemporary Ukraine
Corridors of power: the cruel, youthful hierarchy of 'The Tribe'
In The Tribe, his feature debut, Ukrainian director Myroslav Slaboshpytskiy has created something totally unexpected, and viscerally powerful to boot. This dark tale of life among inmates of a Kyiv institution for the deaf avoids spoken language completely, leaving viewers to assemble the narrative for themselves: communication is only in sign language, heralded consciously in an opening screen-title as presented without translation, subtitles or voiceover.
Clearly Slaboshpytskiy's predominantly teenage, non-professional cast know what they're getting up to, but we're left guessing until details of proceedings gradually reveal themselves (some plot aspects duly become clearer on a second viewing). Deafness is obviously a subject the director knows well, given that the word was the title of Slaboshpytskiy's 2010 short film, which won him a development grant for this new work that same year from the Hubert Bals Fund of the Rotterdam Film Festival (that structure has provided the impetus for some of the most adventurous film-making to come out of Eastern Europe, and elsewhere, over the last two decades).
In fact, we don't learn the names of the film's characters until its closing titles, which reveal that the lead protagonist (played by Grigory Fesenko) is called Sergei. In the long opening shot he's seen asking directions towards the school in a street scene that has vehicles thundering past, intentionally blocking our view: this is observational realism at its starkest, a story of human traffic in which the need to turn a quick gryvna dominates.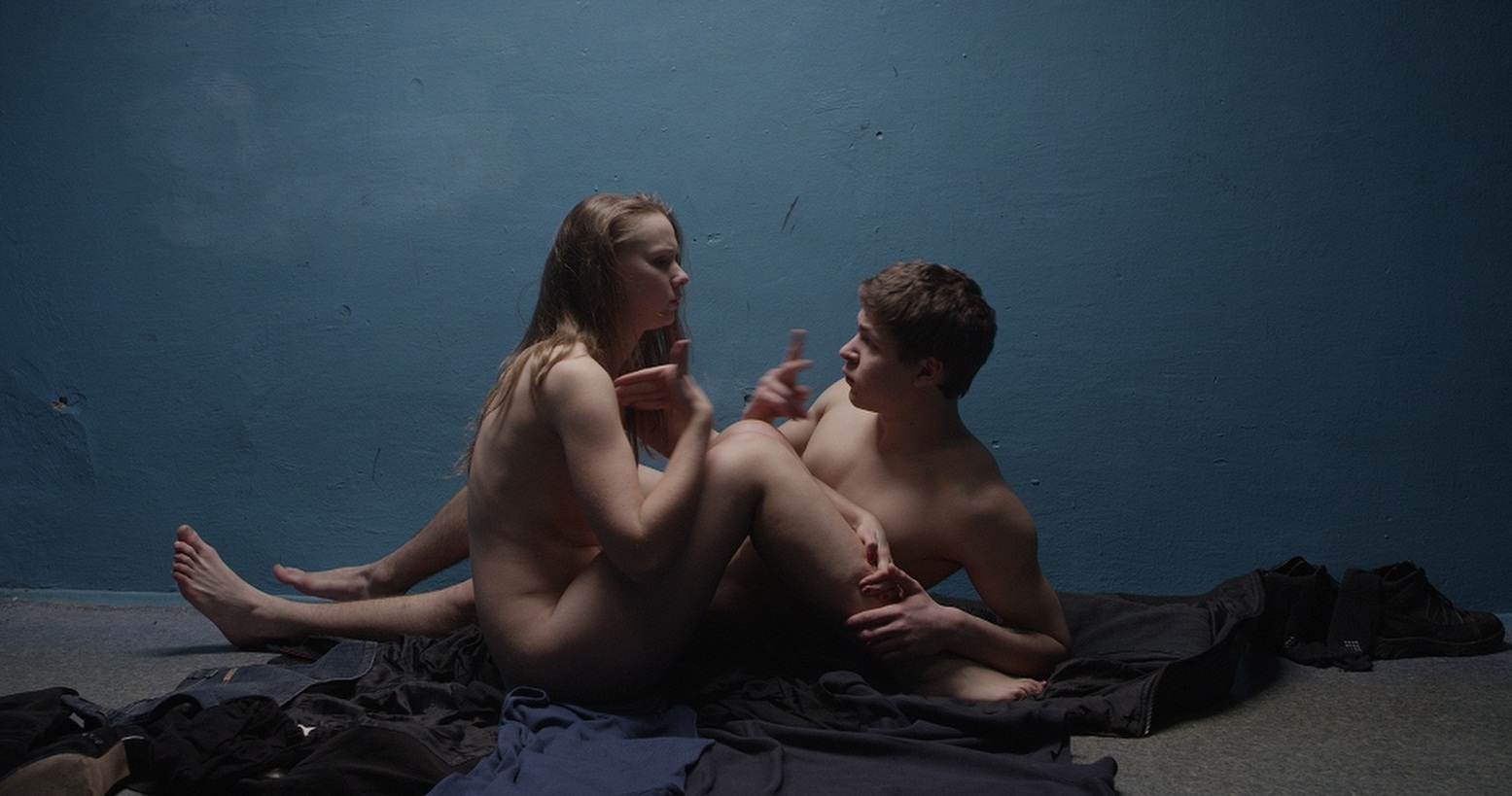 There's some element of adult presence, but the institution seems run by its senior inmates, who are no less feral for their relatively smart appearances. It's a sort of self-regulating underclass that somewhat recalls Robin Campillo's recent Eastern Boys, though Alan Clarke's Scum or William Golding's Lord of the Flies would provide no less appropriate past precedent.
The main time we see the world outside the institution's walls is when two of its girls are pimped around the local truck-drivers' overnight parking area: it's a casual transaction, with adult connivance, escorted by one of the tribe members. Everyday brutality occurs at every step of the way, and an accident sees Sergei promoted in the gang hierarchy to assume that escort role, bringing him into closer contact with the forthright Anna (Yana Novikova). The young women treat this as a standard part of their nocturnal activity, but when feelings develop between the pair that dynamic changes, and we find them meeting in a very different environment, depicted in a radically different visual form (pictured above), stylized in a way that somewhat recalls Derek Jarman's Caravaggio. It's the scene that also provides The Tribe's poster image, suggesting a degree of abstracted beauty that certainly isn't borne out by the film's relentlessly realist subject and style.
Their liaison has tragic consequences, including a scene (pictured above) that simply cries out its anguish, the bleakness accentuated by the fact that everything is expressed non-verbally. The Tribe is far from being a silent film, however: we hear the noises, from the crunch of snow to the fall of heavy footsteps along corridors, all the more harshly for the lack of words. The finale is no less inexorable, its drama literally thudded out against a background silence.
Slaboshpytskiy's choice to leave us unaware of the details of what's actually happening only highlights the sense that his film's protagonists do literally inhabit their own separate world. There's a cold beauty in Valentyn Vasyanovych's 'scope cinematography, which catches the frigid blues of interiors and the darkness of winter exteriors. This formal precision doesn't mitigate the despairing drama that we see on screen at all; rather, as with the best of the Romanian New Wave, it accentuates it. Post-Soviet Ukrainian cinema, with the notable exception of veteran Kira Muratova, hasn't exactly flourished in the same way that other national schools have over the last 20 years. Slaboshpytskiy has broken that mould decisively, and joins the ranks of new European directors to watch. Whether he can achieve anything so innovative after The Tribe may be an open question, but on the basis of this debut his ability to handle powerful drama looks extremely assured, even when it's excruciating to watch.
Overleaf: watch the trailer for The Tribe