High Society, Old Vic Theatre |

reviews, news & interviews
High Society, Old Vic Theatre
High Society, Old Vic Theatre
Cole Porter film-turned-stage-musical semi-fizzes in latest revival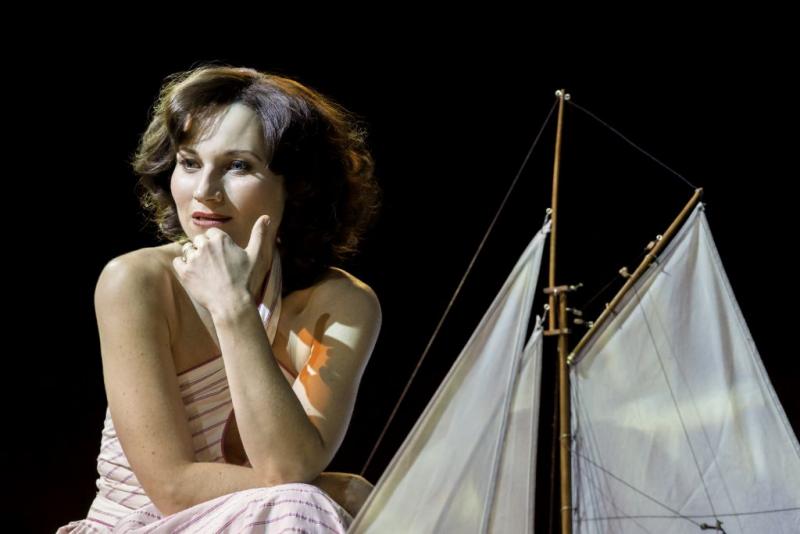 How yar it is: Kate Fleetwood as Tracy Lord in `High Society'
It took approximately 30 years for High Society to first make its laborious transition from screen to stage and there are good reasons for that. The indelible impression left by the movie and its star, Grace Kelly, was undoubtedly the biggest, and before that, of course, was the source play (The Philadelphia Story) and the equally indelible movie made of that.
Along the way, the stage version, with a new book by Arthur Kopit, added a host of unrelated Cole Porter songs to the half-dozen or so in the movie, drawing from other Porter musicals (
Can-Can
,
Jubilee
), which is a bit like Rodgers and Hammerstein robbing
Carousel
in order to improve
Pipe Dream
.
And so the question arises: why do the stage musical of High Society at all, especially with its odd juxtapositioning of songs and laboured cues, which appear to be there for no other reason than to pad out Kopit's long-winded telling of this tale of a socialite forced to decide which of two men is her ideal husband? Well, I guess because the movie has universal recognition and, commercially speaking, at least that's a head start. Having said that, the last revival in London was execrable and lasted five minutes.
Maria Friedman's feisty new in-the-round staging at the Old Vic is in a different league, and her realisation that the book needs classy actors to give it life and momentum has made for some shrewd, sometimes risky, casting decisions. Kate Fleetwood's Tracy Lord has to fight the image (and beauty) of Grace Kelly from the off, and that's a big ask, living the part and confounding people's expectations at one and the same time. But by act two I was really buying into her quirky look and edgy "entitlement" and enjoying the tension derived from the fact that she was disguising her feelings far better than Kelly ever could – closer, in fact, to Katharine Hepburn in the film of the Philip Barry play (revived at this same address a decade ago).
Friedman's whole staging is a kind of party to which we are all invited. The champagne is being delivered as we arrive, along with food and flowers, and there's a young pianist, Joey Powell (Joe Stilgoe, pictured above right), limbering up for the wedding party entertainment. Someone starts singing "I've Got You Under My Skin", which is fair warning that it's open season for Porter songs in this show and just when you think High Society is starting, Stilgoe asks for requests from the house.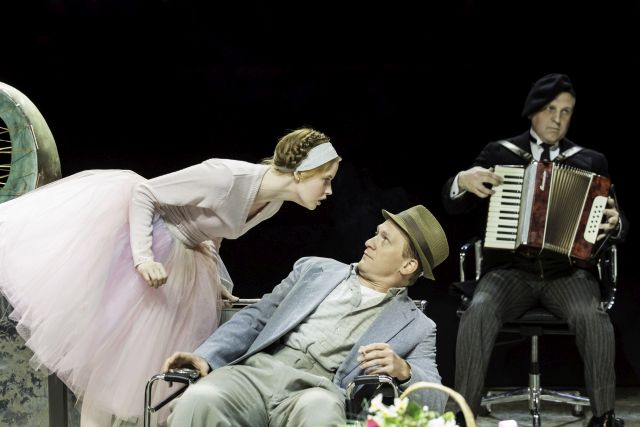 Absurd suggestions fly down from first-night punters who sound as if they've already been at the party champagne, but Stilgoe is the kind of jazz whiz who can on cue cross-fertilise Ravel's Bolero with Gershwin's "Summertime" and Mancini's Pink Panther theme. One suspects that the pre-show show is designed to lift our spirits and lubricate our goodwill in anticipation of what will always feel like a long first act: Kopit's book takes an age to get up to speed and proves no match for Porter's wit.
"Who Wants to be a Millionaire?" lifts proceedings with Jamie Parker's louche, chain-smoking tabloid reporter Mike Connor and Annabel Scholey's super-sharp Liz Imbrie, his photographer-accomplice, playing fast and loose among the Fabergé eggs and Giacometti sculptures. (The two are pictured above) But then Friedman and choreographer Nathan M Wright deliver a doozy of a second-act opener and suddenly the show is up and running. The sudden emergence of two back-to-back grand pianos from beneath the stage floor allows for a duet of virtuosic pianistic pizzazz between Stilgoe and music director Theo Jamieson as well as a high-stepping tap routine that sends the "swellegant elegant" party into overdive. Friedman here captures that elegance in meltdown as high society disintegrates into the not so sweet and lowdown.
Bottom line: the book is funnier when everyone is wrecked, and Friedman's cast rise to it when the words aren't coming in the right order. Some cracking performances make more of the piece than it deserves – Barbara Flynn's Mother Lord for one and scene-stealing kid sister act in Ellie Bamber's Dinah Lord for another. Rupert Young's CK Dexter Haven (Bing Crosby's screen role) is refreshingly natural and undemonstrative: a really seductive leading man. And I come back to Parker's Mike and that moment when he lets that astonishingly versatile voice of his let rip in the reprise of "You're Sensational". For a moment he almost has us believing that the show is.
The sudden emergence of two back-to-back grand pianos allows for a duet of virtuosic pianistic pizzazz
rating
Explore topics
Share this article