1864, BBC Four |

reviews, news & interviews
1864, BBC Four
1864, BBC Four
Epic Danish drama about the human cost of nationalism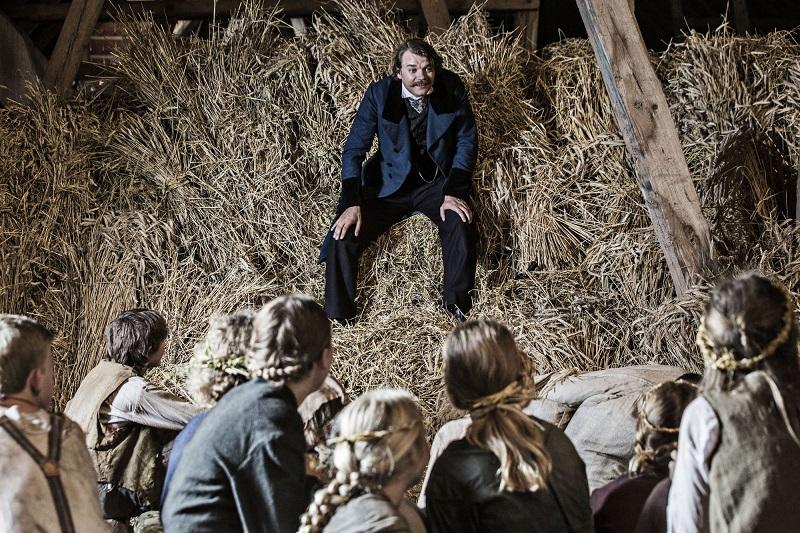 War-torn: Pilou Asbæk as Didrich in '1864'
They must have run out of contemporary Danes to bump off, or coalition governments to form. 1864 is something completely different from Danish national broadcaster DR, and it's safe to presume it wouldn't have made it onto British TV without a prior softening up of the audience. An epic drama about Denmark's disastrous attempt to claim Schleswig-Holstein in the eponymous year – would you honestly have watched that if Sarah Lund and Birgitte Nyborg hadn't paved the way?
Helpfully it's also riddled with actors familiar from
The Killing
and
Borgen
.
Apart from its cast, 1864 has in common with its predecessors an interest in the trickledown impact of politics on ordinary lives. The drama opens in 1851 when soldiers come back from war to a baronial estate in South Fynen. The big house welcomes in its son and heir Didrich (Pilou Asbæk), while farm worker Thøger (Lars Mikkelsen) returns to his wife and two young boys Peter and Laust. The latter has a leg wound that soon kills him off, while the former warns his father that while he seems to be in one piece, he is anything but. And so it soon proves. His deranged antics include thrashing an innocent gypsy, and propositioning the foreman's pretty and forthright young daughter Inge (Fanny Leander Bornedal pictured below with Sylvester Byder), who had to remind him she's just a child.
Meanwhile in Copenhagen up-and-coming politician Bishop Monrad (Nicolas Bro) becomes the figurehead for Denmark's need to reassert its destiny as God's chosen people by retaking a little German-speaking patch also claimed by Prussia. Monrad, fearing the mad gene in his family, needs his spine stiffening, and he does it by regular visits to grand Shakespearean actress Mrs Heiberg (Sidse Babett Knudsen). "There is no passion without madness!" she exhorts, and tramples all over his chest as he lies prone on her floor (pictured below). Elsewhere, in another grand room in Europe, a rising politician called Bismarck plays toy soldiers with his children.
The drama is framed by scenes set in the present day. Claudia (Sarah-Sofie Boussnina) is a druggy drop-out whose parents are bereaved by the loss of her brother in a war – presumably Afghanistan. She is sent by social services to look after a crotchety old man in the big local manor. You've guessed it, this is the same manor where 150 years earlier the action unfolded. She is soon drawn into Inge's story of the disastrous war, discovered in a long-lost journal.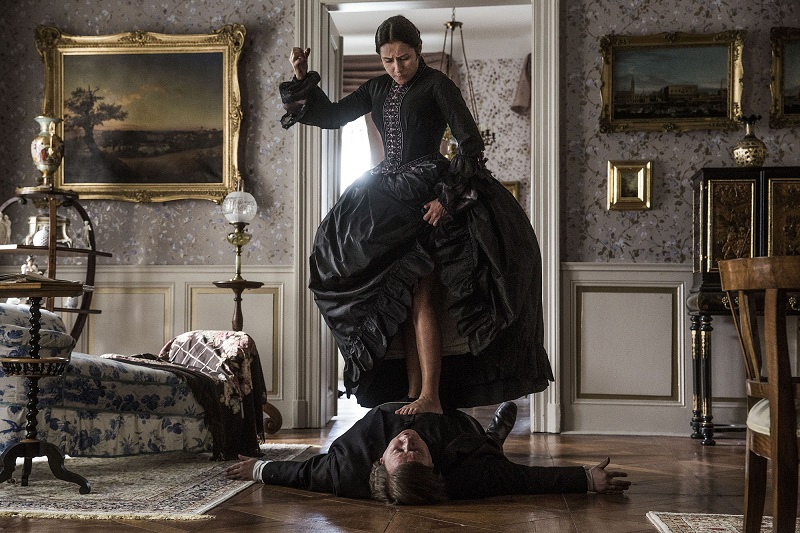 We know right from the start, because Inge (played by Marie Tourell Søderberg as an adult) tells us that no one but her will survive this story. In these first two episodes, writer-director Ole Bornedal does a thorough job of shaping a prelapsarian world defined by rigid and often cruel hierarchy. The intertwined lives of Inge, Laust (Sylvester Byder as a child, Jakob Oftebro as an adult) and Peter (Benjamin Holmstrøm Nielsen, then Jens Sætter-Lassen) were patiently conjured up in slowly accreted detail before the boys enlisted and went off to war.
A study of the cost of fervent nationalism, this is not 19th-century costume drama as we know it. It's not just because of the framing device, which so far feels like an apologetic misstep designed to persuade Danish audiences that This Stuff Matters. Bornedal takes his cue from the slow rhythms of rural life – he has a lovely eye for gorgeous gentle landscapes under big sunny skies – but as there is also a manic and impressionistic flavour to his storyboarding. The camera floats around a barn dance like a prowling guest, a troupe of gypsies feel like visitors from Bergman, while the deeply strange scenes with the bishop and the actress spring from some Pirandellian farce. The second episode concludes with a touching scene you'll never find in, say, George Eliot: Inge's tender love-in with both equally adored brothers (before one of them slipped in on his own). "Everyone is happy! And everything is great!" the pair of them holler in naked post-coital euphoria. We can take that as a dramatic irony.
The eight episodes of 1864 had a bumpy ride in Denmark, not just on grounds of (considerable) cost but also because of what the show had to say about the most humiliating moment in Danish history. As for the rest of us, the Schleswig-Holstein question is simple: does the conversion of obscure history into watchable drama work? So far, yes.