The Joey Arias Experience, Theatre Royal, Brighton |

reviews, news & interviews
The Joey Arias Experience, Theatre Royal, Brighton
The Joey Arias Experience, Theatre Royal, Brighton
Iconic New York cabaret singer is witty, tender, and very rude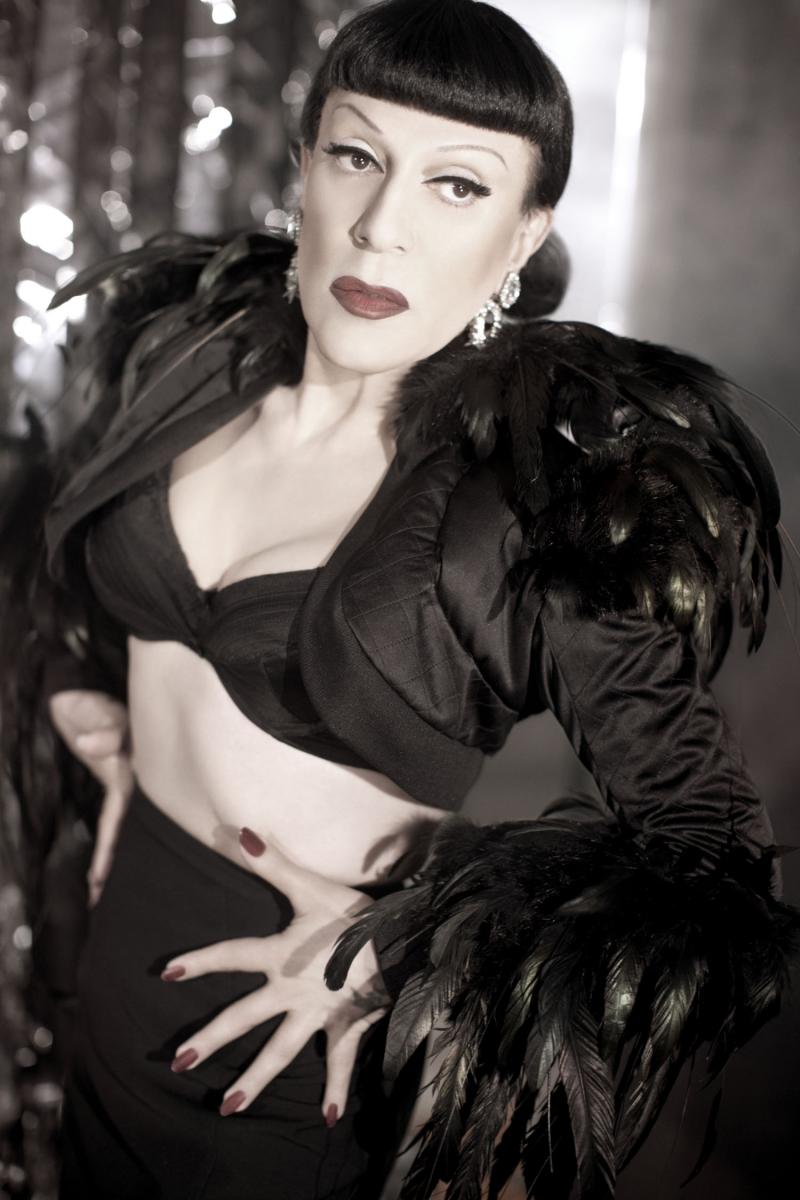 Joey Arias: touches the heart, and much else besides
Brighton whooped as if she had never seen risqué entertainment last night, as cabaret veteran Joey Arias brought his Billie Holiday-meets-bawdy-standup show to the Brighton Festival. Able to switch between sincere tribute and brilliantly, cathartically filthy jokes instantaneously, he makes an audience unfamiliar with his style take a few minutes to calibrate their response.
Once you understand that the Holiday is for real, and everything else tongue (or that's what it looks like, anyway) in cheek, the evening makes curiously, but compellingly refreshing dramatic sense.
The echoes of Holiday's cracked vulnerability in Arias' voice are extraordinary, especially given the physical differences. Well over six feet tall, with a sprinter's frame (it's revealed during the show), and a much more knowing sensuality than Holiday's, Arias could hardly look more different from his addicted and abused muse, but he captures her blend of black melancholy and yearning for an ever-elusive happiness superbly. In some ways his emotional exposure is all the more touching for the hulking physical presence behind it. Occasionally he steps in front of the microphone, and the rawness of his naked voice, snaking and crackling in the dark, is magical.
Billie Holiday's anniversary year has seen, by British standards, an abundance of cover releases, though all so far have been much glossier than this, and lacking the desperate, dissipated longing, essential to Holiday, that Arias conveys so powerfully. There's no "Strange Fruit", which he's reputed to sing superbly (though that may have been a shrewd assessment of the audience's interest, which was clearly biased towards the cabaret end of the show). But even the often threadbare commonplace "Summertime" is drenched in sorrow.
The UK is some way behind New York's diverse and healthy cabaret scene, and Arias shows us what we're missing
Arias is a clever actor, and there was some hilariously obscene physical and verbal comedy in between the songs. The tone is set straight away with jokes about the theatre's Queen's Box, which at first seem too incongruous alongside such tender music. Yet dramatic mood changes and extremes of emotion are the essence of cabaret, and Arias gives a masterclass in its liberating release.
Arias insists on the title "experience", and after 90 minutes which veer giddily between deliciously lewd pantomimic engagement – he encourages some members of the audience to warble along to "Be My Baby" for longer than is strictly kind – and raw musical revelation, it turns out to be an accurate description. There are small niggles. The band never gets out of second gear, and a few of the running gags were wearing thin by the end. (We understand that thespians of the demi-monde enjoy nasally-ingested stimulants.) But the Holiday songs are wonderful, and the cabaret routine accomplished with a veteran's expertise. For all the transatlantic show-sharing that goes on these days, the UK is some way behind New York's diverse and healthy cabaret scene, and Arias shows us what we're missing.