This Is England '90, Channel 4 |

reviews, news & interviews
This Is England '90, Channel 4
This Is England '90, Channel 4
Shane Meadows' happy-go-lucky lot are back - in fine, funny form
Monday, 14 September 2015
Do they ever get off that sofa? 'This Is England' is back, 1990 edition
It's been worth the wait.
There's something about the affection Shane Meadows feels for his characters; the street action that doesn't often (in this opener especially, though that may well change) tip into overt drama; the family elements that could, but don't quite veer towards the soaps in style (if anything there's a hint of parody?); and the sense of a period of time lovingly given its special details and intonations, that makes this latest instalment of
This Is England
feel almost like a reunion with old friends (plus a few sidekicks we haven't quite got to know yet).
The delay in the arrival of this third series – the fourth episode in all, if we count Meadows' 2006 film of the same name that gave rise to the whole idea – resulted from the director dedicating himself to his music documentary The Stone Roses: Made of Stone. The original small screen sequel to the feature, This is England '86, came along five years ago, followed by a two-year-on update. Apparently '90 is likely to be the last in the mini-franchise – if you can call it that – though Meadows may change his mind. We can only hope, though finding the nuances to give a new freshness each time can be no easy work for Meadows (who directs all four episodes in this series) and his co-writer Jack Thorne.
Just what is it about split-screen that automatically seems so retro?
Time has moved on in the wider world, as indicated in an opening montage of newsreel reprising public events: the Poll Tax riots and the departure of Thatcher (to the tune of "There She Goes"), Saddam and Kuwait, mad cows and Gazza in the number 19 shirt. But it's the small details that really count: the ska and skinheads of the feature film are long in the past, while Madchester and the new music scene looks like it will be at the fore here, providing the backdrop for this first episode's long closing disco scene, that saw everyone in action together and left Shaun (Thomas Turgoose), who's somehow at the centre of the ongoing emotional arc even though as a character he doesn't dominate, in a distinctly teary mood (pictured bottom). Bigger now in every sense, Shaun's back home after college went wrong, and seems to be keeping up with his older mates on the substance intake front (though that bong doesn't always agree with him). He's still gutted about what happened with Smell.
Woody (Joe Gilgun) now sports a beard and is living happily with Lol, who's serving up at the canteen of the local school. Not that his parents (Steve Brody and Rebecca Manley, pictured below, far right) aren't plotting to get him back into gainful employment, springing a surprise here in the most surreal form, and generally acting as parodic embodiments of conventional life. It doesn't help that Woody's ex is staying with them either, though that gets resolved in a hilarious later telephone conversation, which we see in split- and even triple-screen. (Just what is it about split-screen that automatically seems so retro?)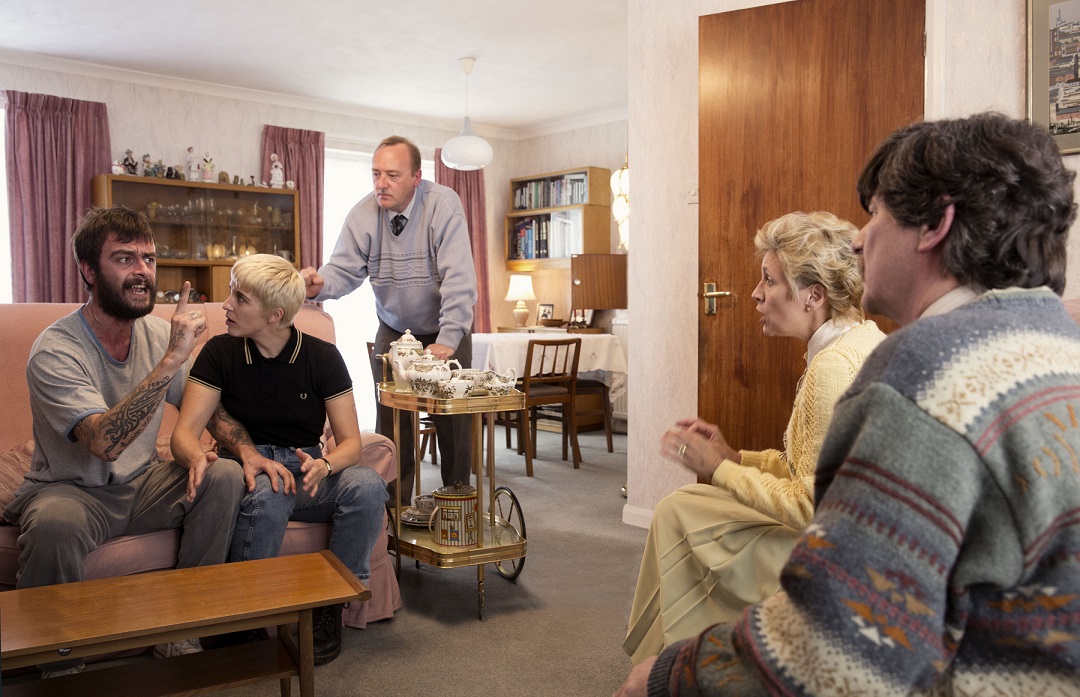 There must be an element of parody in that scene, and the fact that Woody's watching a TV documentary about an Amazon tribe at the time may make us ponder whether Meadows was allowing himself a "meta"-moment – This Is England as visual anthropology, elaborating on distinct contemporary sets of rites and rituals. It's an idea I think Meadows would probably laugh out of court. Though you do wonder when Higgy pops up to cadge a small cache of drugs to experiment with "sniff-banging – it's hot from the States". That gives rise to a very funny (also excruciating) scene which takes the concept of double-dating, as well as what you can get up to with snooker accessories, to new levels (and reminds us why the show is firmly on the far side of the watershed).
"It's not about the money. It's about the nostalgia," we hear at the opening from Gadget (Andrew Ellis), now eye-popping in florals. In a typical Meadows way, he's not talking about any big scam but about the gang trying to blag free school meals out of Lol, because it takes them back to how they used to feel, those ugh-memories of mint custard and coffee whip. But nostalgia's also about what's changed – new potatoes aren't the same as chips, especially when you're Gadget, who's "like a bloodhound when it comes to anything deep-fried". And it's also surely about the things you forget as well as what you remember: there must be a fair number of name-checks here which will require a distinctly detailed dredge through the memory.
And you might wonder whether nostalgia's different once you've passed the cusp of adolescence and adopted the routines of the big wide world, which Woody is so reluctant to do, and which the rest of the cast here resists like the best of them. Even Michael Socha's slick Harvey is hardly the exception: though he seems to have become the territory dealer, it's quid-size portions only.
Because there's still that sense of sheer delight, almost heroically emphasised in slow-mo, as they all enter that disco, though "modern-day gladiators" must be the last thing they look like. And Meadows' wordy script can be so pure-and-simply funny on occasions, as his characters gab on like there's no tomorrow. What next? The music scene apparently, an out of town excursion, and probably, this being '90, a lot of football. More ominously, Combo's said to be on his way back. And someone's going to have to dry Shaun's eyes before long, after we left him, in a striking final change of register, with the kind of sadness that even exaggerated piano riffs struggle to convey. There'll be smiles as well as sighs, and – hope being the thing that dies last, and this lot having it in impromptu spades – the good times may even come again.