The Image of Melancholy, Eike, Sam Wanamaker Playhouse |

reviews, news & interviews
The Image of Melancholy, Eike, Sam Wanamaker Playhouse
The Image of Melancholy, Eike, Sam Wanamaker Playhouse
Meditation, measured dance and catharsis from Barokksolistene
Monday, 21 September 2015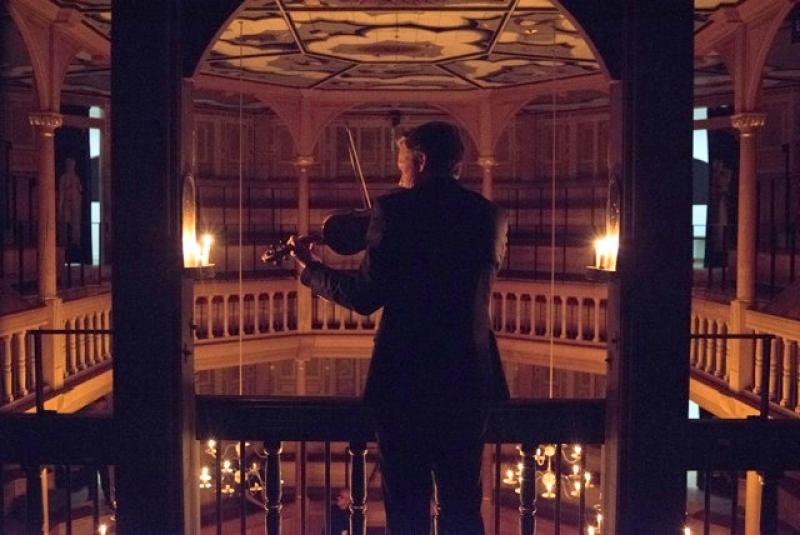 Bjarte Eike provides ultimate uplift with Niel Gow's great Lament
"Sounds a bit depressing," said several friends when I urged them to attend the theatrical incarnation of The Image of Melancholy, inspirational violinist Bjarte Eike's award-winning CD with his stunning Norwegian-based group Barokksolistene. Creative melancholy, though, is not the same as stuck depression, and the sequence on the disc was well-balanced with songs and dances as well as superbly engineered sound.
The instrumental sheen created equal magic in the wood-resonant surrounds of the Sam Wanamaker Playhouse last night.
It was admirable of Eike to vary the strain and not repeat the CD sequence in its entirety, but the contrasts were fewer: about 15 shades of black with only a couple of galliards and the marginally less delicious of the two wedding marches on the CD – the Norwegian rather than the Swedish, which I prefer – to set the feet tapping. Otherwise the body and soul certainly swayed. The string sound can be so deep and rich, with Eike's reflective ornamentions echoed and underpinned by Milos Valent and Per Buhre, and Fredrik Bock is an original and personal arche-lutenist, with some wonderful guitar-like strummings to punctuate the introspection.
I didn't realize until the end that Jon Balke was up in the gallery manipulating the soundscapes; the lugubrious mood was appropriate, but occasional twangs and shuffles sounded more like mobile phones and audience fidgets (which in fact were minimal; the background, as it had been in last Monday's equally reflective Wigmore programme, was one of intense silence). Berit Norbakken Solset sang softly to use that silence, a consummate artist delivering Dowland, Gibbons and Byrd as originally as any soprano I've heard, but the mostly vibrato-free, treble sound could also be literally monotonous; it was perfect when rich harmonies underpinned it.
Atmospheric use was made, as always, of the candlelit chandeliers rising and falling, of Eike fiddling at one point like Brother Death against the black behind the central door and then ascending on high. And the last, as on the disc, was best: the same cathartic major melody which Eike had played at his father's funeral, Neil Gow's Lament for the death of his second wife, swelling to full-ensemble humanity before receding into the ether. Any amount of dolefulness could only make this epiphany the stronger. And yes, pace Dowland, my tears did indeed flow.
The encores didn't spoil the spell. "Two Norwegian folksongs, one very sad, the other...very sad," declared Eike, a charming and personable presence throughout, but he was joking; the first was indeed melancholy, the soprano joined by very lovely close-harmony vocals from the rest, the second transcendently joyful again. In a way, it would have been best to have this programme at, say, 6pm, and the exuberance of a classic Alehouse session a couple of hours later on the same Sunday; but the revels will have to wait until tonight. Inevitably, it's already sold out.
One of Eike's celebrated Alehouse sessions at the Sam Wanamaker Theatre tonight at 8pm
Any amount of dolefulness could only make this epiphany the stronger
rating
Explore topics
Share this article