Orpheus Caledonius, Brighton Early Music Festival review - a thrilling meeting of musical clans |

reviews, news & interviews
Orpheus Caledonius, Brighton Early Music Festival review - a thrilling meeting of musical clans
Orpheus Caledonius, Brighton Early Music Festival review - a thrilling meeting of musical clans
An exhilarating festival opening concert took baroque back to its folk roots
Saturday, 28 October 2017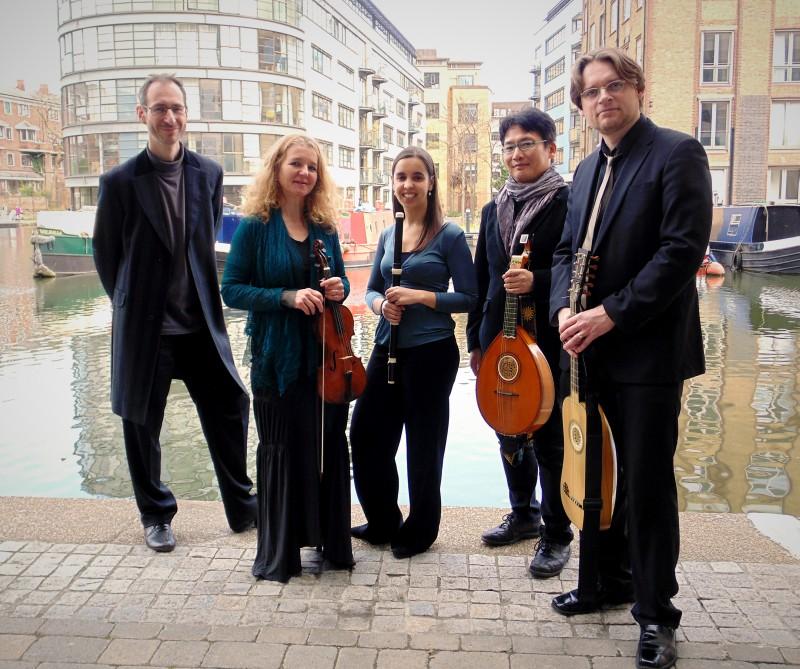 L'Avventura London: bringing baroque back to its folk roots with a little help from their friends
In 1725 a collection of some 50 songs was published by one William Thomson. You might not know his name, or even the names of the songs, but given the first bar of most I'm betting you could hum them from beginning to end. The work?
Orpheus Caledonius – the first published collection of
Scottish
folk
melodies and lyrics.
This year's Brighton Early Music Festival takes "Roots" as its theme, and this opening night concert looked back beyond baroque to the traditional tunes that lurk, just out of sight, behind so many of its great works, from Corelli to Purcell. This performance by period band L'Avventura London, folk group Old Blind Dogs and folk-singer Siobhan Miller traced the evolution of Thomson's carefully gathered melodies from purest, simplest folk treatments to their polished and prettified salon reimaginings.
It brought the intimacy and off-duty ease of a folk club to the formal interior of St George's, Brighton
And what a treat it was. This blended ensemble included theorbo, recorder and harpsichord at one end and a bouzouki, Scottish pipes and percussion at the other, singer Siobhan Miller straddling both worlds with the unaffected sweetness and simplicity of her delivery. These are timeless tunes that thrive in so many musical soils, and it was somewhere between musical anthropology and archaeology to hear them move so neatly from pub to concert and back again.
Such crossover is having a bit of a moment in baroque music. You only have to look at L'Arpeggiata's back catalogue or Bjarte Eike's riotous Alehouse Sessions for such collisions and collaborations. But there was a real charm to these unpretentious performances which brought the intimacy and off-duty ease of a folk club to the formal interior of St George's Church, Brighton.
We had unrequited love in the bittersweet "Bush aboon Traquair" (evocatively sung by Old Blind Dogs' Chris Wright), love at first sight in the exquisite "The Lass of Patie's Mill" and the raunchier "Katherine Ogie", and charming character-comedy in the duet "Auld Rob Morris" in which a father tries vainly to marry off his determined young daughter. Best perhaps though was the effortless beauty of Miller's solo "The Broom of Cowdenknowes" – all cloudy, hazy tone and flame flickers of ornamentation – and the heel-kicking, exhilarating musical party of "Blythsome Bridal".
L'Avventura stepped to the fore for Geminiani's sequence of elegant musical variations on "Bush aboon Traquair" and the lovely colours of James Oswald's Sonata on Scots Tunes, and it was thrilling to hear James O'Toole's baroque violin and Jonny Hardie's fiddle, Emily Baines' recorders and Rory Campbell's pipes finding kinship across the musical divide.
Just two quibbles though: why amplify music that lives and breathes in the life-roughed edges and husky shading of sound that comes from pure acoustic performance? And if you're going to amplify, why not ensure that the balance allows the audience to hear the words as well as the tunes of these wonderful songs?
A folksong without a text is only half the story. Hooked on the rough magic of these extraordinary melodies, I'm dying to find out what happened to "Bessy Bell and Mary Gray", to discover whether the young man ever plucked up the courage to speak to the "Lass of Patie's Mill" whose beauty so inspired him that day in the meadow, and to know who won the father-daughter battle of wills over "Auld Rob Morris". Hopefully when the concert is broadcast on Radio 3's Early Music Show later this year we'll all get a chance to find out.