Husbands & Sons, National Theatre |

reviews, news & interviews
Husbands & Sons, National Theatre
Husbands & Sons, National Theatre
The clever merging of three DH Lawrence mining plays creates a quiet triumph
Wednesday, 28 October 2015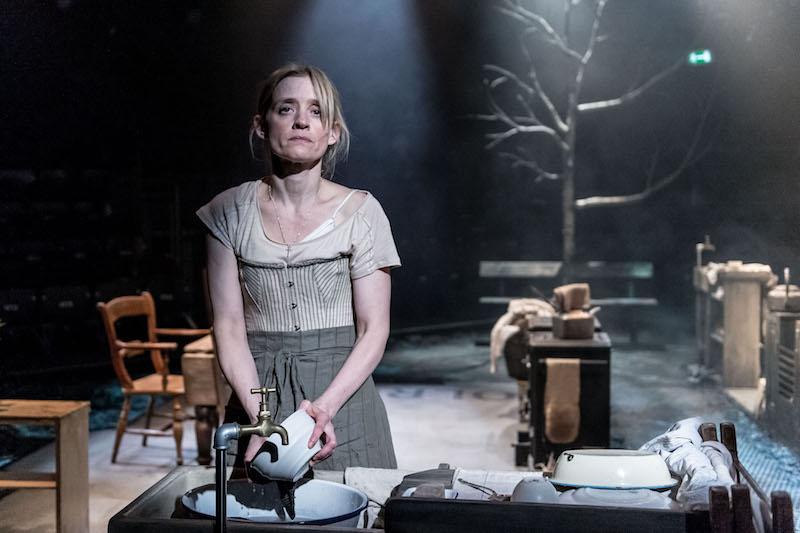 Kitchen-sink drama: Anne-Marie Duff's unhappy wife contemplates her future
If the thought of three hours of DH Lawrence fills you with dread, fear not. Ben Powers' inspired melding of Lawrence's trio of mining plays births a spellbindingly intimate epic with atmosphere thick as the coal dust engulfing this cloistered 1911 East Midlands village. The community is powered and oppressed by the industrial machine swallowing up the menfolk, but our focus is on the women's claustrophobic domestic sphere.
In Bunny Christie's effective design, houses are both contained spaces and bleeding into one another, with no walls but rooms marked out: somewhere between
Our Town
and a grimy game of Cluedo.
Seated in the round, those in the aptly named pit are close enough to see a disgruntled miner's hawked spit hissing on the fire, but Marianne Elliott's pensive production is just as alert to wider implications – a world on the cusp of change, and a way of life soon to be snuffed out. That feels both heartrending and liberating, appropriate for semi-autobiographical work reflecting Lawrence's mixed feelings about an environment he escaped through maternal support and education. He's there in poetry-writing Ernest (Johnny Gibbon), who, instead of following his father (Lloyd Hutchinson) down the mines, discovers "an instinct for Latin".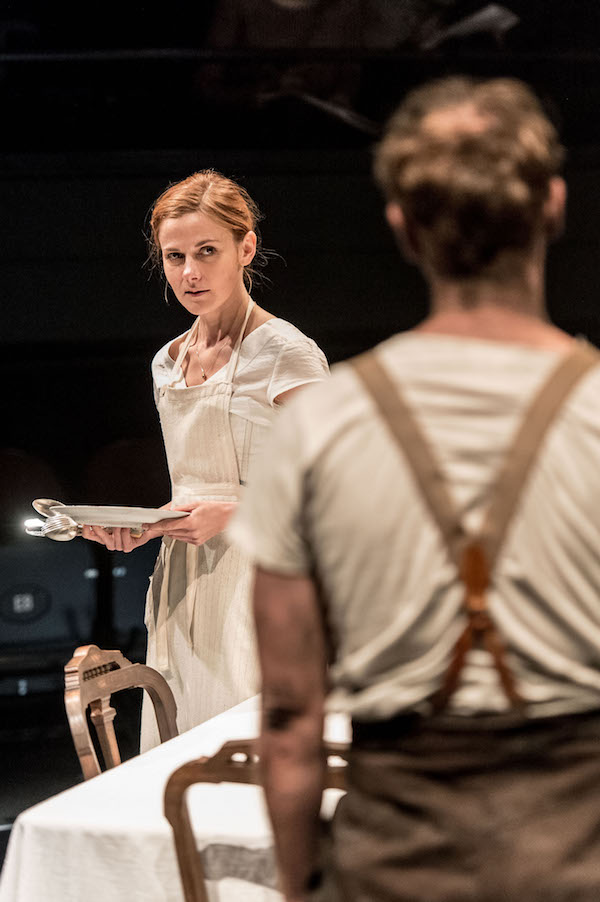 Parent/child dynamics form the dominant through-line of these expertly filleted plays, The Daughter-in-Law, A Collier's Friday Night and The Widowing of Mrs Holroyd, unrecognised in Lawrence's lifetime. Together, they reveal a tragic cycle of love and neglect: trapped women, whose aspirations are funnelled through men, transfer affection from indolent husbands to sons, which in turn alienates those sons from their own wives. Lydia (Julia Ford) pins her hopes on Ernest, and Lizzie (Anne-Marie Duff) turns from her soused spouse (Martin Marquez) to her sweet young boy, while Minnie (Louise Brealey, pictured above right with Joe Armstrong) tries to extricate new husband Luther (Armstrong) from his mother's (Susan Brown) apron strings.
There are few direct interactions, but illuminating parallels aplenty. Money equals self-assertion: Lizzie's inheritance gives her the courage to consider escape; Lydia's husband limits her by providing a pittance for housekeeping; and Minnie upsets the natural order by entering marriage as a wealthy woman, not one who needs supporting. The local pub figures largely, as do strikes, wounded pride, lingering regrets and resentments, and the terror of isolation.
Elliott's detailed direction captures the hyper-naturalistic rhythms, which exert a hypnotic pull. Some details are harder to discern – the pit audience switching seats at the interval proves necessary to fully connect with all three families – while others are immediately striking: the coal-blackened men invading these starkly white spaces. Power includes welcome dashes of salty humour, and Lawrence's rich regional dialect sings out, simultaneously earthy and wildly poetic.
Among a stellar ensemble, Duff and Ford find extraordinary pathos in impotence, and reunited Constellations co-stars Brealey and Armstrong provide jagged rage and charged sensuality, while Hutchinson is robustly animalistic, Brown crisply deploys acidic analogies, and Marquez's drunk is both brutal and a comic scene-stealer. Gruelling at times, but – far from quaint period piece – it packs a powerfully visceral punch.
Lawrence's rich regional dialect sings out, simul-taneously earthy and wildly poetic
rating
Explore topics
Share this article