Toshiba Gallery of Japanese Art, Victoria & Albert Museum |

reviews, news & interviews
Toshiba Gallery of Japanese Art, Victoria & Albert Museum
Toshiba Gallery of Japanese Art, Victoria & Albert Museum
Varied achievements of a remarkable civilisation shine in this renovated space
Saturday, 07 November 2015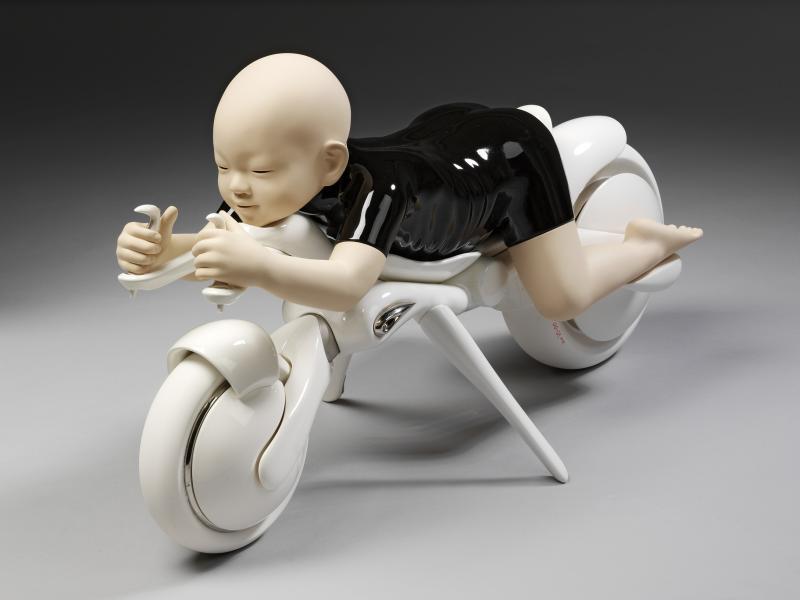 Unexpected perspectives: 'OO-IX' Sculpture, Hayashi Shigeki, 2013
Every object tells a story, nowhere more so than in a museum. The Victoria & Albert has been busy retelling as many stories as it can by rearranging, refurbishing, adding and subtracting from the millions of objects it has at its disposal to display, study and conserve.
The simply named FuturePlan, which started in 2001 and has several more years to run, has been redoing, reviewing and renewing the entire museum, examining one by one the extraordinary holdings of the V&A, sometimes across cultures, sometimes with a horizontal chronology across categories, and sometimes from beginning to now. So far, 70% of the museum has been revitalised and it shows: ever-increasing visitors come for Bowie and McQueen, but see a newly minted museum, too.
This week, it's the turn of the Toshiba Gallery of Japanese Art to reopen with a mix of high and popular culture, from 600 AD on (there are far, far older Japanese ceramics on the sixth floor in the superb Ceramics galleries). It is the history of Japan in 550 objects, including about 30 new acquisitions, chosen from a mere 48,000 museum holdings, over half of them the famous Edo "floating world" woodblock prints done in Tokyo, and many light-sensitive. (For the cantankerous lot who complain about objects in storage, just think of a museum as a "library of things", partly kept for reference, and never with everything out on the shelves or on loan at once.)
The earliest object is a sixth-century, round-bottomed stoneware jar which was buried with a grandee, while the newest encompasses such technology as Sony's 1958 portable transistor radio, as well as the Sony Walkman of 1979, Noritaka Tatehana's avant-garde, totally improbable heel-less shoes of 2014 (surely a version was worn by Victoria Beckham?, bottom image), not to mention a Hello Kitty rice cooker, toaster and kettle from last year in shocking pink. There are also some innovative and beautiful contemporary baskets and pottery.
We are introduced to the marvels on view by a huge 1870s bronze incense burner, complete with peacocks. One of the most helpful displays tells us about and shows us very succinctly the two main co-existing belief systems: Shinto – the way of the gods – and Buddhism. There is a case of models wearing the full armour of the samurai (see Gallery, below), that professional and fearsome military caste; a very sophisticated oriental version of – perhaps – the Cossacks, including a life-size, fully-garbed and rather eerie 19th-century samurai model; and a 15th-century, fearsomely sharp steel sword blade remounted in an 18th-century gold and copper scabbard.
There is the tea ceremony too, of course, with elegant lacquered boxes and caddies and delightful porcelain cups, and kimonos, including an amazing boy's printed wool kimono with an image of a plane and its 1937 aerial route from Tokyo to Croydon (top image) – the first such flight from Japan to Britain – not to mention more imagery showing Mount Fuji and Tower Bridge. Costumes for Kabuki actors are as elaborate as might be imagined, and a golden six-panel, 17th-century screen depicts both the exterior and interior of a Kabuki theatre, complete with hordes of visitors and actors (see Gallery, below).
There is a case of 19th-century ivory and wood netsuke, and two cases of inro, the little beautifully wrought bags to which netsuke acted as toggles. And we are totally up to date with a little black dress by Issy Miyake, 2015, designed on the principle of origami from a single piece of fabric.
Paradoxically, what is termed the collection's greatest treasure was made for the export market: the magnificent 17th-century Mazarin Chest (pictured above), made in Kyoto, with black lacquer, gold, silver and mother of pearl inlay, showing landscapes, mythical animals – dragons and phoenixes – and scenes from the Tale of Genji; through the Dutch East India Company, it was once owned by a French Cardinal. It symbolises, too, the encounters between East and West which had begun by the 16th century.
The gallery in its first incarnation in 1986, designed by Stanton Williams, was the first permanent display of Japanese art in Britain – the V&A had started collecting in 1852 – and also the first gallery in a national museum to be sponsored, by Toshiba, then as now.
It is neatly sandwiched between China and Korea, and now flanked in the corridor by a new iteration of the Ho Gallery of Buddhist art from Asia, including Japan. The difficulties of Victorian-Edwardian galleries are here turned to advantage, the enormously high ceiling and useless mezzanine making the Toshiba airy and curiously relaxing. The design teams within the museum have rejuvenated the lighting, and even more pertinently the displays, which are outstanding in their clarity.
Blue labels give us history and context, and there are detailed labels for each object, as well as a series of short interactive films on various topics: how to arrange your kimono and sash, for example. There are even enough visitor benches – in a museum context, a minor miracle. This is a quiet triumph as an introduction to a complex and still hierarchical society, one that is often for the Westerner – in spite of the automobiles and technological products, as well as the country's love of whisky – still lost in translation. Here, however, is a beguiling and appealing history lesson in three dimensions.
Gallery: click on first image to begin
This is a quiet triumph as an introduction to a complex and still hierarchical society, one that is often lost in translation
rating
Share this article