Jazz Voice, Barbican |

reviews, news & interviews
Jazz Voice, Barbican
Jazz Voice, Barbican
A captivating opening gala journeys from the rambunctious to the tender
Saturday, 14 November 2015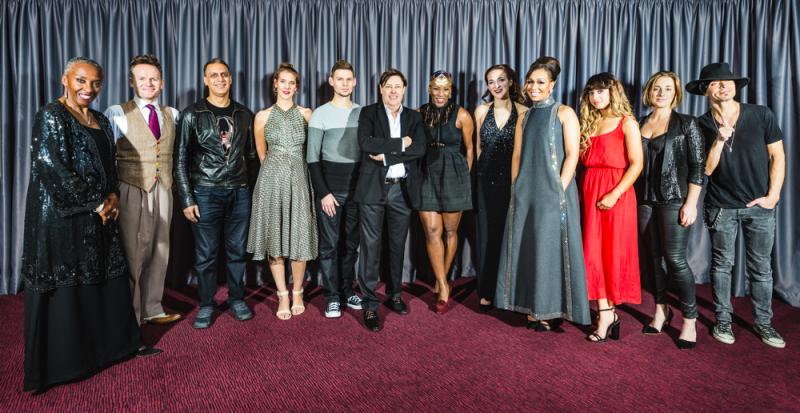 New levels of sumptuousness: Jazz Voice
Featuring the usual, divertingly eclectic mix of singers from the worlds of jazz, pop and soul, last night's Jazz Voice announced the opening of the 2015 EFG London Jazz Festival with a programme that satisfied both aficionado and newbie alike.
Arranged, scored and conducted by the unceasingly inventive Guy Barker, the epoch-spanning celebration of jazz-related anniversaries, birthdays and milestones stretching back from 2015 was hosted by the mellifluously voiced BBC Radio 3 presenter, Sara Mohr Pietsch.
Joe Stilgoe was supported by a top-notch big band when he launched his outstanding album New Songs for Old Souls at the Old Vic Theatre earlier this year. But I doubt even he was quite prepared for the new levels of sumptuousness – the luxuriant palette of strings, harp, brass, wind and rhythm section – that enveloped him in his singularly fine takes on "Straighten Up and Fly Right" and "Lush Life", the latter one of the most treacherously difficult of standards.
Delmar's incredibly touching take on 'Tea for Two' was the evening's standout moment
The Californian singer-songwriter Jarrod Lawson demonstrated why he picked up Soul Artist of the Year at the
Jazz FM Awards
earlier this year, with compelling performances of songs mined from two classic 1970s albums: Stevie Wonder's "Knocks Me Off My Feet" (from
Songs In The Key of Life
) and "Someday We'll All Be Free" (from Donny Hathaway's
Extensions of a Man
). Wonder has become something of a Jazz Voice favourite, with Mary Pearce covering "Bad Weather" in 2011, Noel McKoy dusting down "Living for the City" in 2013, and Vula Malinga singing "Ribbons in the Sky" last year. And why not, when the material's that good?
I
f Elaine Delmar's interpretation of the Rodgers and Hammerstein evergreen, "It Might as Well Be Spring", was typically persuasive, her incredibly touching take on "Tea for Two" (from the 1925 musical,
No, No, Nanette
) was the evening's standout moment (Delmar pictured below). It was one of those inimitable readings which makes you change your view of a song completely. Rebecca Ferguson channeled Peggy Lee to impressive effect on "Why Don't You Do Right", and plumbed even greater depths of melancholy on a superb arrangement of "Lady Sings the Blues".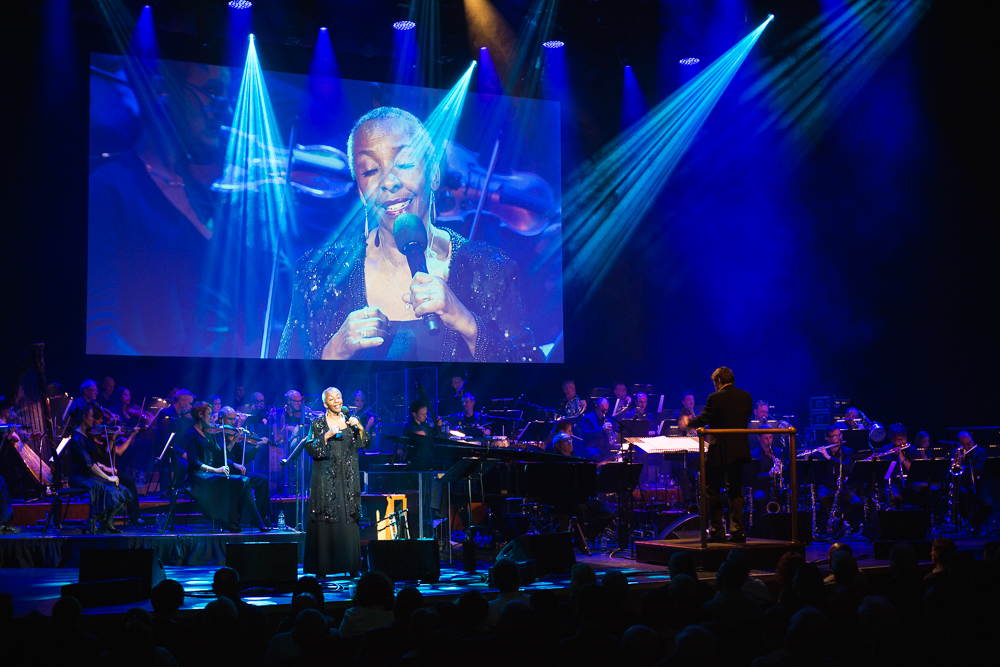 Nicki Wells and Nitin Sawhney fully realised the plaintive melodic mark of another Holiday classic, "God Bless The Child", later switching to just a vocal-guitar duet for the dramatically stripped back minimalism of "Dark Day". Performing "If You Leave Me Now" from her forthcoming second album
All I Need
, UK singer-songwriter Foxes seemed visibly moved to hear her song given the full orchestral treatment – understandably so, given the level of detail that Barker poured into the chart. For her second number, Foxes performed a touching tribute to one of her musical heroes, Etta James, with "Fool That I Am" (a song that's also crossed Adele's radar).
Becca Stevens (pictured below right) won yet more London hearts with a supremely tender "Prelude to a Kiss", then really shone in a beautiful version of "Thinkin' Bout You", the Frank Ocean song which features on her magnificent current album, Perfect Animal. Mentored by Prince, having toured with his New Power Generation band for five years, US vocalist Liv Warfield possessed a superabundance of swagger and stagecraft, belting out "River Deep – Mountain High" as if her life depended on it, before giving one of the finest performances of Joni Mitchell's "Black Crow" I've had the pleasure of hearing.
Barker's brace of purely orchestral arrangements are always musical high points, and this year was no exception. Penned by Sy Oliver for the Tommy Dorsey Orchestra, his arrangement of "Well, Git It" was a breathtaking, rambunctious ride. The big orchestral feature which opened the second set in grand style paid homage to the celebrated New York jazz club, The Village Vanguard, which first opened its doors in 1935. Barker's arrangement, "Live at the Village Vanguard", seamlessly drew together themes from classic recordings made at the club, including music by John Coltrane, Thad Jones, Jimmy Heath, Bobby Timmons and Bill Evans, whose "Turn Out the Stars" brought yet another exceptional medley to a moving conclusion.
Barker has now amassed quite a treasure trove of Jazz Voice orchestral arrangements: "Trumpet Blues and Cantabile", tributes to Roy Eldridge ("Little Jazz"), Wayne Shorter, Herbie Hancock, Quincy Jones, Impulse! Records, Blue Note, and more. It's a body of work that surely deserves a stand-alone recording.