Farewell to Stravinsky's right-hand man |

reviews, news & interviews
Farewell to Stravinsky's right-hand man
Farewell to Stravinsky's right-hand man
Robert Craft, great Igor's guide to old and new music, has died at the age of 92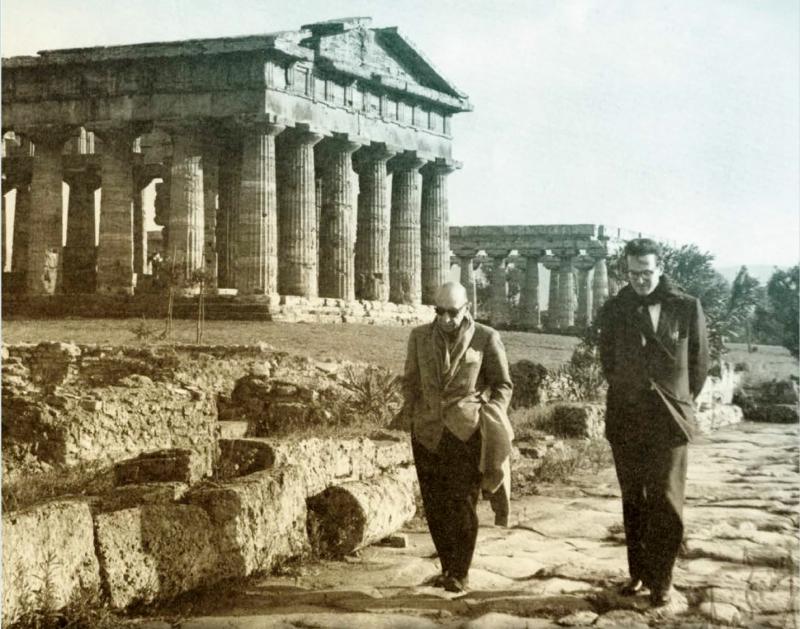 Stravinsky and Craft wandering in Paestum
Missionary angel or twelve-tone devil? Musical figures like Poulenc, perhaps too much attached to the diabolical element in Thomas Mann's Doktor Faustus, were inclined to see the incursion of Robert Craft into Stravinsky's Hollywood life in 1948 in demonic terms.
The persistent 24-year-old New Yorker was, it's true, an advocate for the serial works of Webern and Schoenberg, whom he was to get to know during the last year of the composer's life – Schoenberg, after all, lived just down the road from Stravinsky in Los Angeles – and for many other musicians that system was indeed the very devil.
Yet both Craft and Stravinsky's wife, Vera, witnessed the great man break down tearfully in 1952 and declare he could no longer compose; Craft was to be his saviour. Stravinsky had pioneered a new rhythmic dynamism and a cubist approach to folksong in The Rite of Spring back in 1913; he had taken most previous styles in music and adapted them as his own for the previous three decades. Yet in his seventies he reinvented himself through a careful appraisal of what twelve-tone music could mean to him: "I do as I wish in the scale or mode I prefer…I am also able to write in a series… if I want to. But I do not have to." A steady adoption of strict serialism does inform the procession of later works, though. That probably wouldn't have happened without Craft, who moved into North Wetherly Drive, sorted out Stravinsky's manuscripts, fllled his library with English-language classics, and discussed his own musical passions with the composer, bearing them out in performance where possible.
For Craft was also a conducting pioneer for very old as well as very new. In some of the bracing Los Angeles Monday Evening Concerts, he introduced the music of the late renaissance prince Carlo Gesualdo, master of arcane harmonies in tonal contexts, to his audiences (Boulez was tending to much the same mix in his Domaine Musical series). The work of his Gesualdo Madrigalists, with Marilyn Horne as second soprano, has just resurfaced in a huge Sony box devoted to Stravinsky's complete Columbia recordings, with satellite works very much present. It was to Craft that Stravinsky dedicated his Monumentum pro Gesualdo, translating human voices into singing groups of instruments. And so in his last years he was still keeping one foot in a past even more distant than the world of Bach, whom he worshipped.
It's now known that Craft conducted many more of the late recordings attributed to Stravinsky than was acknowledged at the time. But that makes little difference; Stravinsky, unlike Shostakovich, was adamant that his absolute wishes should be adhered to, that there was little room for interpretation, and these sessions would have been the result of the closest collaboration.
More recent recordings by Craft (pictured left at a book-signing) for the Naxos label show precision and some top-quality musicianship from the Phiharmonia and the Orchestra of St Luke's; few other conductors have cared to champion thorny late pieces like Threni for recorded posterity. When Deutsche Grammophon, co-opting Decca and Philips in the same stable, produced its own 30-CD box it stil had to turn to Craft to fill the gaps and make its works complete.
How much of the five-volume treasure trove devoted to Stravinsky's opinions as voiced to his amanuensis is Craft's work or invention will probably never be known, but the quintet is a mighty entertaining read. In the second of two later books of his own, Stravinsky: Discoveries and Memories (2013), he caused a ruckus with his "revelation" of the composer's "ambisexual" phase around The Rite of Spring, citing sexual relationships with Nikolay Rimsky-Korsakov's son Andrey and composer Maurices Ravel and Delage. Opponents claim insufficient scholarly evidence, and this has been a bone throughout – surprising for a man so exacting in his adherence to the word of the Father Stravinsky. Scholarly wranglngs may go on long after his death, but Craft is an indelible part of music history, and absolutely central when it came to the late masterpieces of Igor Stravinsky.
Both Craft and Stravinsky's wife Vera witnessed the great man break down tearfully in 1952 and declare he could no longer compose
Explore topics
Share this article