Imagine Dragons, SSE Hydro, Glasgow |

reviews, news & interviews
Imagine Dragons, SSE Hydro, Glasgow
Imagine Dragons, SSE Hydro, Glasgow
Custom-built arena rock with soul from post-digital Nevadans
Tuesday, 17 November 2015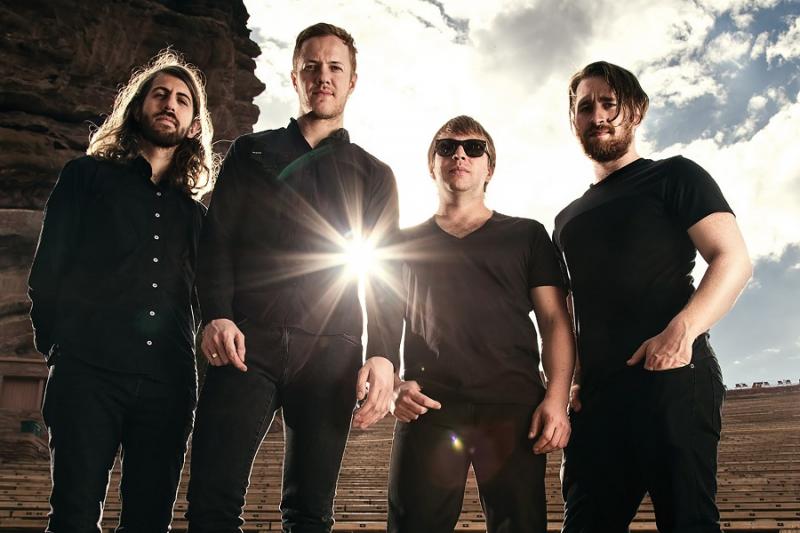 Imagine Dragons: not entirely welded together by committee
Exactly three years ago, Imagine Dragons played to 150 people in Glasgow. This time, there were 12,000 people in attendance. The ascent of the Las Vegas quartet (swelled to a five-piece for this tour) brings to mind Peter Cook's withering assessment that David Frost "rose without trace". Their 2012 debut Night Visions and this year's Smoke + Mirrors have shifted in their millions in both the US and UK without the band making any discernible cultural impact.
Imagine Dragons make brooding existentialist rock with a post-digital sheen. Self-billed as alternative, they are in reality custom-built for big arenas, aspiring to the power and grandeur of the likes of U2, the Killers and Coldplay. "On Top of the World" and "I Bet My Life" are driven by the turbo-folk rhythms of Mumford and Sons; "Roots" and "Polaroid" fold in the broken beats and crunching rhythms of modern pop and hip hop.
This is a powerful live band who have done both the road miles and their homework
Like Maroon 5, on record Imagine Dragons sometimes give the impression that their music has been welded together by committee, with an instruction manual close at hand. On stage, they made far more sense. A silly, shamelessly crowd-pleasing cover of the Proclaimers' "500 Miles" halfway through went some way to explaining their steep trajectory. This is a powerful live band who have done both the road miles and their homework.
The rest of the group are essentially a charisma-free proposition, but singer Dan Reynolds made a compelling point of focus. He not only possesses a fine voice, which slides from blues-rock growl to pure falsetto, but a purple vest and a man-bun. The sort of artfully scruffy alternative rock type America can produce at will, in person he lends the music a heart and warmth rarely hinted at on the albums.
Reynolds led the crowd in a rendition of "Happy Birthday" for their soundman, and after the rousing "Trouble", where the arrow on the Wheel of Influence stops flush at Arcade Fire, his short and touching speech concerning Paris and the aftermath of the Bataclan atrocity brought a bond of intimacy to the vast arena. "It's Time", one of their better songs, followed and was freighted with genuine emotion. "Forever Young", a cover of the 1980s Alphaville song, was transformed into an electro-hymn.
The set design was a gift for literalists. There was a lot of smoke and, uh, some big mirrors, but the results were sharp and effective, even if there was too much malarkey with those big drums that bands like to pound on stage at moments of high drama. Over 90 minutes the show got a little lumpy, but "Amsterdam" was hushed and tender and genuinely affecting, while "Demons" and "Radioactive" were confirmed as uranium-grade arena anthems, deployed towards the end with absolute precision. During the final encore of "The Fall", leaves fluttered from the Gods of the Hydro and fell gently onto the crowd, a fitting metaphor for a night which found room for touches of poetry amid the sleek efficiency.